You know the saying "When it rains, it pours?" Well 2010-2011 has been our season of torrential downpour.  As in I have had the following appliances, gadgets, gismos break on me:
Dishwasher
Washing machine
2 vaccuums
Electric mixer
Blender
Refrigerator
Microwave
Oven
The last three broke within three weeks with the oven being smashed by my then 4 yr old with his feet the day before Christmas Eve. Tears were most definitely shed.
I'm starting to wonder if my appliances are like the toys in Toy Story and all banding together to break on me. …..(…or not. That might be taking it a little far….moving on..)
Enter Consumer Crew:


What does Consumer Crew do?
The short answer-   They help you find the best products for the cheapest price.
The long answer- Consumer Crew is completely personal.  You tell them what you are looking for and they analyze, compare and recommend the perfect match.
Who would benefit from it?
Everyone!  But more specifically it's great for bridal registries, baby registries, new homeowners, home builders, gifts for spouses, or anyone looking to take the hassle out of buying that "perfect" item.
So here's the deal-
You can sign up for a FREE 10 day trial. 
But after that, there is a fee:
Annual — $29.95
3 Month — $11.99
Monthly — $4.99
Honestly, I am a girl who likes a deal. I often don't subscribe to things.  BUT when I realized that had I used Consumer Crew for any one of my replacement purchases and found the ideal fit, it would save me WAY more than the cost of the membership.
These days $29.95 would get you:
1/4 a tank of gas (where I live in CA)
One family trip to Chick-fil-A
2 movie tickets and 1/4 of a drink
You get the idea- NOT MUCH. 
AND right now you can get $10 off the annual subscription.  SO it's only $19.95 for the whole year.  Even better, right?  Just sign up for the free trial and email support@consumercrew.com and mention me for the discount.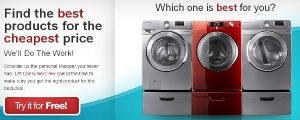 In case you want to see what Consumer Crew is up to,
follow on Twitter or like their Facebook Page.
I'm off to ask their advice on a vacuum and microwave….