For my mother in law's birthday we asked her what kind of cake she wanted. I thought some kind of chocolate version would win for sure.  She's from Switzerland and LOVES chocolate.  To my surprise, she opted for carrot cake.  Which is one of my favorites.  Woohooo!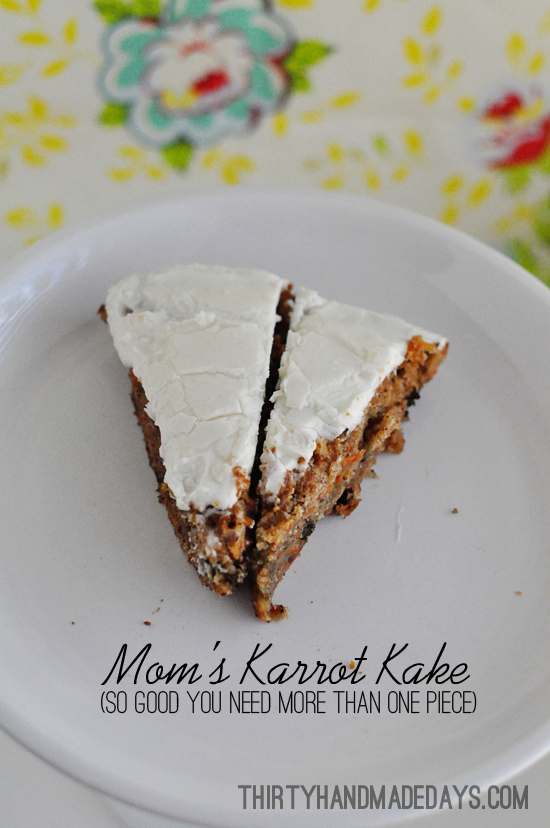 Pin It
I wish my picture did this cake justice- somehow I have to come up with a way to get my oldest's fingers out of the cream cheese frosting.  Without fail there are fingerprints before it's eaten. Every. single. time.  Can't blame the guy- it's just that good!
I got this recipe from my mom years ago to make for Easter.  I have made it every year since (unless Mom was hosting ;) ).  It takes some work- but easy if you follow the directions.  And it's well worth the effort.  There are two optional ingredients- nuts (I use walnuts) and one small can of crushed pineapple.  The crushed pineapple makes it even moister and gives it a little added taste.  Mmmm……..so good!  Oh and this one has no raisins, but you could add them if you want.
Perfectly moist carrot cake. So good and worth the effort!
Author:
Mique from Thirty Handmade Days
Ingredients
3 C grated carrots
2 C sugar
2 C flour
4 eggs
1½ C veg. oil
1 (8oz) pkg. cream cheese, softened
2 tsp baking soda
1 tsp salt
1 tsp cinnamon
1 tsp vanilla
2 Tbsp applesauce
1 C chopped nuts (optional)
small can crushed pineapple, drained (optional)
Cream cheese Frosting
¼ C butter or margarine, softened
1 (8 oz) pkg cream cheese, softened
1 (1 lb) pkg powdered sugar
2 Tbsp milk
1 tsp vanilla
Instructions
Beat carrots, sugar, flour, eggs, veg oil, and softened cream cheese together.
Add baking soda, salt, cinnamon, vanilla, applesauce and (optional) chopped nuts.
For an even more moist cake, add one small can of drained crushed pineapple.
Bake in a 9X13 greased and floured pan @ 350 for 55 minutes, or until clean toothpick.
For the frosting:
Cream butter and cream cheese together.
Add powdered sugar, milk, and vanilla and beat until smooth.
Spread on COOLED cake.
If you make this cake- awesome! But if you want to share it, please link back here instead of posting the recipe and/or directions. Thanks so much- enjoy!
I linked up this post to Tidy Mom's I'm Lovin'It!