Earlier this week I shared one of our favorites- Sweet and Sour Chicken.  Today's recipe is a favorite too.  It's (again) so simple because you can use whatever you have on hand and add to it what you want.  It's a base for any main dish.  And it's the perfect dish to make after Thanksgiving with all that leftover turkey.  I've had this recipe since I was in college- it was one of my favorites my Mom made for us growing up.
In the recipe I mention that I rarely use actual turkey.  Thanksgiving leftovers give me a great excuse to use turkey, but normally I just use chicken.  I rarely use "tetrazzini" noodles… so really, the name could change depending on what you have.  I normally would call it Chicken Spaghetti because I use chicken and spaghetti noodles a ton.

Easy Dinner Recipes: Turkey Tetrazzini (Chicken Spaghetti)
Ingredients
½ c. sliced mushrooms (optional, but I add them)
½ c. sliced onions
¼ c. butter or margarine
¼ c. flour
2 c. chicken broth
1 c. ½ & ½ (I've used milk before and it was fine, also used whipping cream it was great)
1 tsp salt
¼ tsp pepper
1 8 oz pkg spaghetti noodles (or whatever you have), cooked, drained
3 c. cooked, diced turkey (I always use chicken except right after Thanksgiving)
½ c. shredded cheddar cheese, more if you like yours really cheesy
Instructions
Preheat oven to 400 degrees.
Lightly brown mushrooms and onions in margarine.
Stir in flour. Cook until bubbly. Stir in the broth and cream.
Add salt & pepper. Cook, stirring often until mix boils.
Place a layer of noodles in a buttered 9x13 pan.
Mix remaining noodles with sauce and meat. Sprinkle with cheese.
Bake at 400 degrees for 20 mins or until bubbly.
This can be made ahead and refrigerated until baking time.
This one is pretty fool proof.  It's a basic roux with a few things added in.  But it's creamy and cheesy and delicious.  In other words, it probably won't top the charts as being the healthiest…
Looking for other family favorites? These top our list:
Sweet & Sour Chicken
Over a month's worth of easy & fast dinners

Porcupines in a Skillet
Chicken Tortilla Bake with 6 ingredients
Burrito Bowl
Zucchini Lasagna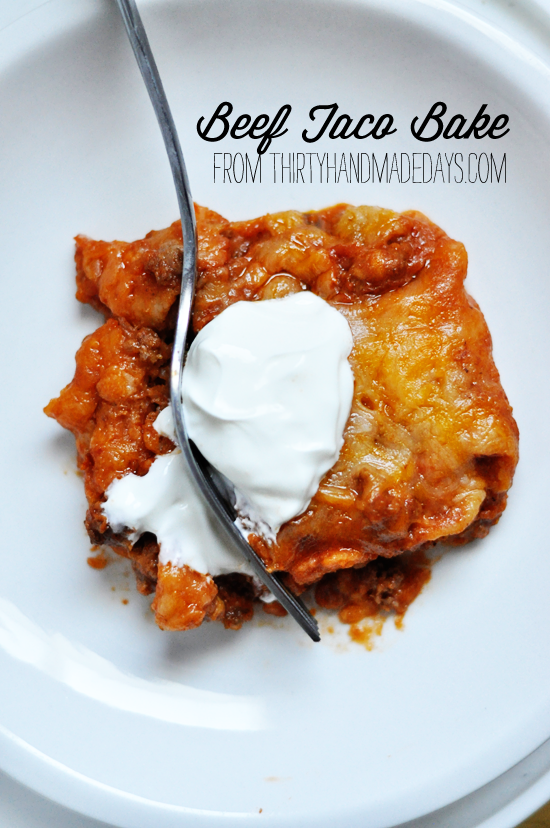 Beef Taco Bake

Company Casserole