Asian Lemon Chicken is super simple to make and faster than ordering take out!  It's one of those Chinese menu items that everyone loves and typically is the first to be eaten.  This Asian Lemon Chicken recipe will be your new favorite!
My family and I live in the suburb of Austin, Texas and there really isn't a restaurant that will deliver Chinese food.  Maybe that's a good thing because making it at home is so much more healthy than what most restaurants make in house!  I love to make my take on Orange Chicken because my three little boys and husband LOVE it.
It was really fun to create my own recipe for Lemon Chicken.  It took a few tries because you have to get the balance between sweet and sour just right.  If you don't add enough sweetness, your dish tends to be very sour.  I've also had some Lemon Chicken that was so sweet you wouldn't have even known there was lemon in it!  The sauce is everything for this recipe.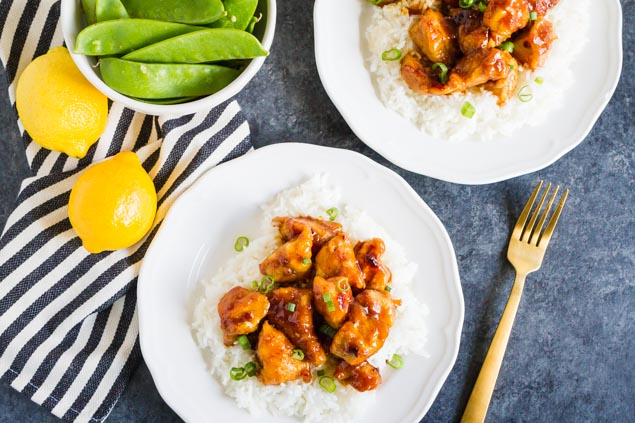 Most take out places use dark meat in their chicken dishes.  It's very moist and typically less expensive than white meat.  I always have chicken breasts or tenders in the freezer so that is what I use.  You most certainly can use dark meat when making this dish and it will turn out wonderful.  Just make sure to adjust the cook time when it comes to the chicken because dark and white meat cook differently.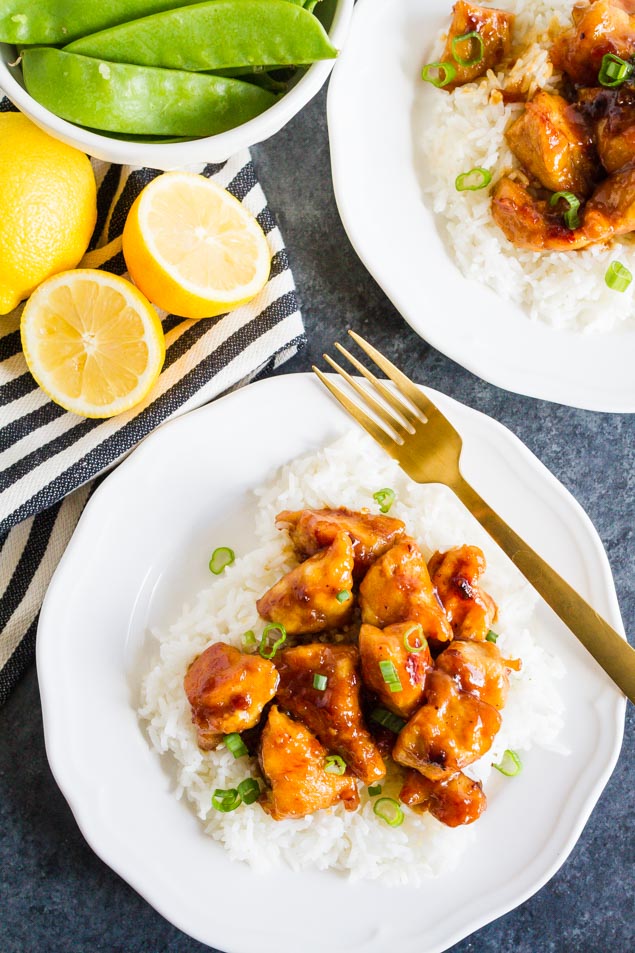 We love ours served over white or brown rice, but would be incredible over noodles or even quinoa.  You could even sprinkle sesame seeds on top.  this dish is great with any green veggie.  Like sugar snap peas, snow peas, green bell peppers, broccoli or zucchini.  Just give any of those a quick saute and you've got a complete meal!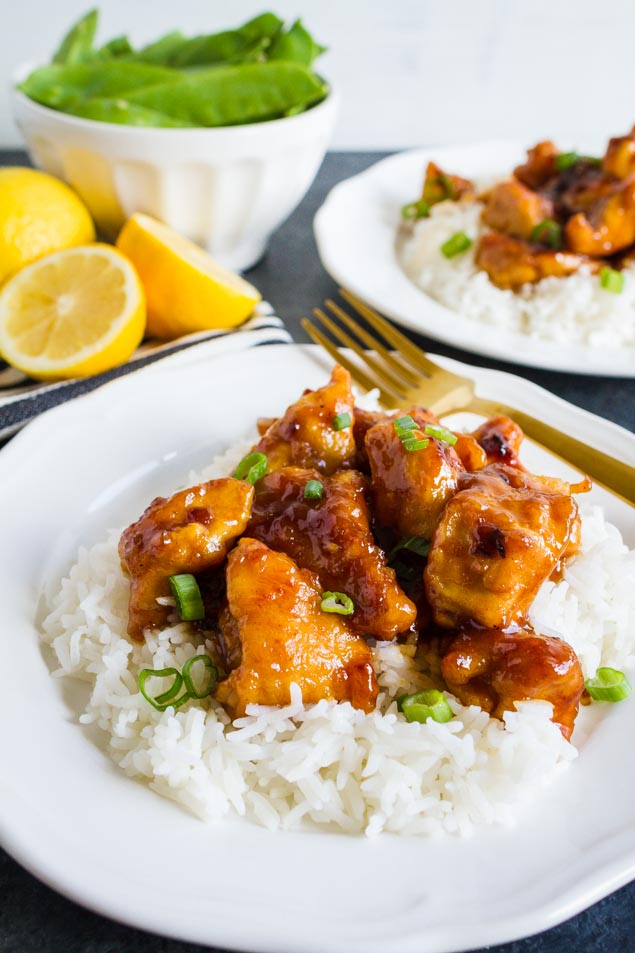 Asian Lemon Chicken
Asian Lemon Chicken is super simple to make at home and quicker than ordering take out!
Author:
My Name Is Snickerdoodle
Ingredients
4 Chicken Breasts, cubed
1 Cup All Purpose Flour
1 Cup Corn Starch
2 TBSP Canola Oil
½ Cup Brown Sugar
¼ Cup Honey
2 TBSP Rice Wine Vinegar
½ Cup Lemon Juice
½ tsp Ginger
2 Garlic Cloves, Minced
1 TBSP Cornstarch
2 TBSP Lemon Zest
Green Onions, Optional
Instructions
In a large bowl mix together brown sugar, honey, vinegar, lemon juice, ginger, garlic and 1 tablespoon cornstarch.
Set it aside.
In a large bowl whisk together flour and cornstarch and dredge cubed chicken in it.
Heat oil in a large pan over medium high heat.
Shake off excess flour from chicken and place in the hot pan.
Cook for 1-2 minutes on each side until center is cooked through and no longer pink.
Remove chicken to a plate and pour sauce directly into the pan with the brown bits from the chicken.
Stir and cook for about 1 minute or until slightly thickened.
Add chicken back in and stir to coat.
Serve over rice and garnish with chopped green onion.
If you like this one, you'll love this other
Chinese Lemon Chicken recipe
.
And be sure to check out these other great recipes from My Name Is Snickerdoodle!
Chicken and Noodle Bowl In Under 30 Minutes
One Pan Creamy Garlic Lemon Chicken