This past Sunday I spent a lot of time in my kitchen baking.  I got to go to church in my pjs and the oven was put to good use.  One of the things that I made was Banana Bread.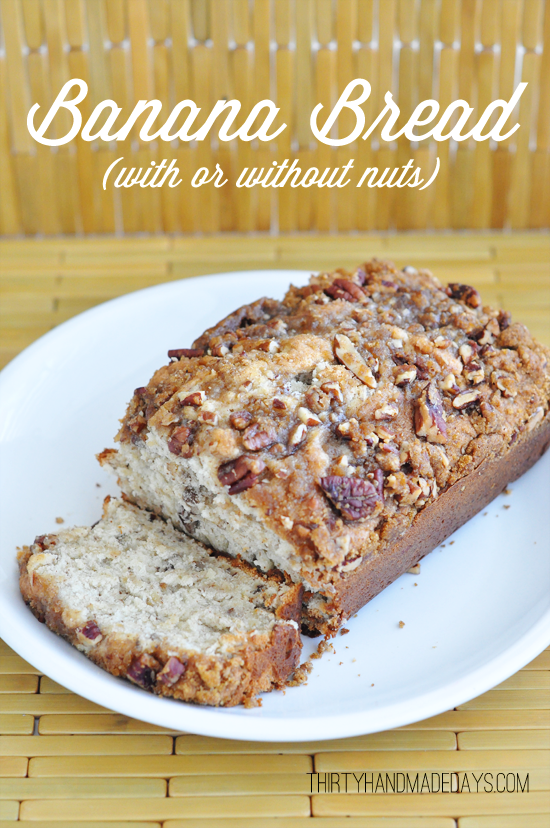 This recipe is moist and delicious! It might have something to do with the cream cheese in the batter…..hmmmm……I made mine with pecans and a yummy nut topping but that is optional.
Moist and delicious banana bread with optional nuts & topping.
Author:
Mique from Thirty Handmade Days
Ingredients
¾ c. butter, softened
8 oz. cream cheese, softened
2 c. sugar
2 large eggs
3 c. flour
½ tsp. baking powder
½ tsp. baking soda
½ tsp. salt
4 medium over ripe bananas
1 c. chopped pecans, toasted (optional)
½ tsp. vanilla
Cinnamon Crisp Topping
½ c. brown sugar
½ c. chopped, toasted pecans
1 Tbsp. flour
1 Tbsp. melted butter
⅛ tsp. cinnamon
Instructions
Beat butter and cream cheese at medium speed until creamy.
Gradually add sugar, beating until light and fluffy. Add eggs, one at time, just until blended. Combine dry ingredients (flour, baking powder, baking soda & salt) in a separate bowl. Then gradually add to the butter/cream cheese mix at a low speed until just blended.
Mash bananas and stir into mix.
Add pecans (optional) and vanilla.
Spoon batter into 2 greased into loaf pans.
Bake for 1 hour at 350.
Watch the bread, if it starts to brown, add tin foil for the last 15 mins to avoid too much browning.
Cool for 10 mins, remove from the pans onto wire racks and cool for 30 mins before slicing.
Optional topping:
Stir ingredients together.
Prepare the batter above.
Spoon into pans.
Sprinkle mix evenly over batter.
Bake and cool as directed above.
If you make this bread- awesome! You should also try my Chocolate Chip Banana Bread Recipe, it's so yummy. Thanks so much- enjoy!