Happy CYBER MONDAY 30days friends!  I have a special treat for you today- some of my awesome sponsors are sharing discount codes only for YOU! And for today only! So get to know them a bit, visit their sites and get your shop on!  You can click on the images to go directly to their shops.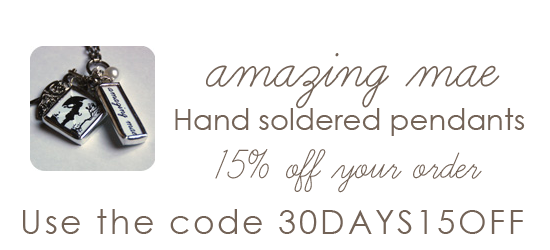 My name is Traci and I have a etsy shop
may and mae
  that I fill with handmade soldered charms that I make from my little company amazing mae.  I started soldering 2 1/2 years ago and love making personal custom photo charms as well as charms to be worn in everyday life – initials, sayings, cute vintage images, fabric swatches, and holidays. I am always working on new charms to add to the shop. I love working with clients on custom charms and we always find a look that works for them whether it be for a photo charm, a special saying or just the right colors.
 I will be offering 15% off your entire order in my etsy shop for Cyber Monday so come over and check it out!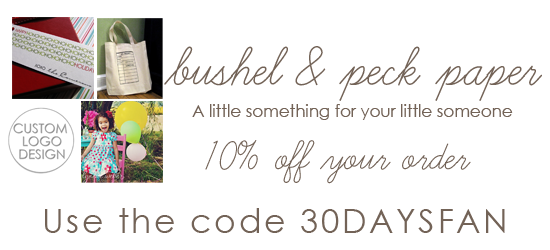 "Bushel + Peck Paper offers a variety of fine paper products, everything from custom invitations and partywares to decorative art prints and bookplates.  Our products boast classic design with a touch of modern flare.  In a nutshell, we specialize in FUN on PAPER!"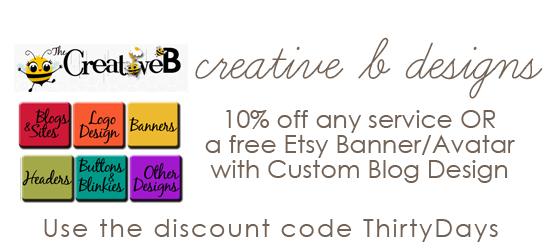 Hi! I'm Kassiah! After looking at hundreds of boring, cookie-cutter blogs, I decided to start CreativeB Design Studio.  Besides being a wife and home-schooling mom to three amazing kids, there is nothing more rewarding for me than creating and designing.  Whether it's print design, card and craft design, or making personalized custom blogs and websites, I get a thrill out of helping you stand out and get noticed!  I'm offering 10% off any service (including sale prices) OR a free Etsy Banner/Avatar with Custom Blog Design package for Cyber Monday, so there's never been a better time to get started on your new design.  CreativeB Design Studio ~ putting an end to ugly blogs since 2009!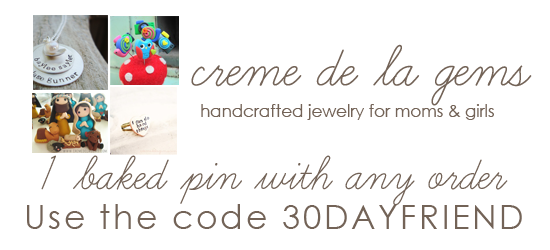 I am Tracy, and I love baking cute things out of polymer clay.  My handmade shop is called Crème de la Gems.  I create handcrafted polymer clay goods for girls, moms & home. You will find anything from decorative baked pins for your pin cushions, to whimsical hair cookies, and baked specially for little princesses.    In addition to polymer clay, I offer sterling silver hand stamped jewelry. Christmas orders are now being taken through December 1st, to ensure Holiday delivery.
Now, with every purchase through my website only, you will receive one adorable baked pin.  No minimum purchase necessary.  Use code: 30DAYFRIEND.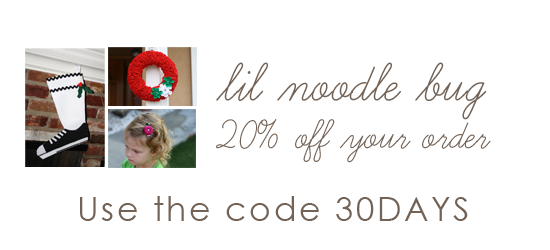 Hi. I am Courtney!  The 3 most important people in my life are my hubby and 2 wonderful kiddos. I consider myself a spiritual person and try every day to be the best person I can possibly be.  The only thing I drink other than water is Dr. Pepper and to say I am obsessed is an understatement.  I am NOT a morning person, I have tried and it just never works out.  I have always been creative, but never pursued it as a full time endeavor until about 1 year ago.   My shop, Lil Noodle Bug, was named after my daughter's nickname and is filled with decorations for your home and accessories for you lil lady or yourself!  I LOVE custom orders, so they are highly encouraged if you are wanting something specific and don't see it in the shop! My life is just like anybody else's I have ups and downs and I use my blog to express myself.   At the end of the day, I am a very simple person and all I truly need in life is God, Love, my Family, and of course Cute Shoes and Accessories! 
 I will be offering 20% off your entire order in my shop for Cyber Monday so come over and check it out!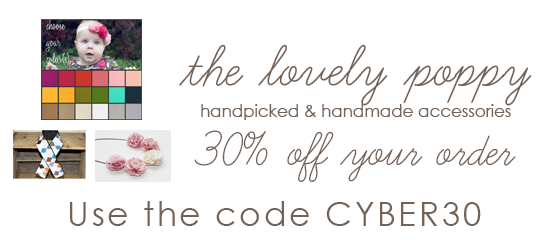 My name is Nicole and I'm the lady behind
The Lovely Poppy
 and have an
etsy shop
that carries original floral blossom necklaces, headbands, and other handmade accessories. I enjoy being able to create accessories for clients to feel confident wearing and love how a simple accessory can be the perfect final touch on an outfit.  When I'm not in lovely poppy-mode, I'm either shopping, running, playing with my pup, or working, During the day I manage a non-profit for children with autism and the children I work with constantly inspire me to give 110% even when I've left the office.
I hope you take a moment to stop by the shop and take advantage of the 30% off coupon today for all of Mique's readers.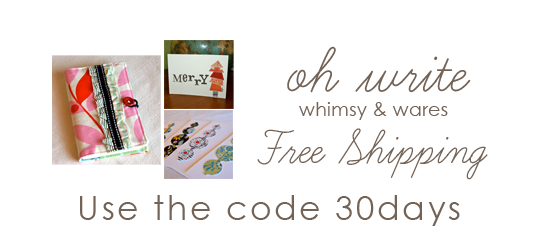 I'm Kate and I invite you to take a peak at the whimsical stationery and gifts available in my Etsy shop, Oh Write. I hope you're able to find inspiration to write a note, send a gift, or spoil yourself with a little something special. I thoughtfully make each item in my home studio, and I look forward to sharing a bit of what I create with you! Please use the code 30DAYS to receive free shipping on your holiday orders. All purchases come wrapped and ready to give to a special someone. Merry Christmas!