Welcome back for my linky party! Today we're talking about your "Go to Blogs!" So far since the shake up, we've linked up:
Ummm— your favorite posts ever?  Pretty much amazing.  The comments were fantastic to read on how you picked them.  I will respond to them soon- promise!
Now on to your favorite blogs.  These are the people you visit every day.  The ones you  really look forward to reading.  I'd love for you to share why you love them- great writing? Fun crafts? Hilarious?  Have they been helpful to you with your own blog?  Please tell me in the comments what draws you to your favorites.


The rules are simple:
Link up YOUR FAVORITE BLOGS.  The blogs you read every day.  If you had all the time in the world, you'd scroll through every post..type of blogs.
And then leave a comment for why you linked it up. And what you look for when you're hopping from blog to blog.
I thought about whether or not I should share some of my favorites.  Want the honest truth? ….There have been lots of times that I've read friends blog lists and been a little (or a lot) sad to not make the cut.  In the end I decided to share favorites of mine that most I've met personally.  So I know that beyond having a fun blog to visit, they are awesome people period.  That I'd choose to hang out with every day if I could.  So here you go, nine people whose blogs I visit daily: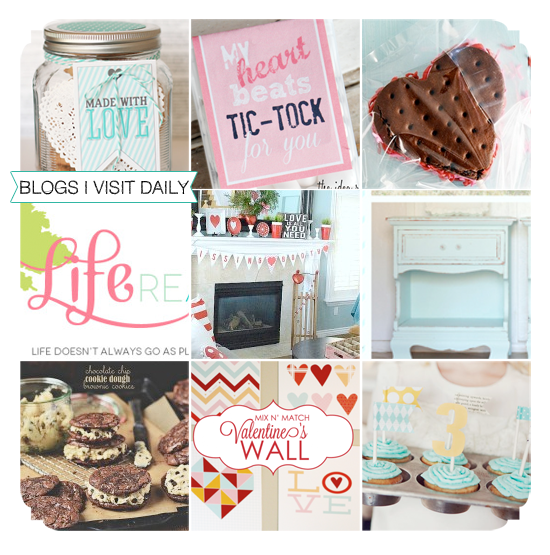 eighteen 25 girls: This sister team has awesome photography, fabulous printables, fun ideas and I can't help but want to make whatever they do.  They ooze talent between the three of them!
the Idea Room:  Amy makes me want to be a better mom.  And human being.  She's always doing fun things with her kids and shares those ideas.  She's who I want to be when I grow up.
the 36th Ave: Desiree is a pint sized firecracker.  Her energy is infectious.  She does 392030239 projects in a day with a smile on her face.  And she is the best at empowering and supporting others.
Life Rearranged: Jeannett's blog is heartfelt, full of awesome writing and amazing fundraising abilities.  Plus she wears cowprint overalls.
Tatertots and Jello: Sweet, wonderful, generous Jen.  She would give the coat off her back for anyone.  And she's amazingly talented.  The kind of girl you want to not like but she's just so darn likeable.  I know I can always find fun, on trend (or trend setting) ideas on TT & J.
Lolly Jane: What I wouldn't give to have the skill of the these twins, Kelli and Kristi. Their DIY projects make me want to redecorate every room in my house.
Tidy Mom:  Cheryl is the epitome of a "tidy mom."  She's organized, helpful and full of knowledge.  Her recipes are drool worthy and I look always look forward to what she's going to do next.
Kiki & Co: I would pin or bookmark every one of Kiki's printables — and maybe I have.  I don't think she's ever done something I don't like.  I love her clean and fun style.
Simple As That:  Rebecca's photography kills me.  I feel like framing every shot on her site.  She has lots of printables and ideas that are doable and awesome.
I also visit the people who are on my team (my contributors) regularly.  They are all fabulous at what they do and I look forward to all of their posts. If you haven't yet, meet the team.
—–> Up next week: Your favorite recipe post.  It can be yours or from someone else.  BUT it has to be one that you've tried and that you love.