Quick breads are my favorite kind of bread to make. When I have to use yeast in a recipe my heart races and I get cotton mouth. Okay not really. But I really get anxious about it.  This recipe for Glazed Lemon Quick Bread is relatively pain free and tastes amazing.  It's light and fluffy with the perfect amount of lemon.  Yum!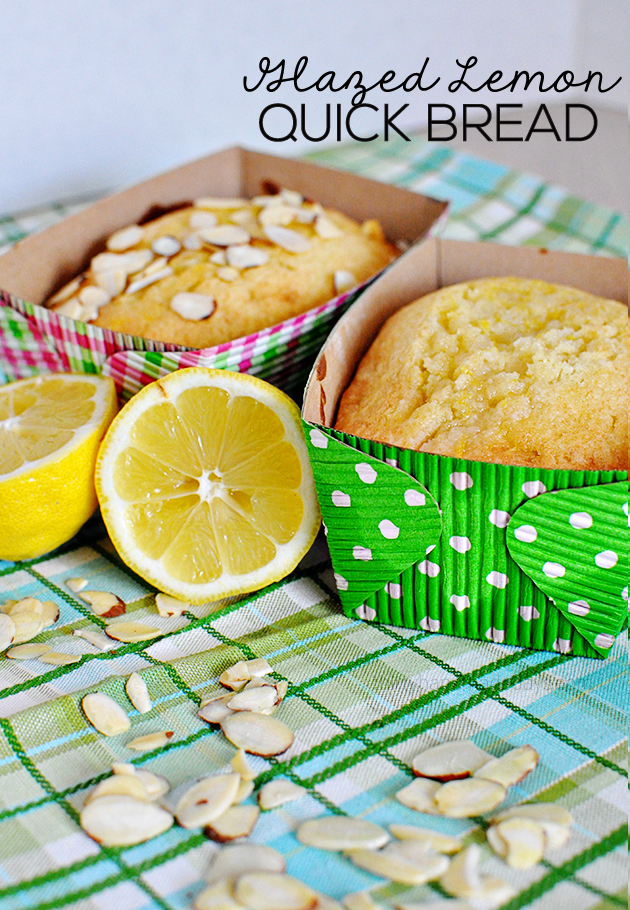 Glazed Lemon Quick Bread
Ingredients
⅓ cup milk
6 large eggs
1½ Tbsp. fresh lemon juice
1 Tbsp. vanilla
3 cups flour
1½ cups sugar
1½ tsp baking powder
½ tsp salt
2 Tbsp freshly grated lemon zest
1⅔ cup butter, softened
Glaze
½ cup powdered sugar
juice of 1 lemon
zest of 1 lemon
sliced almonds for top, optional
Instructions
Preheat oven to 350 degrees.
Spray 2 loaf pans (4 min loaves) with cooking spray, set aside.
Combine milk, eggs, lemon juice, and vanilla and whisk until combined, set aside.
In the bowl of a mixer- combine flour, sugar, baking powder, salt, and freshly grated lemon zest and mix to combine.
Add the softened butter to the flour mixture. Cream for 2-3 minutes until fluffy.
Gradually add the milk mixture.
Divide the batter into the prepared loaf pans.
Bake in oven for ~30-35 minutes. (less cooking time for mini loaves)
When the tops are about to crack, score the tops in one line with a sharp, oiled knife to create an even crack. Then, place an oiled piece of foil on top of the cakes, oil side down.
Continue to bake for 25-30 minutes.
Total baking time 55-65 minutes depending on your oven and the size of the loaves.
When a toothpick removed from the center of the cake comes out clean, the cakes are done. Remove from oven and let cool for 10 minutes on a rack before turning the cakes out.
Let cool completely.
Glaze
Mix together the powdered sugar and the lemon juice.
Add in the lemon zest and mix until combined.
Pour the glaze over the pound cakes.
Immediately top with a sprinkling of sliced almonds, if using.
Recipe slightly adapted from Desserts for Breakfast.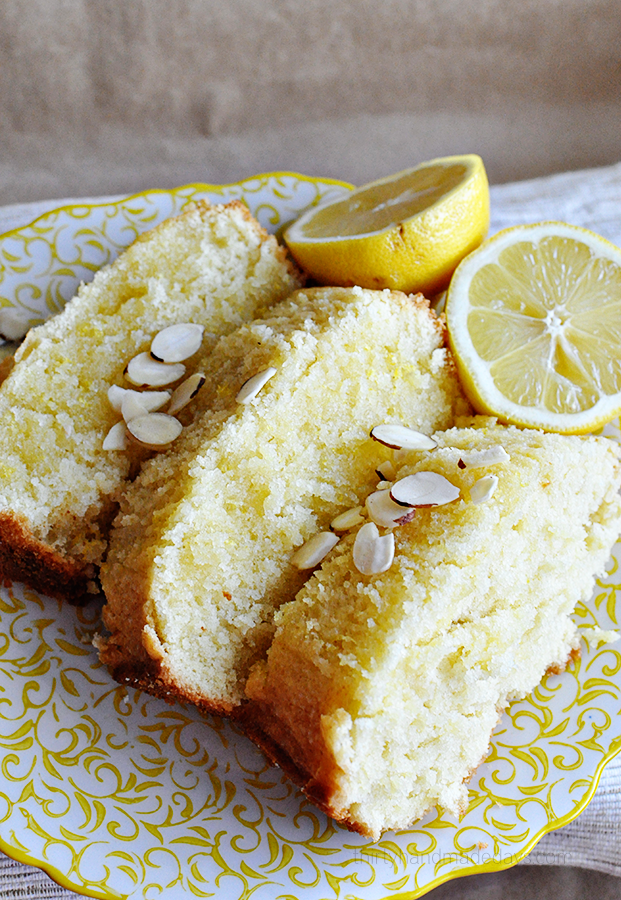 The original recipe called for lavender but I didn't have any on hand (and wasn't totally sure I'd like it with it in).  I love love love how fluffy it turned out.  It's light and airy.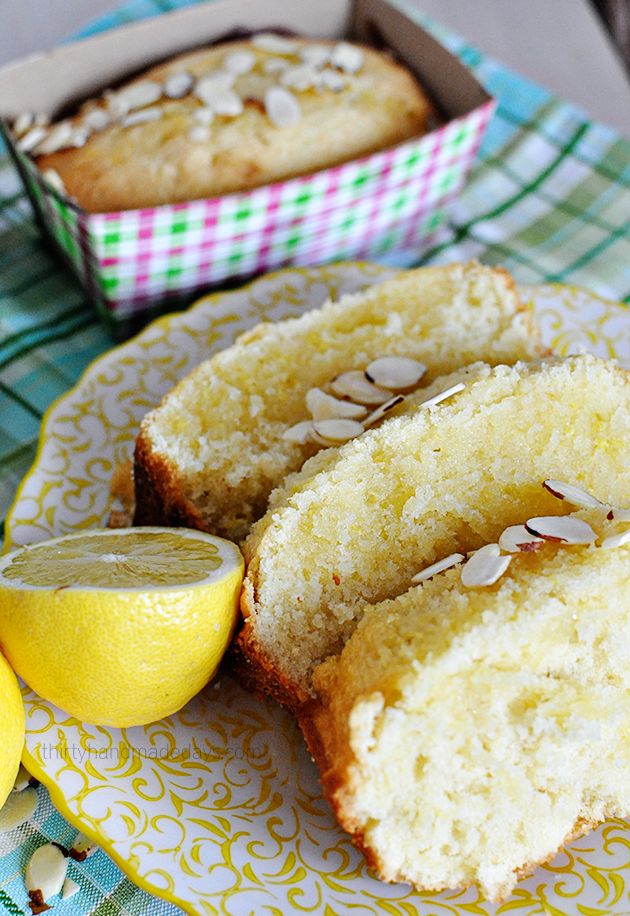 The other option is to no have almonds.  But I love almonds so much and  there was no way I was going to leave them off.  But you can do that if you are allergic to nuts or simply just don't like them.    I think adding the tin foil is key to make sure that this bread doesn't over bake.   There is nothing worse than either a burnt loaf of bread or one that is dry because of over cooking.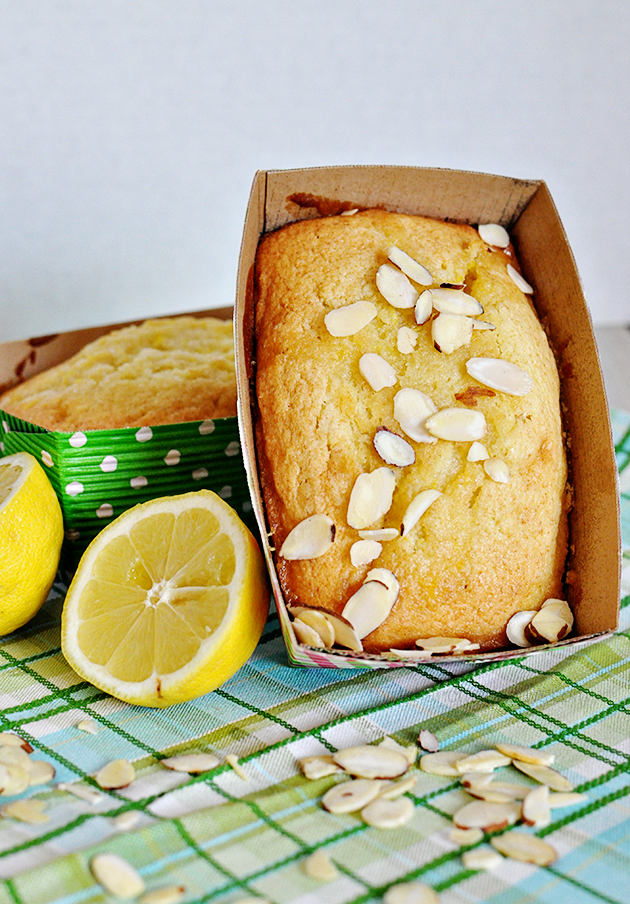 Check out some of my other favorite breads: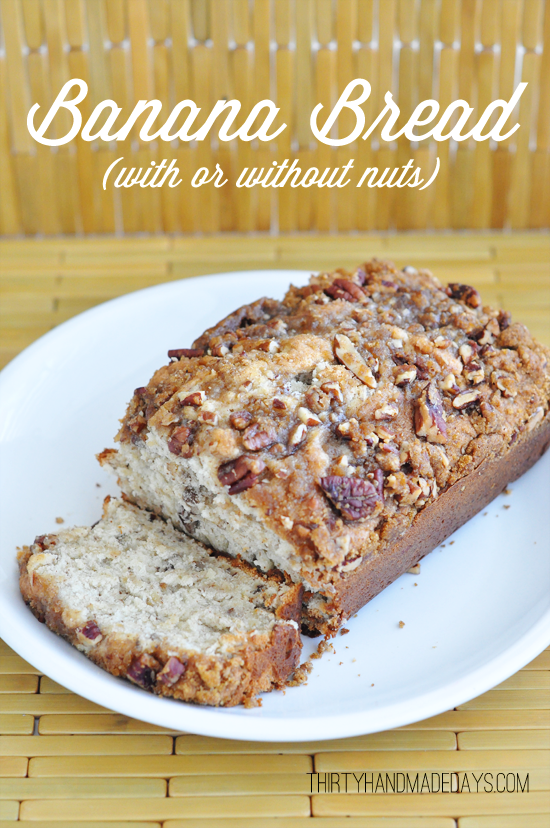 Banana Bread (with or without nuts) 

Chocolate Chip Pumpkin Bread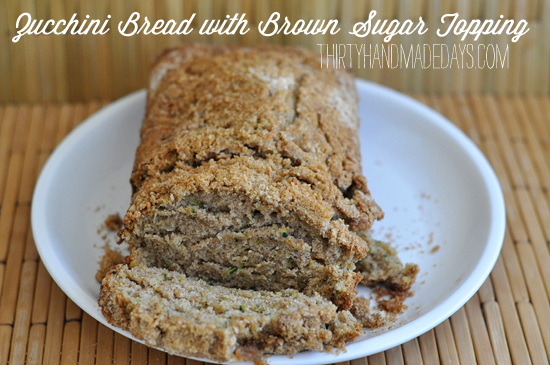 Zucchini Bread with Brown Sugar Topping