This post is sponsored by West Elm. All opinions are 1 million percent my own and I'm happy to be working with companies I believe in.
With Thanksgiving just a few weeks away, my brain is on overdrive as I create holiday gift ideas, recipes and printables.  Does time seem to go in warp speed for you once that weekend comes around?   I'm hoping this year I can get everything checked off my list early so that I can spend more time with my family.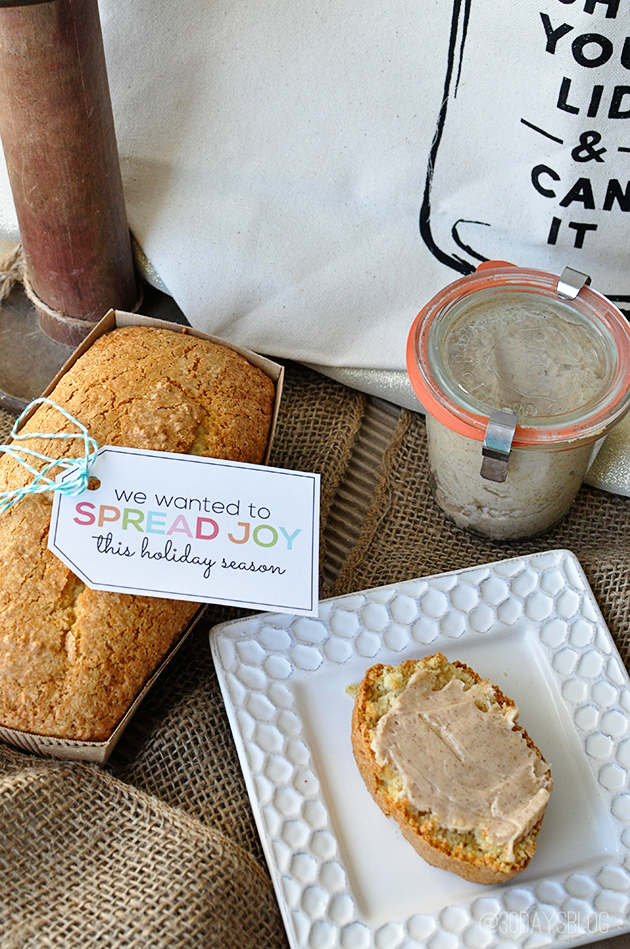 I jumped online trying to find some ideas at West Elm Market and I got sucked into the vortex of amazingness.  They have so many great products but a few things stood out to me.  I ended up with some loaf pans, Weck jars and an awesome "Shut your lid and can it" tote to put this gift idea together.  It'd be the perfect gift for a neighbor or friend.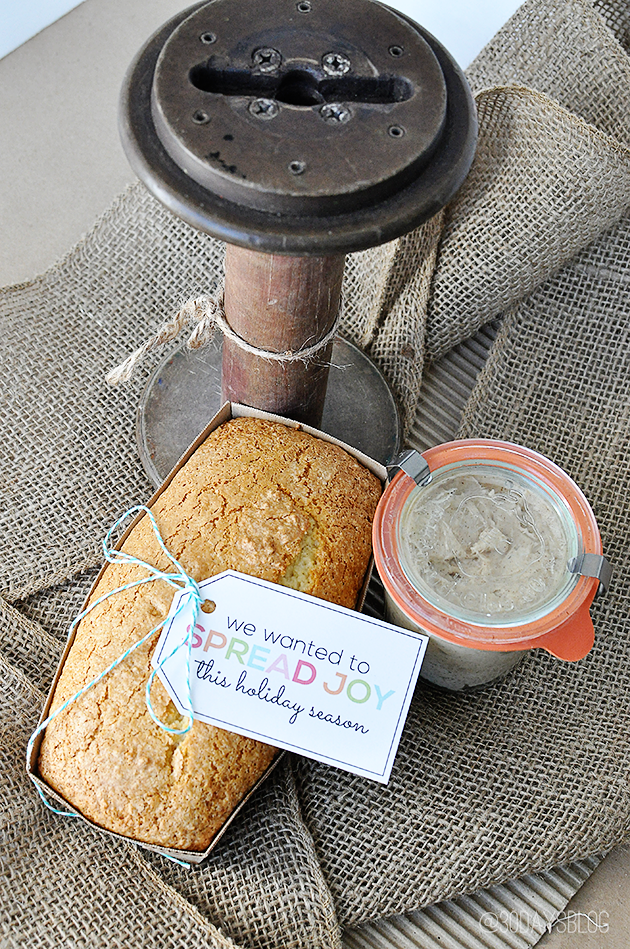 By now you know I'm a little pun obsessed, right?  Well I ordered a butter dish and unfortunately it was back ordered.  Sad sad face.  It'll get to me eventually.  For now I came up with plan B to use the term "Spread joy" – get it? Butter…. spread…… ?
You can download a sheet of "Spread the Joy" printable tags.  For personal use only.  Thank you!
There are tons of recipes out there for quick bread and honey butter.  These are the ones that I tried that my family gave two thumbs up for.  I'm adding them to our holiday family recipes.

Basic Quick Bread
Ingredients
-2 cups all-purpose flour
-1 cup sugar
1 teaspoon baking soda
½ teaspoon salt
1 cup buttermilk
1 large egg
¼ cup mild or non-flavored oil, like canola
1 teaspoon vanilla
Instructions
Preheat oven to moderate 350ºF.
Grease a loaf pan with butter. (or use paper loaf pan)
In a large bowl, whisk flour, sugar, baking soda and salt to combine.
Make a well in the center and set aside.
Lightly whisk buttermilk, egg, oil, and extract to combine.
Pour into well and stir until just mixed into a batter.
Pour batter into prepared pan.
Bake for 40-50 minutes.
Cool in pan on wire rack for 10 minutes.
Remove from pan and cool completely before slicing.
After I put the bread in the oven, I whipped up some honey butter and filled up my Weck jar.  Have you heard of Weck jars yet? They are a German based company that dominate in Europe.  I kinda feel a trend in using these jars more than our beloved Ball jars.  I love the look and feel of them.
Honey Cinnamon Butter
Ingredients
½ cup butter -- softened
1 cup honey
1 teaspoon cinnamon
Instructions
Mix ingredients in bowl until light and fluffy.
Store in the refrigerator and to harden.
My family especially loved the honey butter.  There's nothing quite like warm bread smeared with sweet butter.  Mmmmmmm……..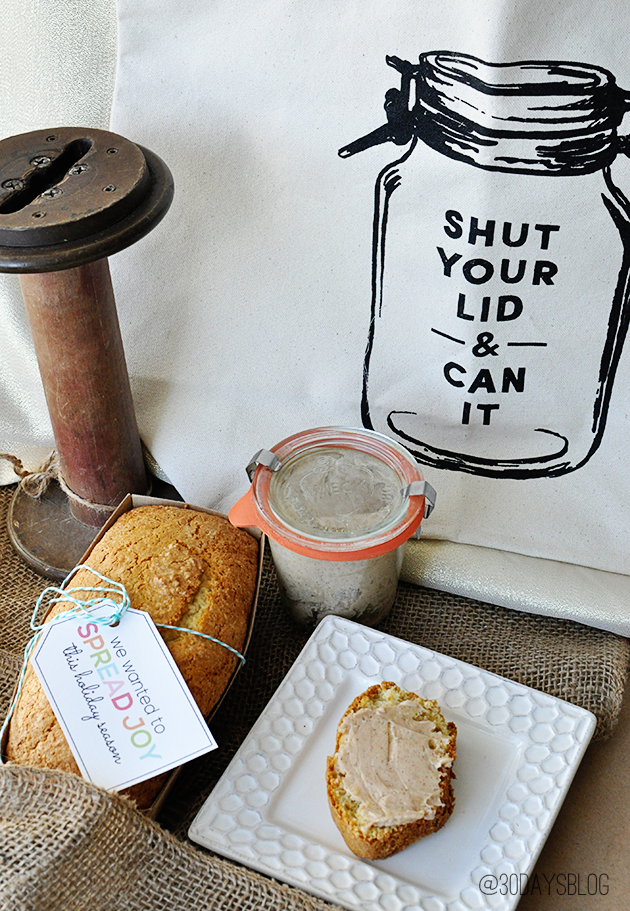 Seriously how cute is that tote? The perfect gift on it's own for the hard-to-shop-for Mom/sister/teacher/friend.  I think it just pulls the whole gift together.
—–>West Elm Market is offering 20% off all tabletop items until November 26th.  You guys!! Go over there and shop.  I want one of everything.  For reals.    And if you sign up on their email list,  you can get a 10% off coupon.
Have you started on your holiday gifts yet?