I'm pretty convinced that there is nothing better than baked macaroni and cheese.  And this easy baked mac and cheese recipe is at the top of my list.
I don't remember having macaroni and cheese from a box too often in my childhood.  But I loved it.  When I married Josh I quickly found out he was not a fan.  He had hot dogs added to his growing up and couldn't get past that.  About ten years ago I found a recipe for baked macaroni and cheese.  He was sold.  Enter the easiest baked macaroni and cheese.
Ok. So it takes a little more effort than the out of the box kind. But not much. And it tastes way better.

Easy Baked Macaroni and Cheese
Easy and delicious baked macaroni and cheese.
Author:
Mique from Thirty Handmade Days
Ingredients
12 oz. bag elbow macaroni
2 c. (1 pint) heavy whipping cream
8 oz. bag shredded sharp cheddar cheese
8 oz. bag shredded four cheese blend
3 tablespoons butter
1 cup chopped onions (walla walla or vidalia if available)
garlic powder
ground black pepper
Instructions
Pre-heat oven to 400.
Bring water to boil, then add pasta.
Cook uncovered for 8-10 minutes (as directed on package).
While macaroni cooks, chop onions to desired consistency. Saute in a saucepan with 1 Tbsp. butter.
Drain pasta and rinse with hot water.
Place pasta back into pot with 2 tbsp butter and stir to cover so pasta does not stick.
Stir in sauteed onions and cheese.
Pour in heavy whipping cream and stir until nicely mixed.
Add garlic powder and black pepper to taste.
Scoop mixture into covered casserole dish and bake for 30 minutes, then check for desired bubbliness. ;).
Enjoy!
I have now ruined my daughter who doesn't like mac and cheese from a box but prefers baked.  She was so excited when I made this again recently.  Cheesy, gooey goodness on a plate: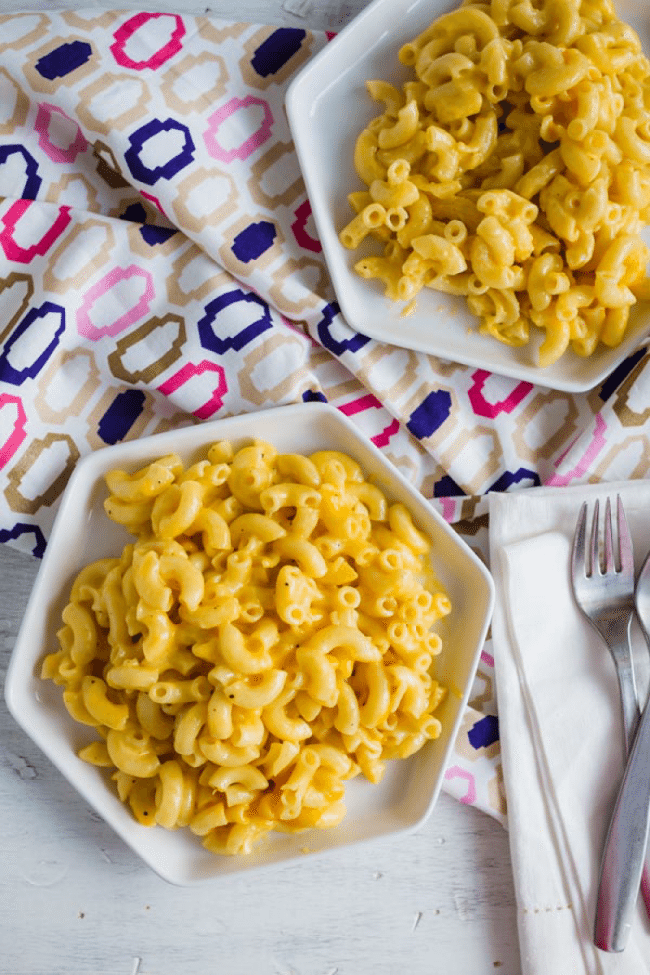 Looking for some other main dish recipes? Here are some more of our family favorites:
Mom's Chicken Enchiladas
Taco Bake
Dr. Pepper Chicken