Celebrate summer and the 4th of July with these patriotic lemon berry shortcakes with lemon cream.
It's that time of year when we love everything red, white and blue.  I just feel more patriotic whenever I see these colors. I love decorating with it, wearing it and even eating that color combo this time of year!
One of my favorite  ways to make that red, white and blue combo is with fresh berries.  I am lucky enough to live in the Pacific Northwest where fresh berries are plentiful and they even grow in my own back yard.  A combination of red strawberries and raspberries and then some blueberries is perfect.  Of course for the white all you have to do is add whipped cream.
Strawberry shortcake is one of my favorite summertime desserts and today I have a fun little flavor and patriotic twist on it for you.
I dressed up the shortcake with some lemon zest and lemon juice and to make it patriotic I used my star shaped cookie cutter to cut out the shortcakes. Sprinkle them with a little sugar before baking.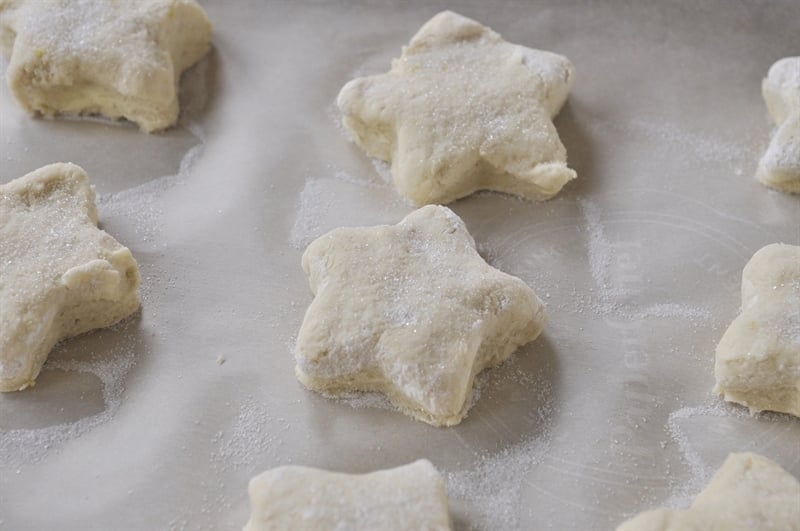 They make the perfect container for some wonderful lemon cream and fresh berries.  They are good enough to eat all by themselves but trust me on this one, you are going to want to add some berries and whip cream.  It's more patriotic too!
Just slice the shortcake in half and pile on the lemon cream and berries.  The more, the better!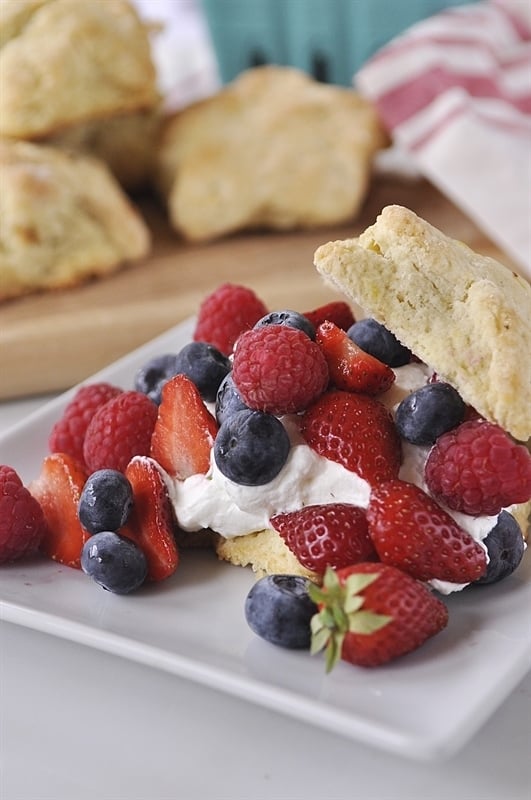 Besides being patriotic, I think food cut into shapes is just more fun to eat.
Start celebrating now with these delicious Lemon Berry Shortcakes and Lemon Cream .
Some of our family's other favorite patriotic treats are:
Patriotic Pizza – Red White & Blue Cookie Bark –  Patriotic No Bake Treats – Red White and Blue Ice Cubes
Lemon Berry Shortcakes with Lemon Cream
Author:
Leigh Anne Wilkes
Ingredients
3 cups all purpose flour
4 tsp baking powder
1 tsp baking soda
⅓ cup granulated sugar
1½ tsp salt
1 tsp vanilla
1 Tbsp lemon zest
¾ cup chilled butter, cut into pieces
1 cup buttermilk
2 Tbsp heavy cream
2 Tbsp sugar for sprinkling
Lemon Cream
1 cup chilled heavy whipping cream
2 Tbsp powdered sugar
1 Tbsp lemon peel
2 tsp fresh lemon juice
4-5 cups of fresh berries - strawberries, raspberries and blueberries
Instructions
Preheat oven to 375 degrees F.
Line a baking sheet with parchment paper
Add flour, baking powder, baking soda, ⅓ cup sugar and salt into a food processor or bowl.
If using a bowl cut in butter with a pastry blender. If using a food processor, pulse several times to cut butter into flour mixture.
Add in buttermilk and mix until flour mixture is moistened
Roll out dough onto a lightly floured surface and cut using a cookie cutter or biscuit cutter.
Bake on lined baking sheet for about 15 minutes or until golden brown and cooked through and cool.
Lemon Cream
Combine cream, sugar, peel and juice and beat until soft peaks form. Chill until ready to serve
Slice shortcakes in half, add lemon cream and fresh berries