Hi there 30 Day-ers! It's Kristi, from CreativeKristi.com and I'm excited to be back sharing some bloggy tips with you all! Today's topic is something I do automatically because I edit every one of my photos in photoshop but I realize that some of you may just use a watermark plugin to add your watermark (or may not do anything at all besides just upload the photo to the post) so I wanted to talk a little bit about it.  It's Photo SEO (SEO= search engine optimization).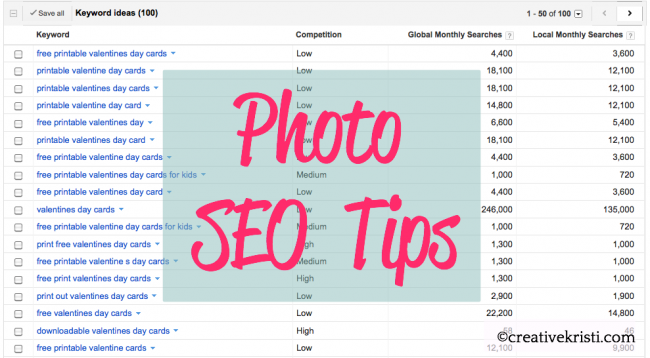 When you take a photo on your camera it automatically assigns it a number. If you just take a photo from your camera to the post then when Google searches your site it sees that number as the photo title. So if, by chance, someone searches for "IMG346" then you are golden! Your photo will come up! But when was the last time you searched for images by a number?
Exactly.
So the best thing is to rename your photos to describe what they are. Did you take a photo of a card you made? Great! But try to be more descriptive. Maybe it was a Valentine's Day card. Name it something that will describe it and possibly even put your blog name at the end. (I know sometimes I search for something because I remembered it on someone's blog and I can't remember the post so I Google what the image was and the blog name)
If you want to get really serious about photo search engine optimization (SEO) then you can use Google's neat little keyword tool. Let's continue with our Valentine's Day card example. If we put that possible photo title into the keyword tool it will tell us how often the phrase is searched for: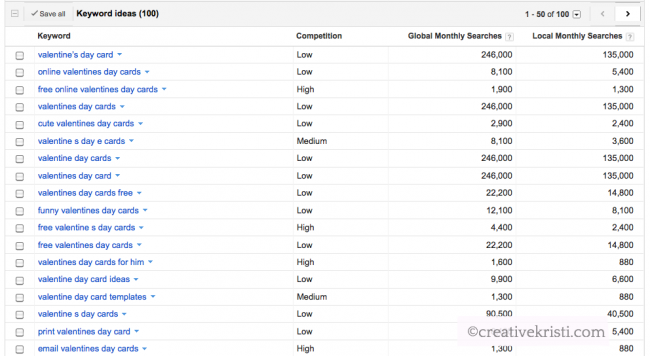 You can also see that it tells you which phrase is high competition and if there is a better way to phrase it to get more hits. (Neat huh?)
Now if you have more than one photo in your post of the same thing (different angles, a close-up, etc) then name it something slightly different to reach the most people: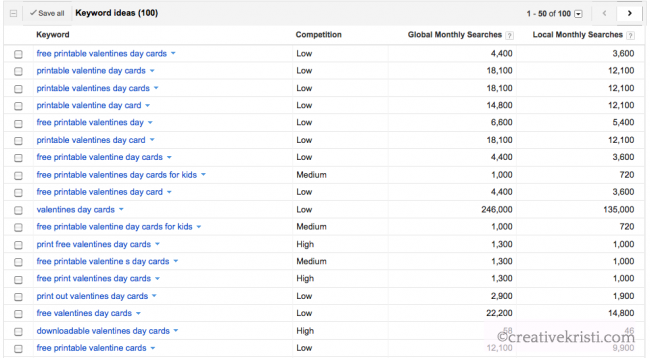 One more final tip: if you do edit your photos to include a watermark, make them smaller to take up less room on your blog host, etc. Please PLEASE keep the original in tact. If you ever get contacted by a magazine or website and they want to publish your photo they need the high resolution original with no watermark!
I hope this was helpful to you!