Since we're in September I think it's safe to say that all things pumpkin are on their way.  When I was growing up my Mom made pumpkin and more pumpkin.  We had cookies and pies and breads oh my.  I wanted to make something non-traditional pumpkin.  Pumpkin Monkey Bread Bake it is!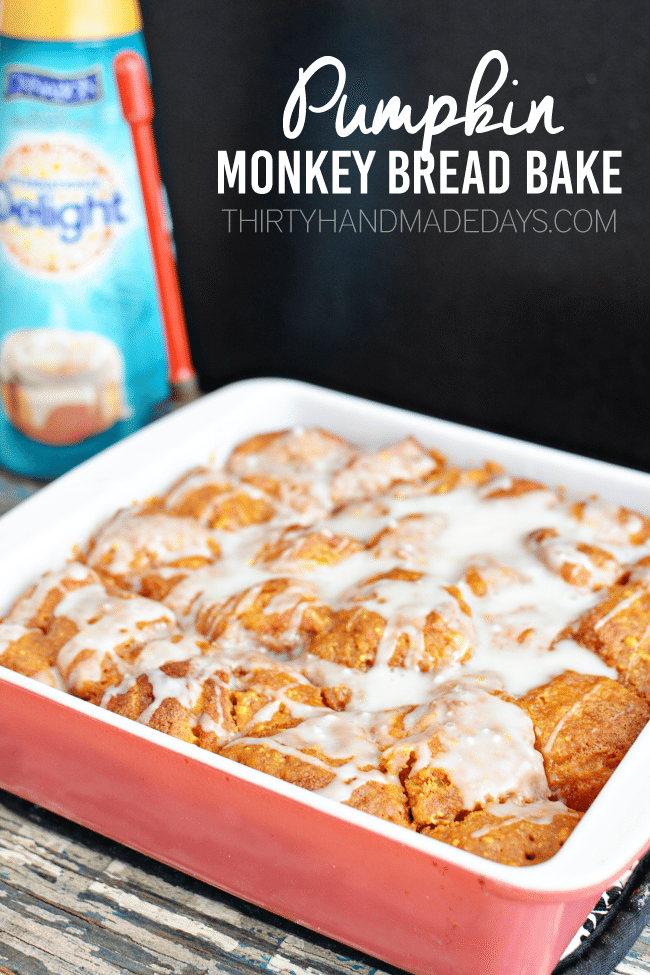 This recipe doesn't take a lot of work but it screams fall to me.  It's rich and pumpkin-y plus sweet and flavorful.  You could make it in a bundt pan but I used a casserole dish to make a bake instead.  If you use a bundt pan, it'd be a true monkey bread with pull apart pieces.
Pumpkin Monkey Bread Bake
Ingredients
½ c. granulated sugar
2 Tbsp. pumpkin pie spice
1 can refrigerated buttermilk biscuits
1 c. packed brown sugar
½ c. butter
½ c. canned pumpkin (not pumpkin pie mix)
4 oz. cream cheese, softened
1 Tbsp. Cinnabon International Delight Creamer
Glaze
1 c. powdered sugar
2 Tbsp. butter, melted
1 Tbsp. milk
1 Tbsp. International Delight Creamer
Instructions
Heat oven to 350 degrees.
Spray 8x8 casserole dish with cooking spray.
In a large zip close bag, combine granulated sugar and pumpkin pie spice.
Cut buttermilk biscuits into squares and add to bag and shake to coat pieces.
Add pieces to sprayed casserole dish. Set aside.
In a saucepan, melt buter, brown sugar, canned pumpkin and cream cheese.
Heat and whisk until bumps are out of mixture.
Pour over pieces in the casserole dish.
Bake at 350 for 30 minutes.
While baking, combine ingredients for glaze.
Once the monkey bread bake comes out of the oven, drizzle with glaze.
Serve immediately.
Another good add in for this one would be nuts – pecans or walnuts would be the perfect addition to it.  Some people love nuts, others do not.  I love them, most of my family does not.  Sad.   But it would make it a little more fall like with some candied nuts on top.  Mmmm….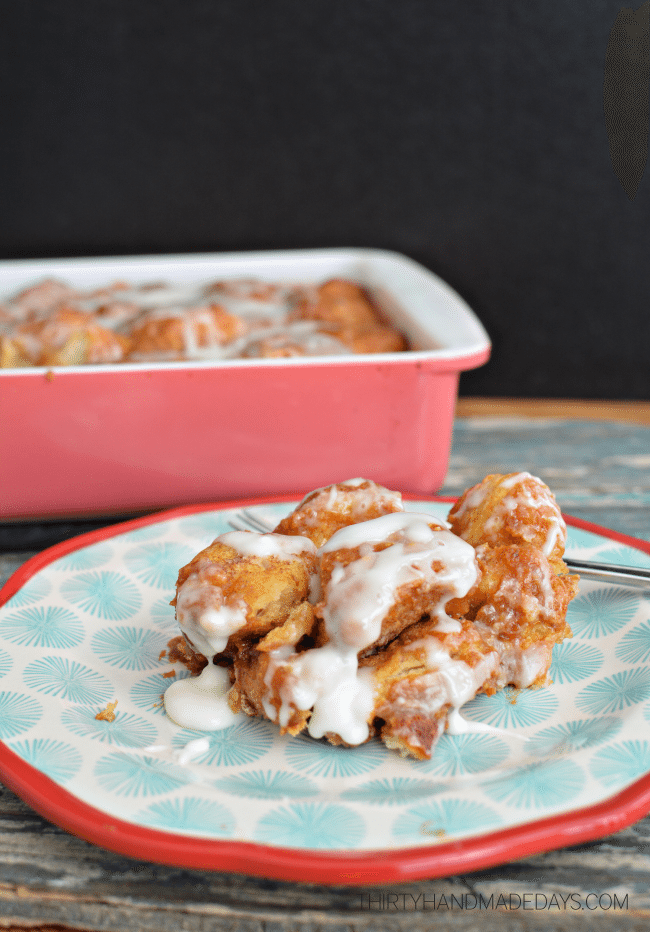 You will love this fall recipe to serve for breakfast or dessert.  Yum!