Funner in the Summer is back.    Mariel  from Or So She Says  is up with another yummy recipe.  She is hilarious and I was happy to finally meet her in person at SNAP a couple months ago.  Check out Or So She Says for all kinds of fabulous ideas, tips and recipes.
Hello, new friends! I'm Mariel. You'll find me and my crew over at 'Or so she says…', a blog all about ideas for women. I'm talking: parenting, recipes, family activities, marriage, health, gift ideas… you name it. It's super fun to be here today with Mique. I love her site and it's such a treat to share with you all!
Alright, so I was thinking 'summer.' Then, I was thinking 'food.' Then I was thinking 'nachos… the greasy gas station kind.' Then I went and changed a diaper, did a load of laundry, and buzzed the heads of two children. Then I remembered what I was supposed to be thinking about… a post for you! Something summer, easy, kid-friendly… how about Raspberry White Chocolate Muffins?? I've had this recipe saved in an old Taste of Home magazine for a while now, so who better to share the deliciousness with than you? I looooooove raspberries. Love. And, these were delicious! Perfect for a summer breakfast. (If you love these muffins, be sure to check out my Summer Muffins, made with oranges, bananas, and poppy seeds!)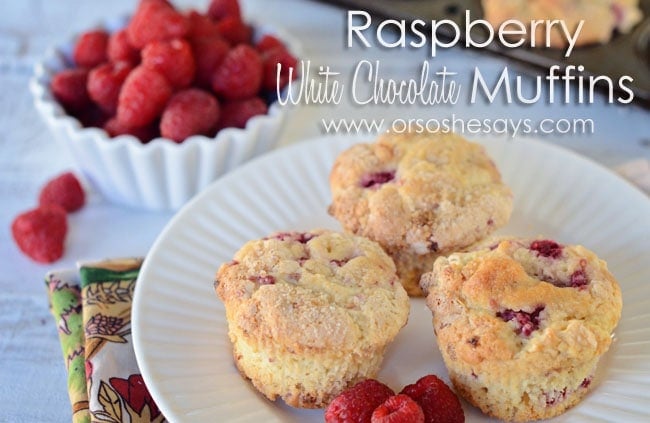 Raspberry White Chocolate Muffins
1 cup fresh raspberries
3/4 cup, plus 2 TBS sugar, divided
1/4 cup butter, softened
1 egg
1/2 tsp. almond extract
1/2 tsp. vanilla extract
2 1/4 cup flour
3 tsp. baking powder
1/2 tsp. salt
1 cup half and half
1 cup chopped white chocolate or white chocolate chips
2 TBS brown sugar
Directions: Heat oven to 375 degrees. In a small bowl, toss the raspberries with 1/4 cup sugar and set aside. In a large bowl, cream the butter with 1/2 cup sugar, until light and fluffy. Beat in the egg, vanilla, and almond extract. In a separate bowl, combine the flour, baking powder, and salt. Add dry mixture to the butter mixture. Slowly stir in the white chocolate and raspberries. Fill paper lined muffin tins with the batter, about 3/4 of the way full. Combine brown sugar and remaining sugar, sprinkle over the batter. Bake for 25 to 30 minutes, or until toothpick inserted in the center of a muffin comes out clean. Serve warm or cooled.
Want some more fun summer ideas?? Check out: How to Make Foam Swords and Marshmallow Guns, 100 Great Books for Kids, The Perfect Summer Project to Keep Older Kids Busy, Entertaining Kids Without Electronics, and 25 Posts to Prepare You for Your Disney Vacation (lots of Disney tips and tricks!)