With the start of the new year, resolutions in full force, I needed a visual reminder.  One that could stare me in the face- hung up on my mirror in my bathroom.  While I might not venture everywhere in my house every day, I will for sure brush my teeth at least once a day  so it's guaranteed to be seen there. 
Recently I was chatting with the awesomest DIY-er of all, Mandi, and we both hemmed and hawed about how we need to stop talking about doing things and just do them.  She stumped me when she said, "Why do you have to tell anyone?" (about your goals)  I guess I always thought that in order to really be held accountable, I needed to declare to the world that I wanted to _____(insert all kinds of goals here)_____.  While sometimes that can be the exact thing I need to do to reach said goal, other times it's frustrated me and made me feel like I have to justify why I didn't actually complete _____(goal)______.  
While I spend the year with joy- looking, seeking, and creating it-  I also want to talk less and DO more.  Anyone with me on this?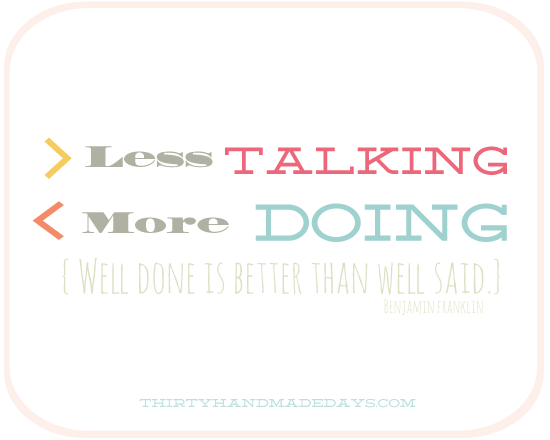 In case you're a visual person like me (or just want a reminder), download this 8×10 resolutions printable.    With the new year comes more specific terms of my downloads, pretty please abide by them:
 Printables from 30days for PERSONAL USE ONLY.  They are not made to sell.  If you'd like to post them on the internet, please use one image and credit with a link back to the specific post on 30days.  Do not alter images to be posted elsewhere.  Thank you so much for playing nicely.
What works for you to help attain your goals?  Do you tell people around you?  Do you write everything down?