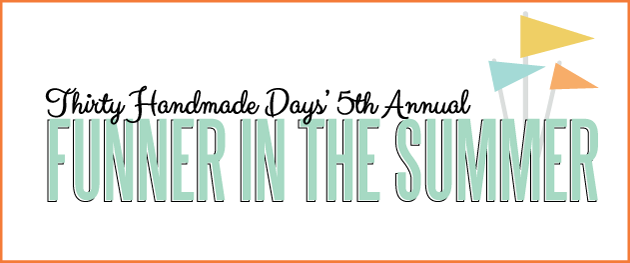 Next up for Funner in the Summer–  Chrissy from the Taylor House.  This drink looks amazing! I'm excited to try it out with my family because I love watermelon.  Yum! I haven't had the chance to meet Chrissy in person yet (hopefully soon!) but we've connected over the last several months and I love her blog.  She has some of the most beautiful recipes.  Thanks for sharing today Chrissy! Make sure to visit and say hi.
Hi everyone! I'm thrilled to be here at 30 Handmade Days sharing an awesome recipe with you today! My name is Chrissy and I blog over at The Taylor House where I share lots of easy recipes, chocolate desserts, drink ideas and lots more!
Since this is the Funner Summer series, the first thing I thought of as something that reminds me of summer was watermelon. I grew up waiting and waiting for those summer months in Iowa when the watermelon was ready to enjoy and usually by the 4th of July we would have our first melon of the year. It was always one of my favorite parts of summer!
Today I made a simple refreshing Watermelon Lemonade recipe to share with you. The flavors came out perfectly and reminded me of my days as a kid which was Funner in Summer for sure! I have two boys and they both loved this recipe! You could make this an adult version pretty easily too by adding a little bit of vodka.
How to Make Watermelon Lemonade
Ingredients You Need
4 Cups of Watermelon, cubed
1 Cup of Lemon Juice
1/2 Cup sugar
4 Cups of Water
Ice
Instructions
Step 1 – Make a simple syrup using the sugar and 1 cup of the water
Step 2 – Puree the Watermelon in a blender
Step 3 – Mix the pureed Watermelon, lemon juice, simple syrup and the rest of the water together in a pitcher
Step 4 – Add Ice and enjoy!
My son actually ended up adding a little bit of Sprite to his so that it was more like a punch for him and that was pretty yummy too!
This was such a simple recipe to make and really has those flavors of summer that we all think of! I hope you love it as much as us if you give it a try! We have a yummy Strawberry Slushie Recipe and Raspberry Spritzer Mocktail that you might love too!