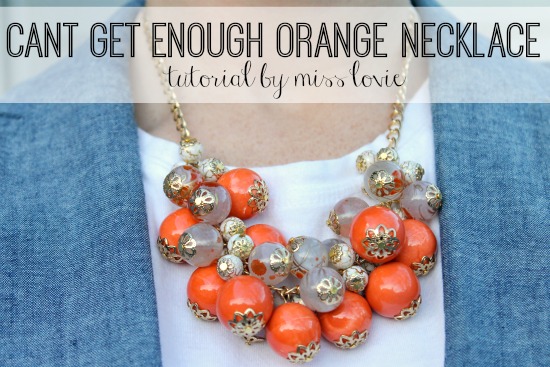 I'm a little obsessed with orange these days. I thought that surely my obsession would fade after fall, but Thanksgiving is almost here and it's not looking like it's going anywhere. My obsession is so intense that sometimes I walk out the door on the way to work and realize I have on burnt orange pants, a patterned orange school bag and an orange purse. And I didn't even wear my orange coat even though I wanted to. Overload. Don't care. I need more. Therefore, I just had to make and share with you the Can't Get Enough Orange Necklace Tutorial. Enjoy.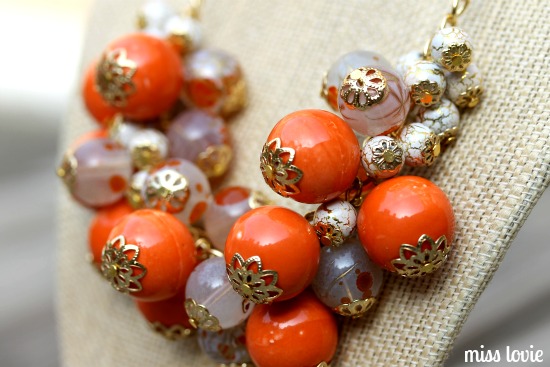 Mmm. Orange goodness. I actually used these beads (sans bead caps) in one of my first 30 Days posts, the Color Block Chunky Beaded Necklace. All these beads, bead caps, head pins, and chain were purchased from JoAnn's Fabric and Crafts.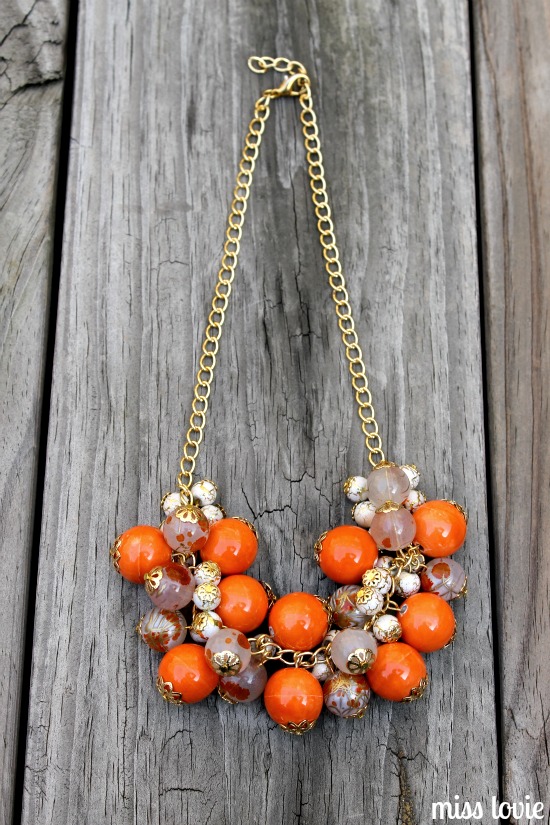 I think the bead caps make it fancier-and I like that.
Ready to make your own?
Great.
Gather your materials: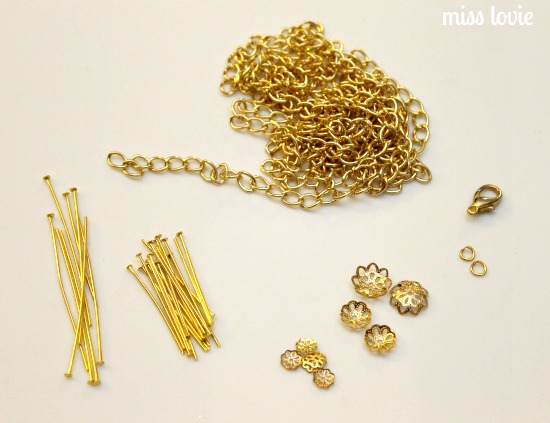 From left to right (clockwise): head pins (different sizes if you like. The longer ones are 2 inches), cable chain, lobster clasp, jump rings, and bead caps (all purchased from JoAnn's). The beads used (not pictured above) were purchased at JoAnn's as well. If you can't find those you could use any beads really (any pattern, all solid colors, same colors, different colors, whatever you like). To achieve the same look however, you would want to use the same size and all round beads. The orange ones are 20mm and I used 10 of these, the patterned clear ones are 15mm and I used 12 of these. Finally, the gold and white ones are 10mm and I used 24 of these.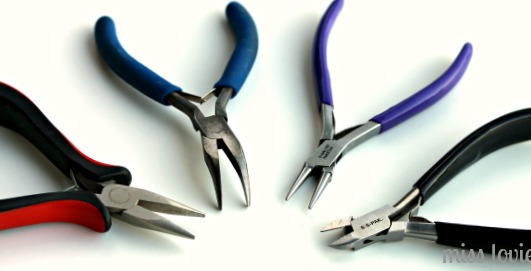 Jewelry tools needed: (left to right) flat nose pliers, bent nose pliers, needle nose pliers, wire cutters.
This necklace is super simple. Let's get started.
First, cut a length of chain about 18 inches long(or however long you like). Then make simple loops above all your beads.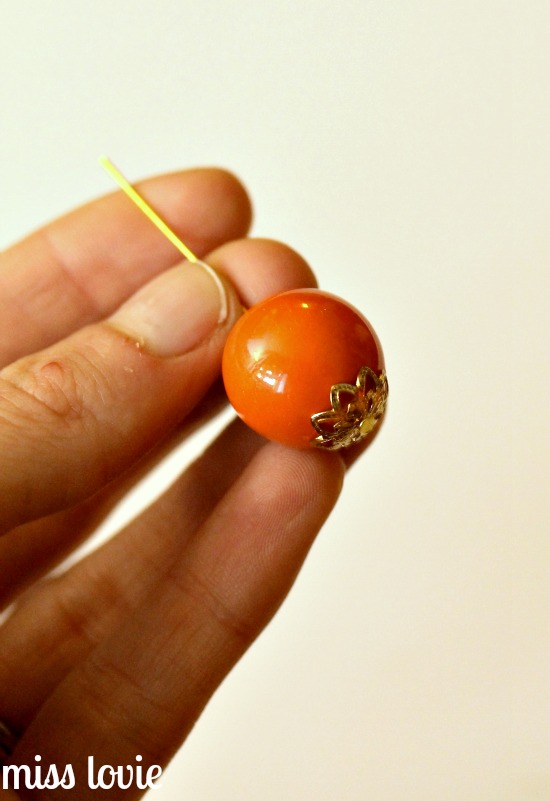 Simply slide on a bead cap onto a head pin and a bead on top. Then create the simple loop on top.
Follow the steps below to create a simple loop

(Disregard #1 because this step was already explained including the bead cap above) 2. After adding the bead and bead cap to the head pin, use the bent nose pliers above the bead 90 degrees.  3. Grasp the wire at the bend with the needle nose pliers  and wrap the wire around them.

4. Reposition the needle nose pliers 5. and continue to wrap the wire around to create a single loop. 6. Cut the excess wire off.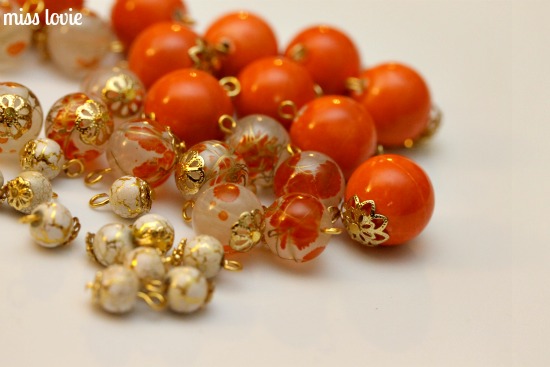 Now you should have a bunch of these.
Let's attach them to the chain.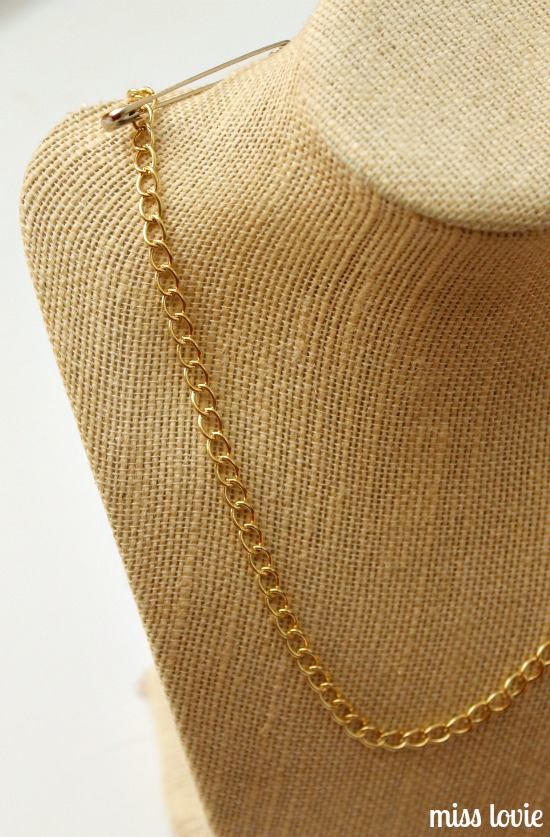 I like to stabilize my chain onto a bust or something that isn't moving so I can see what I'm working on and my work doesn't slide around.
To attach the beads to the chain, simply twist open a loop with your pliers and catch a link of chain with the open loop and then twist closed. I didn't really place the beads on this necklace in any sort of pattern really, because when I did, it didn't really lay right. I just kind of placed them where it looked like there was a hole or it needed some fullness. I did however, start with the large beads, then I added in the medium beads, and added the small ones last.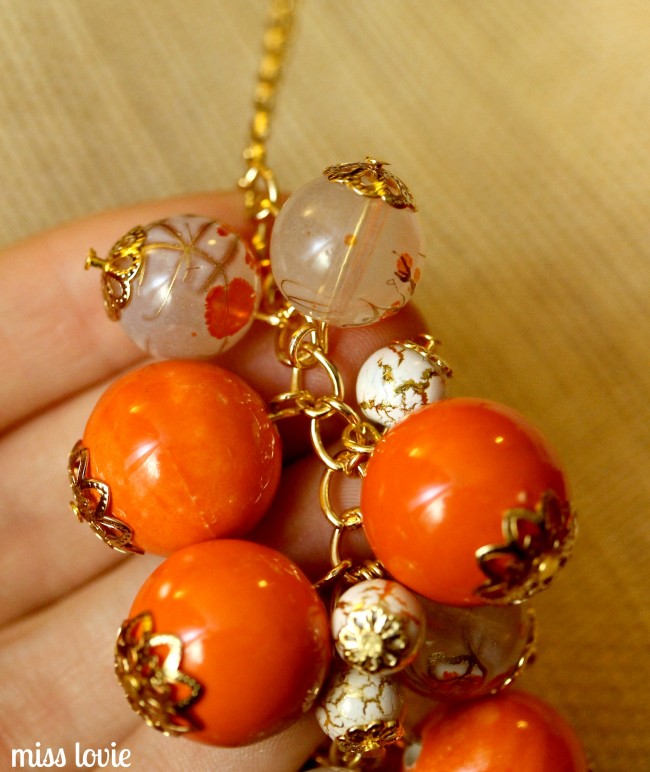 Here's a look at what my chain looked like up close in one of the parts of my necklace.
Let's finish it up!
Create the closure.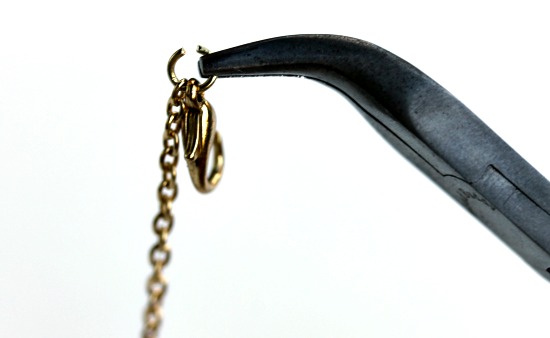 Attach a jump ring onto one of the ends of the chain along with a lobster clasp and close the jump ring.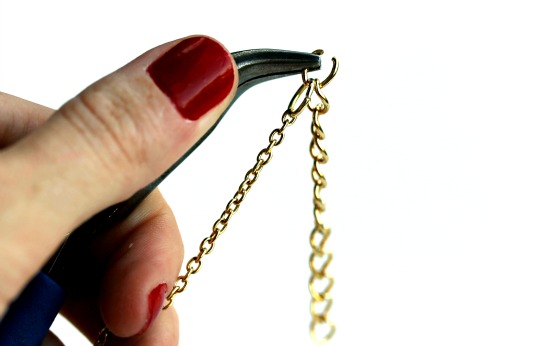 On the other end of the chain, add another jump ring and an extra length of chain if you'd like your necklace to be adjustable, and then close the jump ring.
And done!
Great job.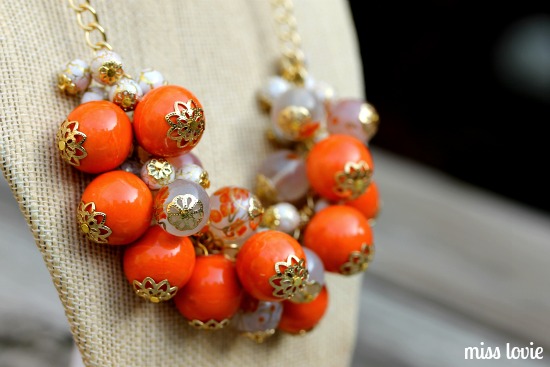 Just a little more orange goodness for you.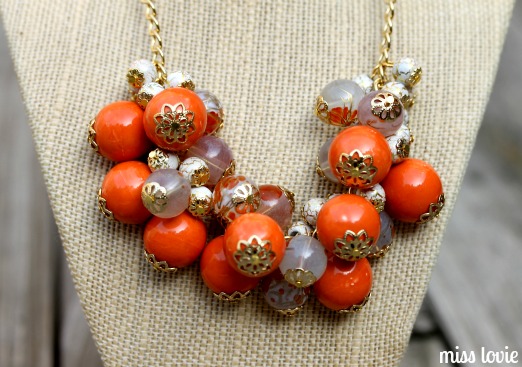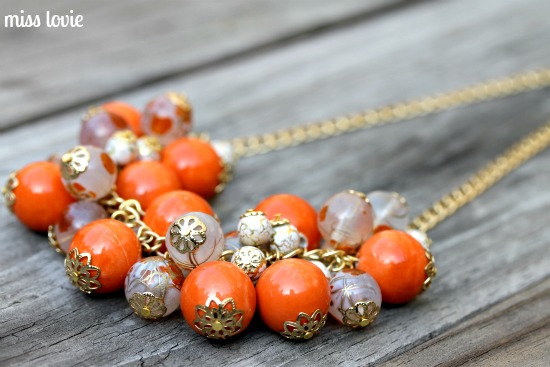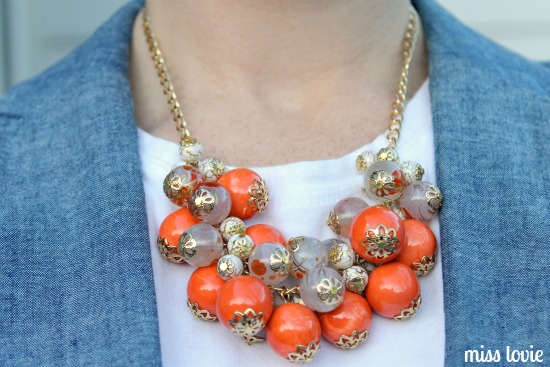 Thanks for reading!
If you enjoyed this post, you should check out my other jewelry tutorials on thirty days or the tutorials on my blog!
Now go make a fun necklace in your favorite color right now!