What a fun way to celebrate Valentine's Day with these cute children's book page heart Valentines!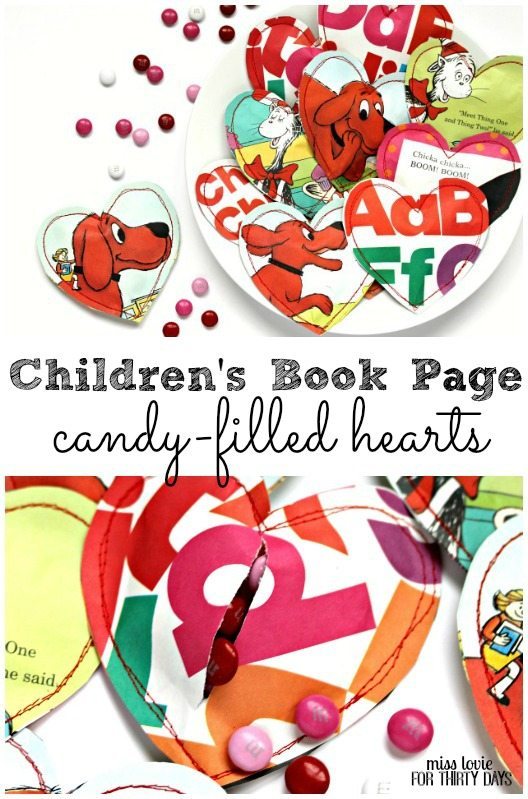 Hello, 30 Days readers! I'm Allie from Miss Lovie and today I'm going to share with you my Children's Book Page Heart Valentines! If you've been on the internet at all, then you've seen sewn paper heart pouches all over the place. I LOVE them. I've been dying to make some for awhile. I'm a kindergarten teacher and every year I try to make my kids' valentines so I decided to give these cute sewn paper heart pouches a try.
Children's books have the most beautiful, colorful, and happy illustrations. They make me (and children!) really happy so I decided to recycle some of the beat-up old books from my classroom and use them for valentines this year. And don't worry, fellow children's literature lovers. These are the books that have been read for years and years by children who don' t always know how to hold a book at first, let alone carefully turn its pages so it would be safe to say these were headed for the recycling bin very soon. You can only tape so many pages back in until the book should just be retired.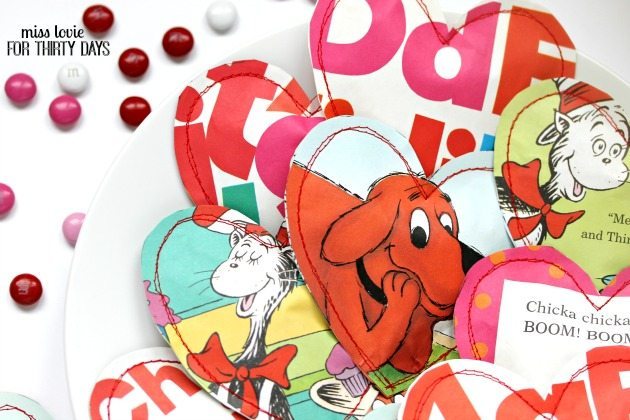 How lucky was it that these beaten-up books were perfect Valentine's Day colors?!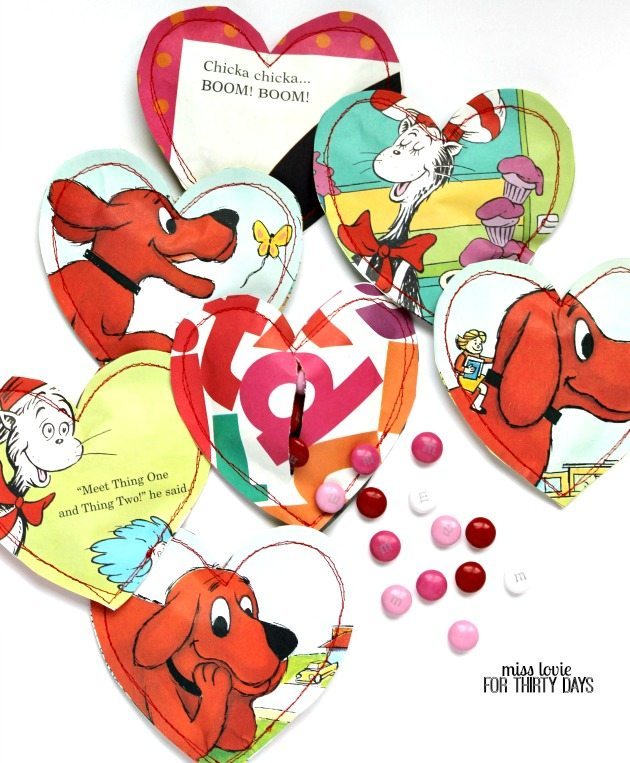 If you are a parent these would be a fun collaboration with your kids. Let them pick out the books that need to be retired (or go shopping at the thrift store!) and let them help pick which pages should be made into pouches! If you're a teacher, I know you'll be able to find some books to use! I think the kids in my class will love them. Once they find out there is candy inside, though, I know they won't last another second.
Let's make some.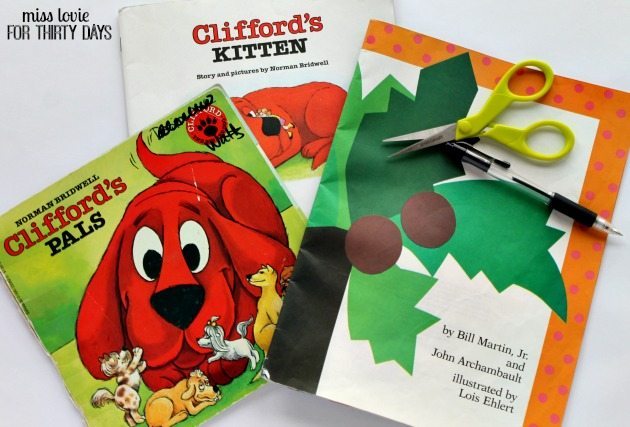 Find some old books that have seen better days, grab some nice scissors and a pen and a heart template. I used the medium sized one from here. That's right…two of those up there are so destroyed well-loved that they don't even have covers anymore.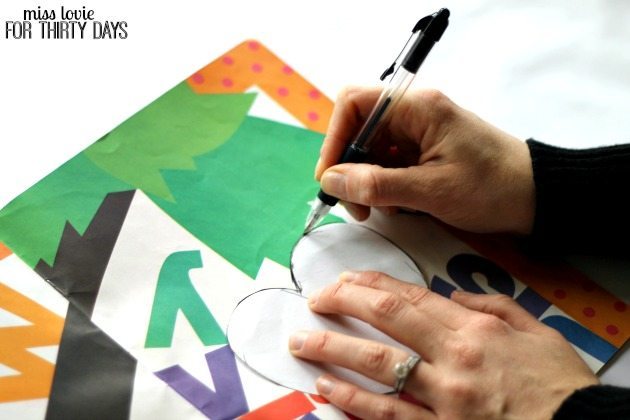 Use the heart template to trace and cut hearts from the pages of the books you gathered. Cut 2 hearts for each pouch. To make them match exactly, turn your template over to its backside to trace the second heart. Cut out.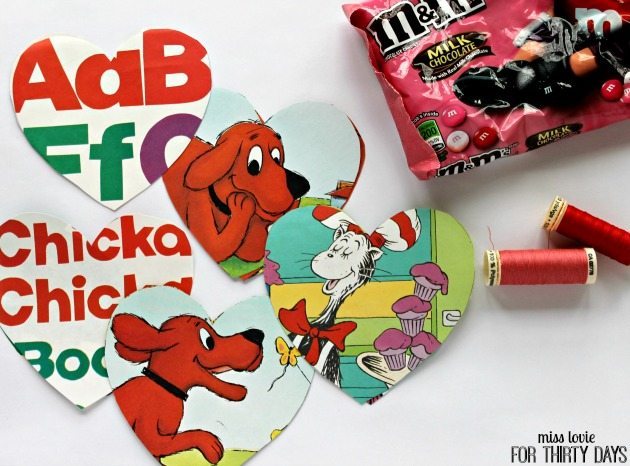 Pair up your hearts, gather coordinating thread and some festive candy.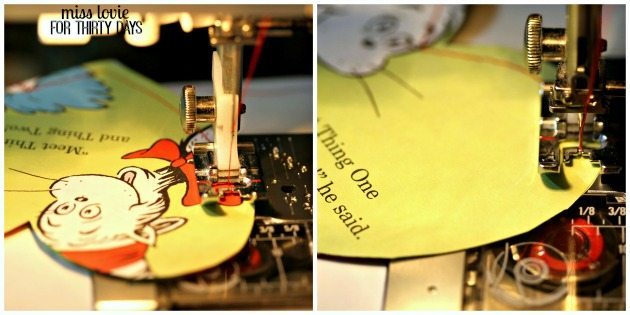 Set your stitch length to about a 3. This makes for prettier stitching on the paper. Sew around the edge of the hearts with a 2/8 inch inseam around the heart. If you want to sew the curves the right and more precise way do this: when you get to the curves of the heart, leave your needle down, lift up your presser foot, and turn until the edge of the inside of your foot matches up with the edge of the heart. Sew a few stitches and then repeat. Or if you want to be like me and live recklessly and less precise, sew slowly and just slowly turn your heart, while keeping the foot lined up with the edge of your heart the whole time. When you get to the point of the heart, leave the needle down, lift the presser foot and turn the heart until the needle is lined up with the edge of the heart again.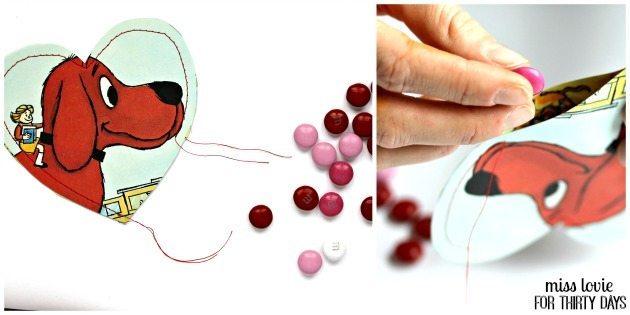 Don't sew all the way around yet. Leave a hole as shown above on the side of the heart. Don't forget to back stitch before you stop sewing. Fill the pouch with candy of your choice. The pouch should not be too full so that it won't be too difficult to sew the rest.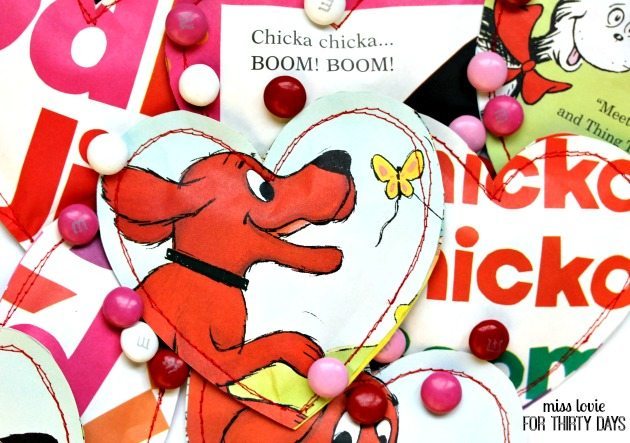 Sew up the hole and sew one more time around the heart to create a sketchy stitching effect if you like. This covers up any imperfections and it looks cool. If you do sew one more time around, just be sure to move the candy out of your way as you sew.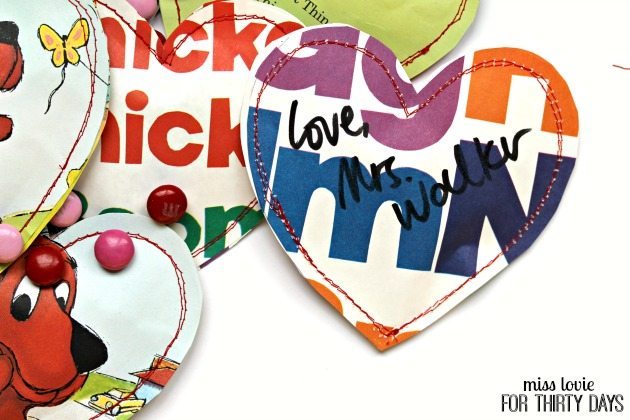 Sign the back with a sharpie if you want.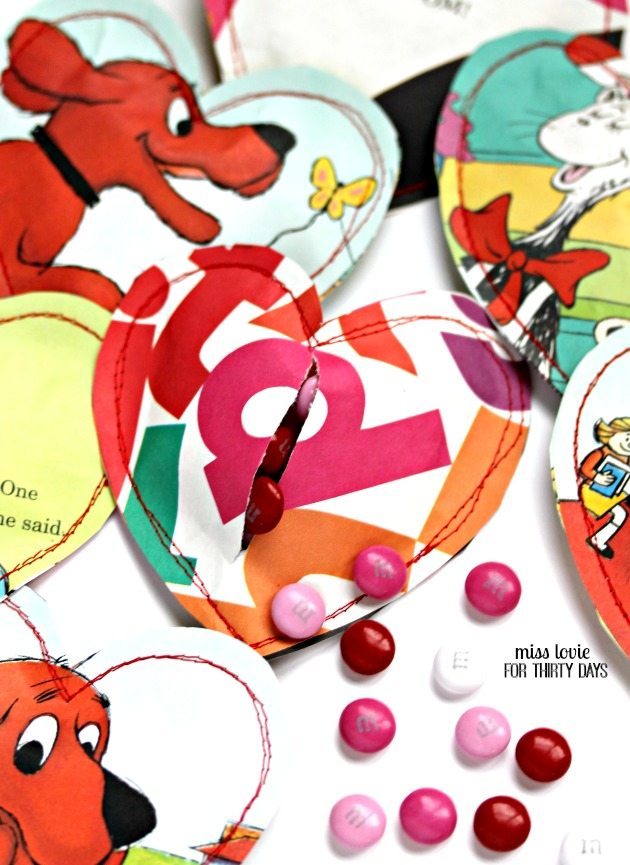 And Enjoy!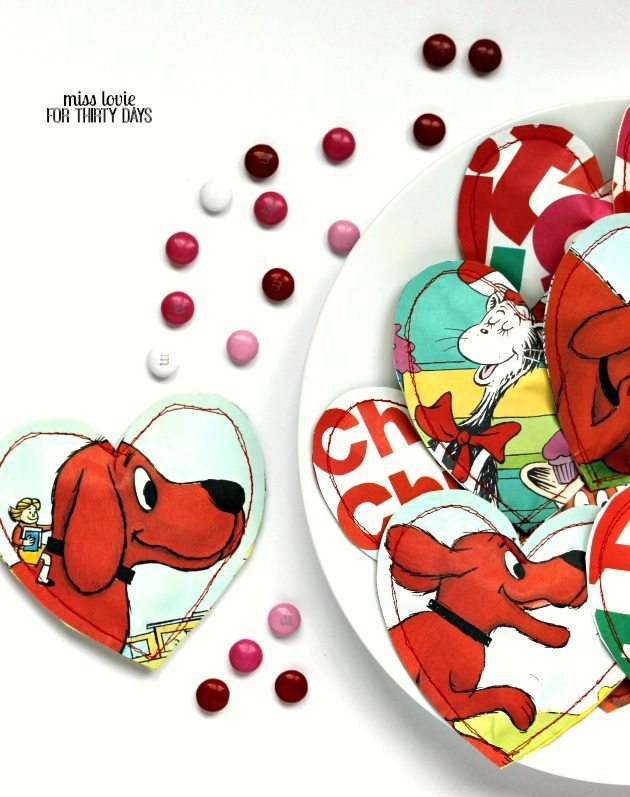 I hope you love these Children's Book Page Heart Valentines! They were really fun to make. I'm excited to see my kids' faces when they recognize some of their favorite characters and books. Then we'll, of course, have to have the conversation about only using book pages for projects when an adult tells you its okay. Sorry moms and dads if they try to experiment at home! :) HA!
If you loved this Valentine's post, be sure to check out some of my other projects!
Floral Love Pillow, Fabric Heart Coasters, Color Block and Scalloped Valentine's Day Wreath
Thank you for reading! What valentines are you making this year for Valentine's Day?