I love a good craft, especially one as cute as this Christmas Spool Garland.  So adorable.   Now is the time to start creating unique and meaningful handmade gifts!   Are you following my Holiday Bake Craft & Crochet Series? By the end of the month Skip to My Lou, Your Homebased Mom and I will have shared over 100 fabulous handmade gift tutorials.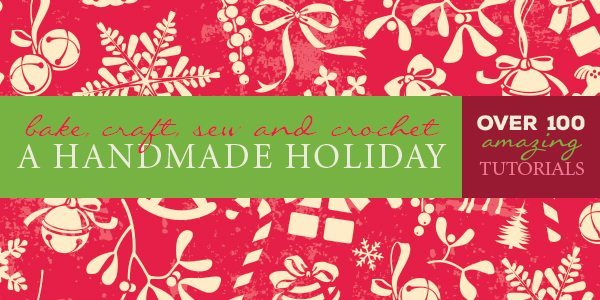 Each day be sure to visit the guest poster's blog for a chance to win BIG! Up for grabs is a Cricut cutting machine, a Blendtec blender, a Baby Lock sewing machine and a $300 Michaels gift card! Grab a new entry every day! Visit Capturing Joy today to enter to win the Cricut Machine and Holiday Crafting Bundle!  Take it away Kristen….
It's always fun to craft new decorations for the holidays, and I love to include my kids when I can. This Christmas painted spool garland was so simple to assemble, and I love how it looks on my mantel.
Hi friends! I'm Kristen Duke, and I love to share my creativity over at Capturing Joy. I share photo tips such as how to dress for family pictures, along with our family favorite recipes, printable gift ideas, travel adventures, and home projects to name a few. I'd love you to come on over! Mique is a dear friend, and I'm happy to be here today.
This garland idea all started when I found a bag full of unfinished spools at my local Michael's craft store. I couldn't help but to throw the bag into my cart. I didn't know what I was going to do with them, but I knew I loved them and would figure it out later. I did a little Pinterest search for spools, and saw lots of cute ideas, then I decided to make a garland out of it.
I had the spools and paint sitting on my desk for at least a week or two, and told my 5 year old that she was going to paint them with me. It just seemed to take much longer than she wanted to actually sit down and do it. I knew we needed a solid chunk of time to dedicate to the project, but she didn't quite get that. The day finally came, and she was so excited. She loves crafting.
We then had a plate full of red, green, and gold spools
I then set out a pattern of what order I'd like the spools to go in on the garland. My daughter had fun calling out the pattern. Gold, red, gold, green. Gold, red, gold, green. Gold, red, gold, green. Until she went through the entire line.
I grabbed some red twine, and doubled it up, and started stringing the spools with gold bells. I love bells. So cheery and fun. I then added some polka dot ribbon for a little more texture.
I love how it turned out! I hung it up with some green pom pom string, and once I decorate my mantel for Christmas, it'll all pull together nicely! To get an idea of my Christmas mantel last year, check it out. Here is a little up close shot of the garland paired with the pom pom yard.
There you have it! A fun Christmas craft to make with your kids, or all by yourself!
I'd love you to come visit me over at Capturing Joy. Do you have a fancy camera that you don't know how to use? I've got a solution for you with my beginner book! Need Thanksgiving ideas? I've got jokes, kids place settings, and gift ideas. Need Christmas Ideas? I've got recipes, lunch jokes, and gift ideas. Check them out!
Here is a quick "non holiday" snapshot of what I love to share on my site!
Family Picture Outfit Ideas // Hawaiian Meatballs // Colorful Home Office // Walt Disney World tips and Favorites
I'd love to connect on Facebook * Instagram * Pinterest
Now head on over to Capturing Joy to enter the giveaway: