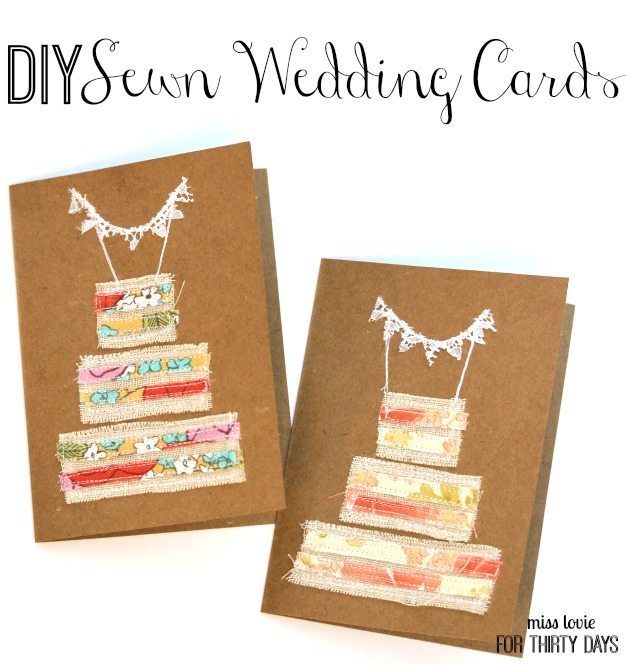 Hello, 30Days Readers! I'm Allie from Miss Lovie and today I'm here to share my DIY Sewn Wedding Cards with you! If you've been following my posts on 30 Days you may remember a similar project, my Handmade Sewn Birthday Cards. Sewn cards are so fun and quick and easy to make that I couldn't help but share this easy idea with you as well. I've had the "naked cake" card idea for awhile and thought I'd give it a go since I have a few weddings coming up this summer.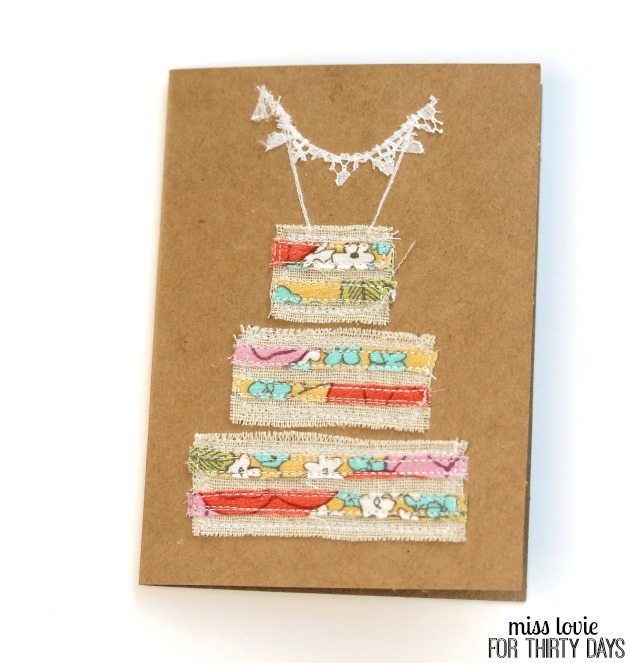 When buying wedding gifts, I always try to go with something from the couple's registry so I know they will really get good use out of it and it's something they actually want, but the card is my chance to add a much more personal touch. What better way to do that than a handmade card?! Add a heartfelt note to the couple on the inside and it is something the couple may want to cherish for years to come.  And, of course, I had to use floral fabric for this project. I tend to do everything in floral these days.
Let's make one.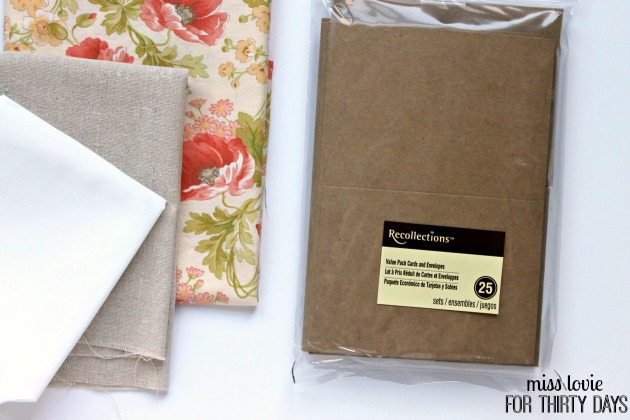 All you need is some fabric (I used floral, a natural linen, and —not this white shown—some lace), fabric glue, and some card stock or this pack of pre-made cards/envelopes. With other cards I've made, I used just plain card stock and scored and folded it into cards, but I saw this Recollections cards and envelopes pack at Michael's and was so excited because the cards were already made for me and they came with envelopes as well! Woo Hoo!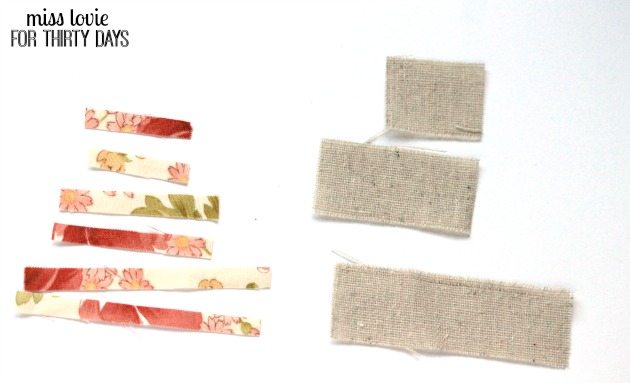 Cut the linen (or cake fabric) into a 1×3 inch strip, 1×2 inch strip, and a 1×1.25 inch strip. These will be the tiers of the cake. Cut the floral fabric (or icing fabric) into 2  .25×3 inch strips  2 .25×2 inch strips and 2  .25×1.25 inch strips. If you're using a patterned fabric for this, be sure to pick and choose which parts of the fabric look the best.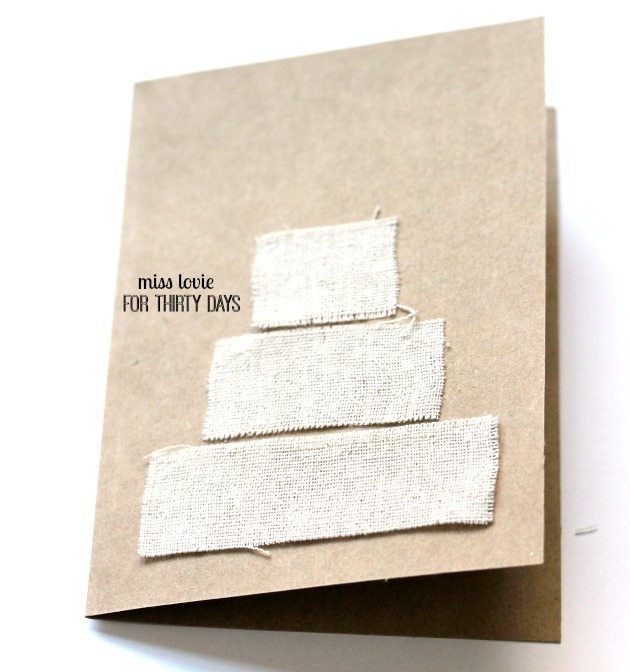 Glue on the "cake" strips. You can leave a tiny space between the tiers or not, whichever you prefer. I used fabric glue, but any glue will work okay.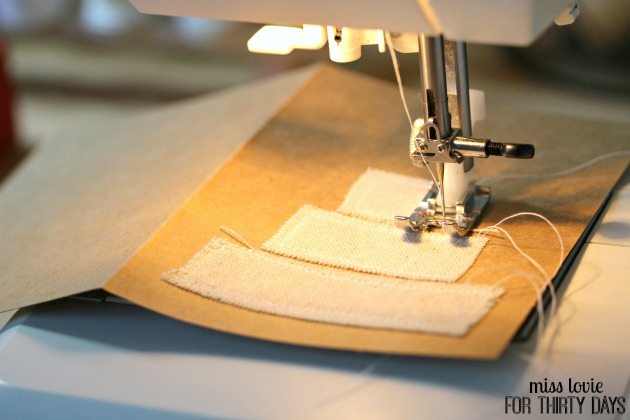 Stitch each strip into place by sewing around the edges of each strip 3 or 4 times. I used white thread, but you could use contrasting thread if you like. The white didn't show up too well which is why I sewed around 4 times for each strip. Normally I would do a messy 2 times.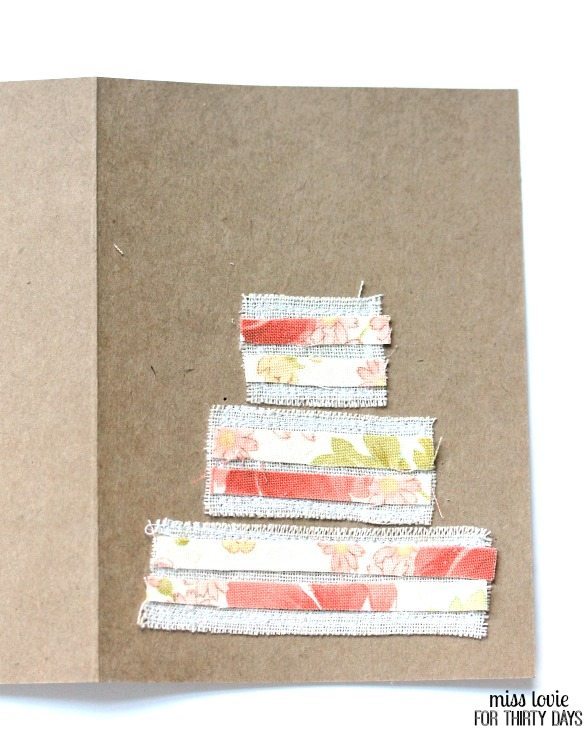 Glue the floral "icing" pieces on.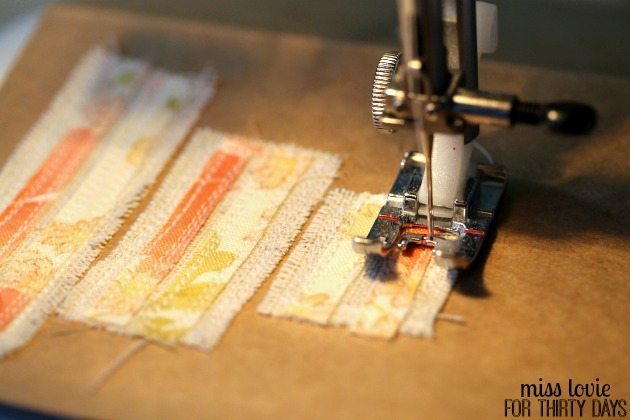 Sew in place just like you did for the "cake" strips, but only sew twice (or once if you want a cleaner look).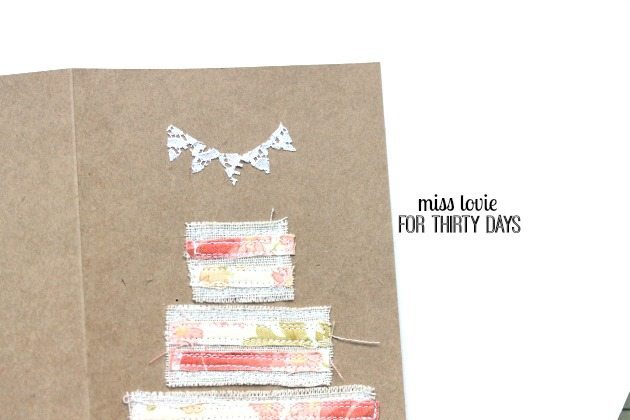 Then you can add a topper. I think if you used plain white fabric for the icing, a fun bunch of flowers at the top would be awesome, but since I already had floral icing, I stuck with simple lace flags. For the bunting, cut a super thin strip of lace and then cut those strips into triangles and glue in place. Finish off the bunting by sewing a rounded line across the top of the flags and then slanted lines down to the cake to act as little sticks that hold the bunting in place. Connect those lines to the second from the end flag on each side.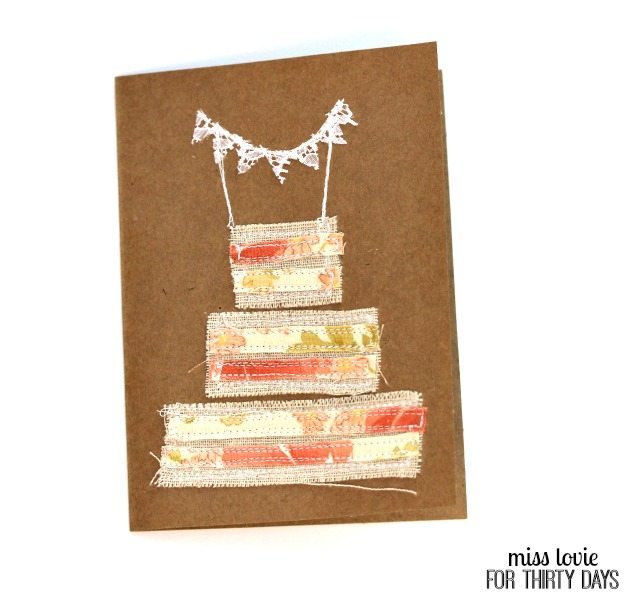 And you're finished!
I love how simple and fast these are. And I hope you do, too.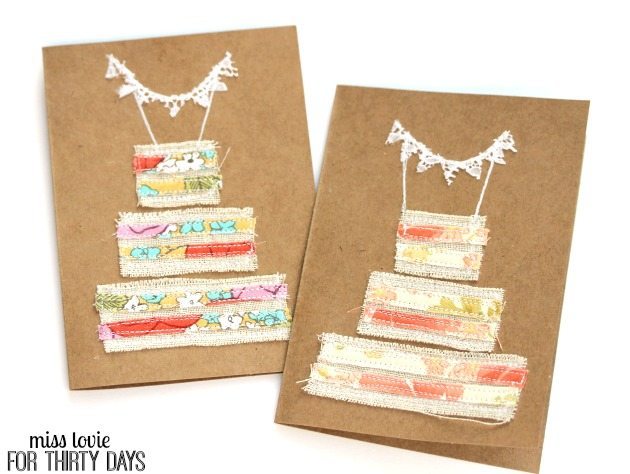 For more easy sewing ideas, check out my Handmade Sewn Birthday Cards, Handmade Monogram Stationary, Dog Silhouette Fabric Art, and this Floral Love Pillow 
Thank you for reading and Happy Wedding Season!