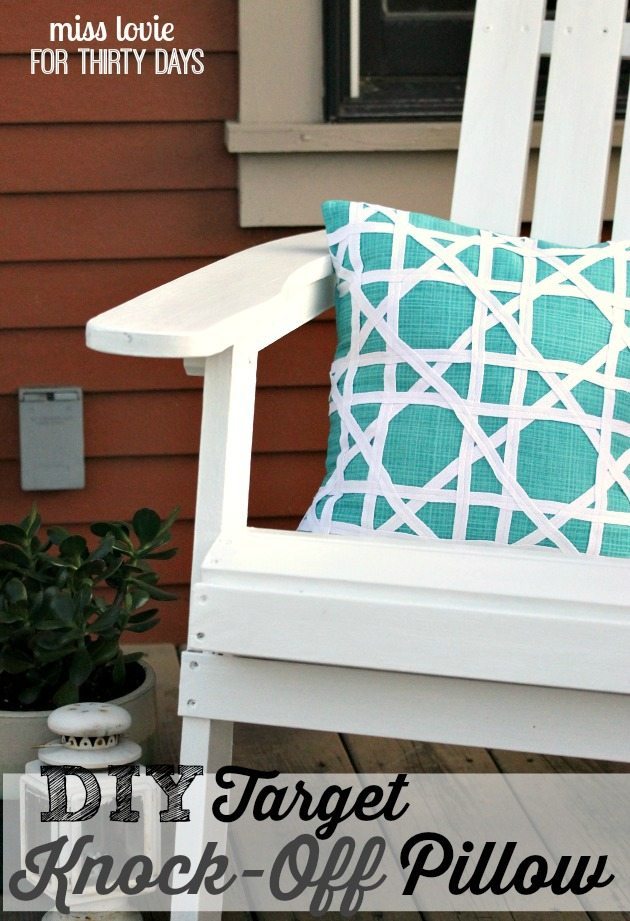 Hello, 30 Days readers! I'm Allie from Miss Lovie and today I'm so excited to share with you my new favorite project- a DIY Target Knock-Off Pillow. If you're anything like me you flock to that aisle in Target with all the new decor items every time you visit.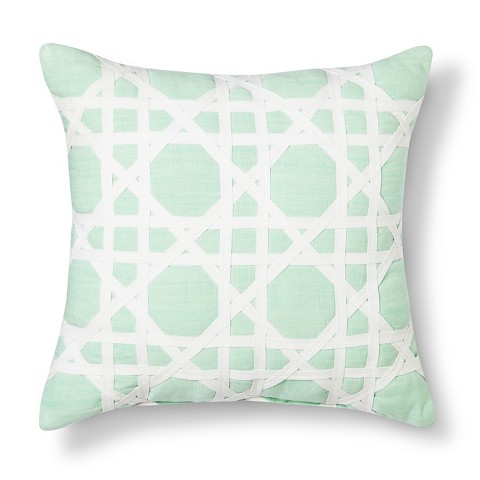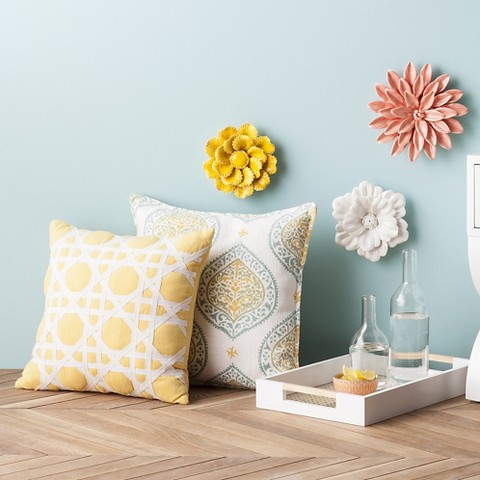 Recently I saw these pillows and fell in love. The bright colors, the geometric cane design and the stitching. They are everything I loved. And I thought, "You know what, I can make that." Target is known for their reasonably priced home items so buying these would be easy, but making them was a lot of fun, too.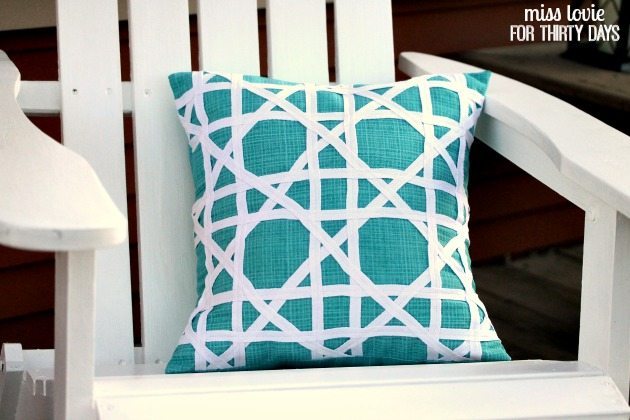 Now, I'm not saying these are fast, but they do turn out beautifully. Plus, the beauty of making your own is you can pick the color fabric. I really wanted to make some outdoor pillows for our deck and I knew those pillows, while beautiful, were not meant for outdoors. I found this really pretty turquoise outdoor fabric at JoAnn's  that was perfect, but a little pricey so I used my 50% off coupon and was able to make two pillows (including the twill tape) for a little  over what one cost. They would be even less expensive if you lucked out and found cheaper fabric.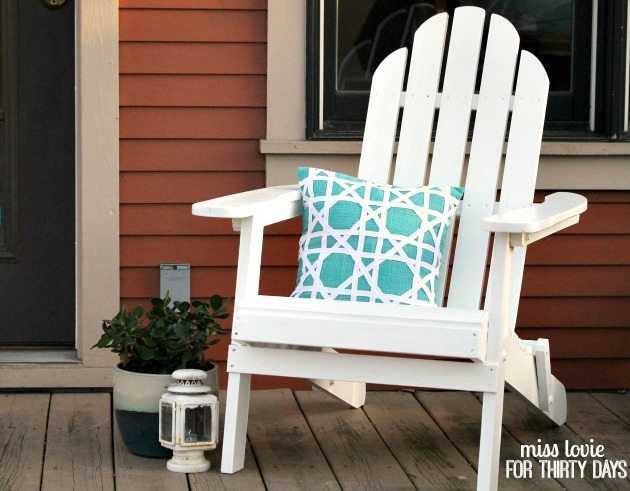 Let's make one!
 I made were for a 16×16 square pillow form. Measurements for materials would need to be adjusted for a different size pillow. Also, I used this tutorial as a general guide to making an envelope pillow so if you need additional help on making the pillow cover, you can check there!
The materials you need for one envelope pillow cover are 1 piece of fabric 16×16 inches for the front of the pillow, and 2 pieces of fabric 16×13 inches for the back of the pillow, about 10 yards of twill tape that is 1/2 inch wide, some fabric glue, and general sewing supplies.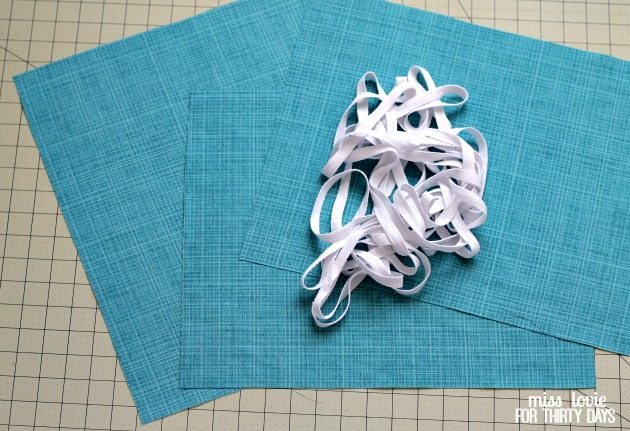 First, cut your fabric into one 16×16 inch square (for the front of the pillow) and two 16×13 inch rectangles (for the envelope back of the pillow).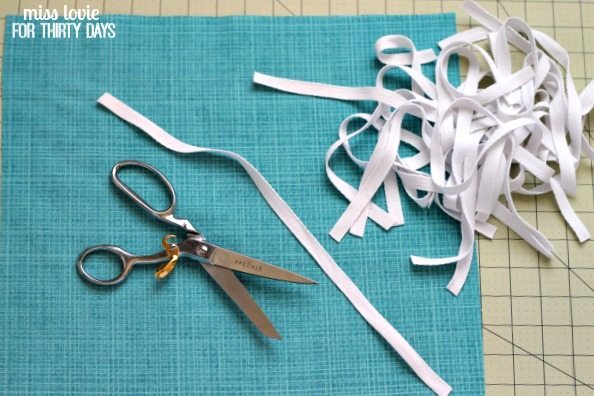 Next cut your twill tape into strips. You will need to make the following cuts:
12   16.5″ cuts, 4    7″ cuts, 4    13″ cuts, and 4  21″ cuts.  These are rough measurements. You want to be sure that your twill tape goes off the edge a little so that you don't cut it short. You will cut these edges off later.
***NOTE: I got my twill tape off a bolt and it was kind of wonky and wouldn't lay straight. If yours is the same., iron the tape flat by pulling it straight as you press. It's very important the strips lay flat so you get those straight (or mostly straight) lines.  You can press before or after you cut. ***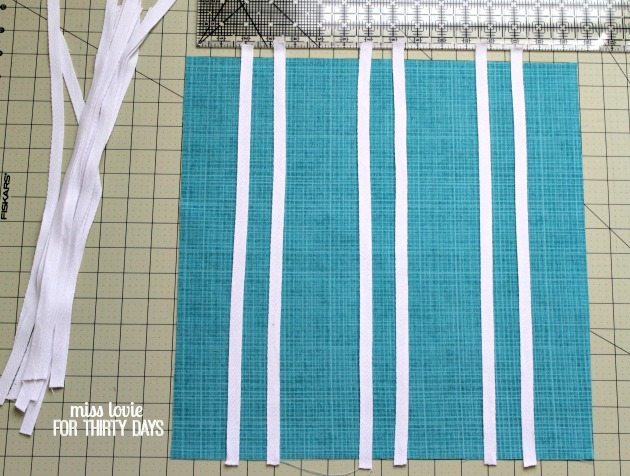 Next, lay your 16×16″ piece of fabric out flat and get ready to lay out your pattern of twill tape. It is very helpful to do this on a cutting mat so you can see easily where your measurements are. Then, lay out 2 16.5″ strips in the middle around the 8″ mark. Leave about 3/4 inch in the middle of your strips (larger than what is shown here. I adjusted mine later). Then lay out 2 16.5″ strips in the same way around the 3″ mark and the 13″ mark. It should look like the picture above. If it doesn't look right adjust by eye-balling it. That's what I do anyway, but I'm not super precise. Ha.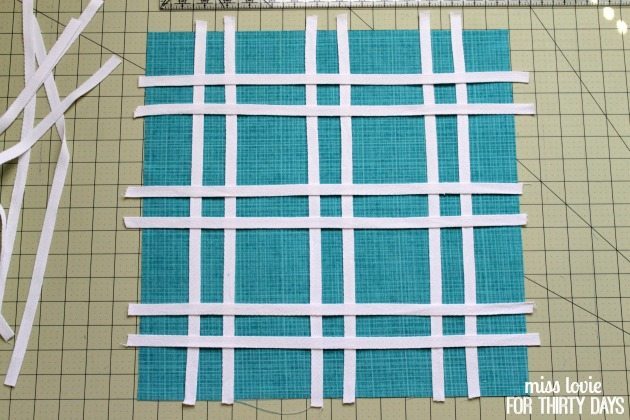 Next, you'll do the same thing as above (using the same measurements) but lay your remaining 16.5″ strips horizontally on top of your vertical strips. (Again, you'll have a little more space between your strips than what is shown above as I adjusted mine later after pictures).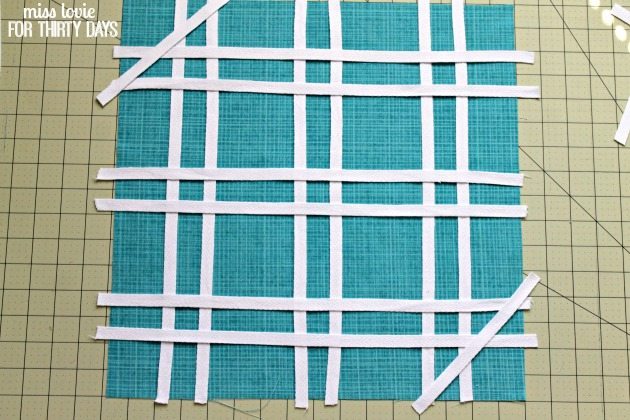 Now take your 7″strips and lay them at an angle across the bottom right and the top left corners. The strips should cross through the middle of the rectangles (not squares).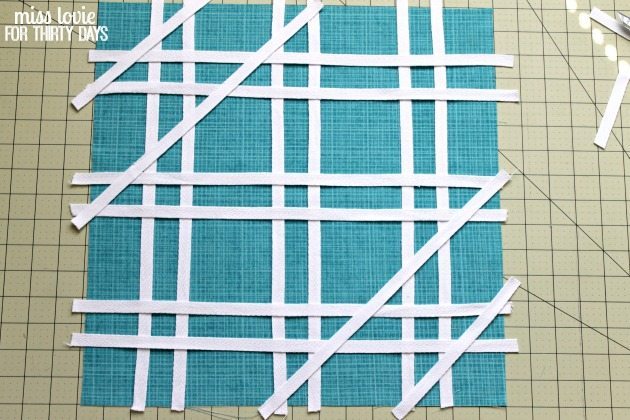 Now take your 13″ strips and lay them across the rectangles again above the 7″ strip on the bottom right and below the 7″ strip on the top left. Again, the strips should pass through the middles of the rectangles.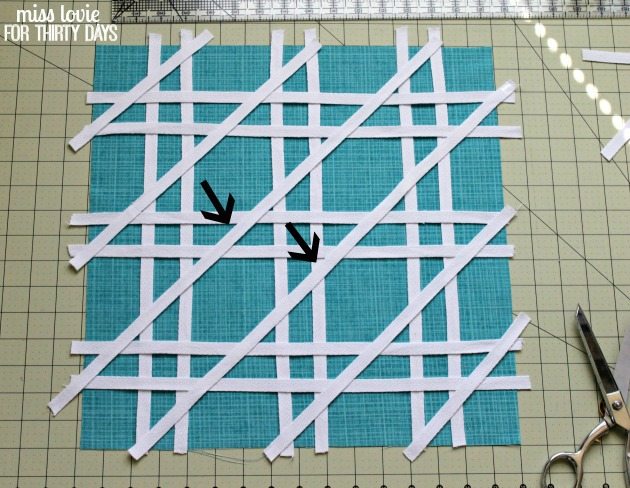 This is where the pictures get a little confusing so I added in some arrows so you can see what I'm talking about. Now add 2 of the 21″ strips in the remaining spaces so that they pass through the centers of the remaining rectangles.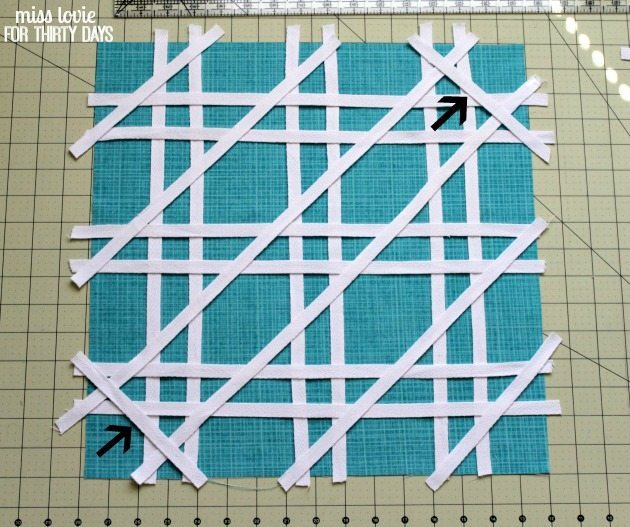 Next, you're going to do that all over again and your diagonal strips will make "X"s inside all the rectangles. Start by adding 2 of your 7" strips across the bottom left and top right corners as shown above.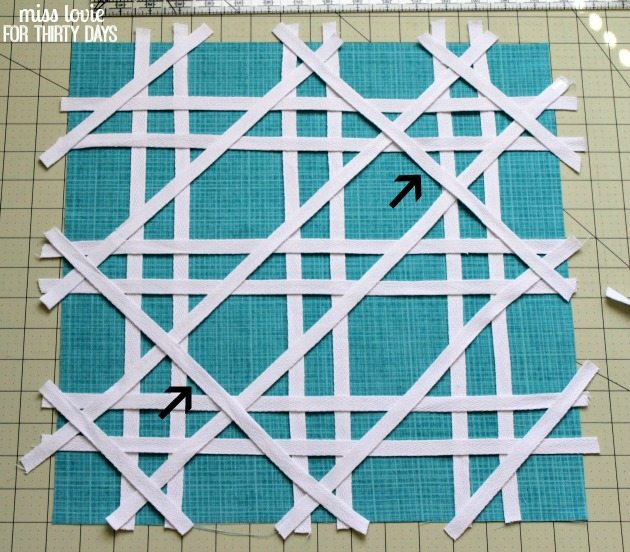 Continue by adding your 2 13″ strips above and below the 7″ strips you just laid down, crossing through the rectangles, creating "X"s.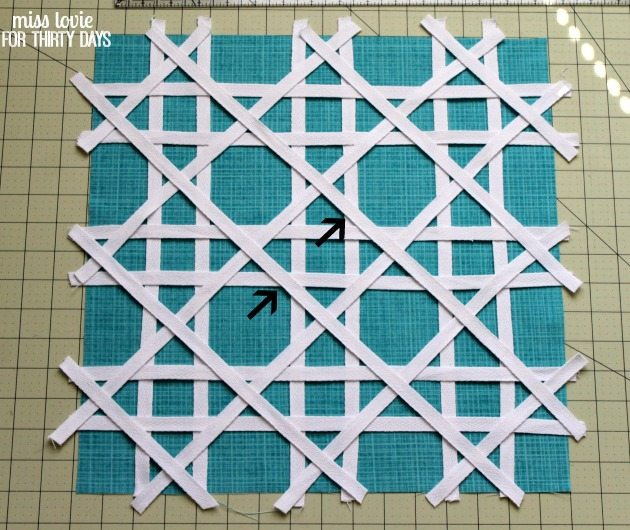 And finally, add your last 2 21″ inch strips in the middle, crossing through the rectangles, creating "X"s. Now this looks pretty good, but if you look closely at the target pillow the strips appear to be woven and not just laid on top of each other…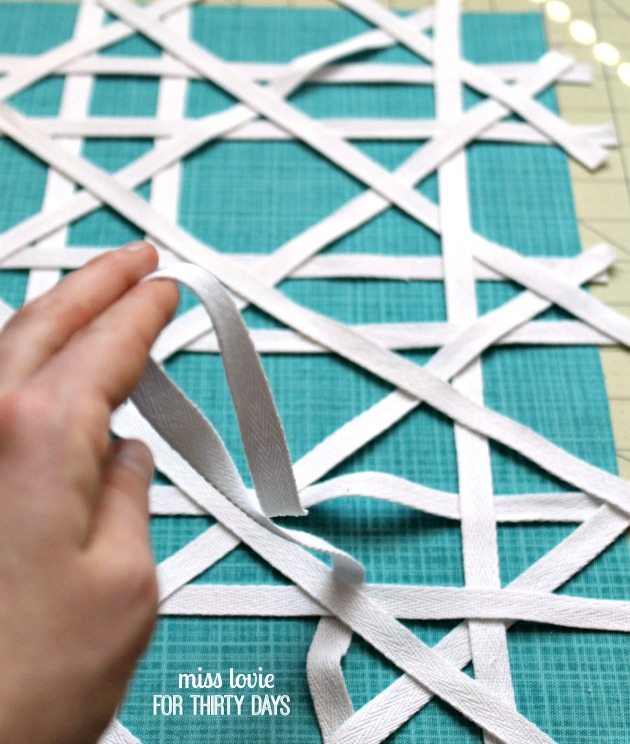 So next, you're going to carefully pull the vertical strips out one at a time (straightening the other strips as you go if needed) and then weave it back through the strips that are laid down (over, under, over, under, etc.). Do all vertical strips like this and then do some horizontal strips. I say some because once I did all of the horizontal strips, some of the weaving I did with the vertical strips was undone. Just weave until it looks how you want it. This does not have to be perfect. You don't have to do anything with the diagonal strips.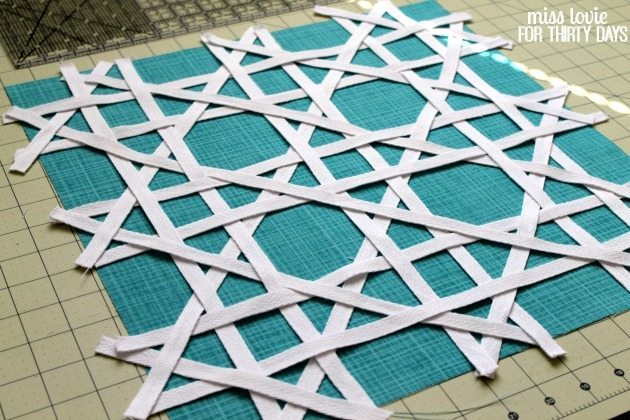 It should look something like this when  you're done. Straighten all your strips if you need to. Make sure they're straight and even and all the "X"s are going through the middles of the rectangles.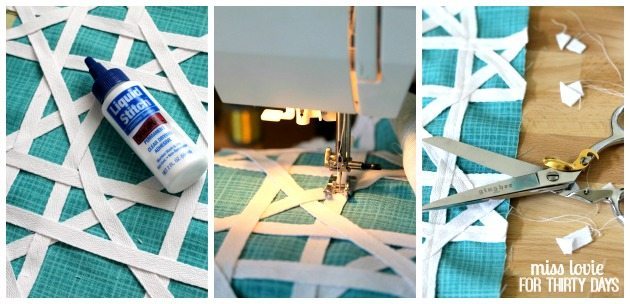 Now that your pattern of twill tape is finished, you need to make sure it stays in place for sewing. This part gets a little tedious, but it's worth it. Use some liquid stitch (or any fabric glue) and put little dots under the twill tape every couple of inches under each strip. Again, this doesn't have to be precise, but you don't want the tape to shift at all during sewing. Then sew each strip down. It may be helpful to sew in the same manner you placed the strips on the fabric so you don't miss any. Trim all excess threads and tape from the edges.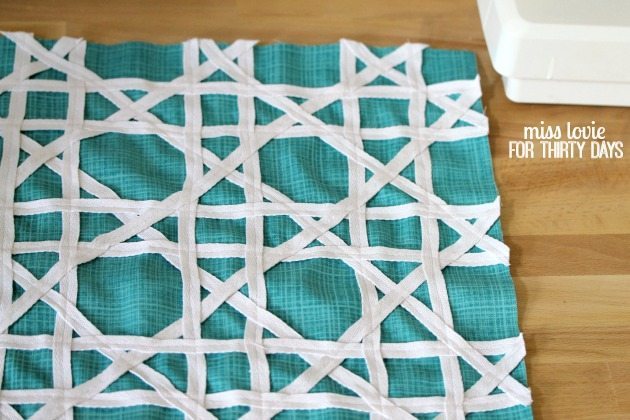 It should look like the picture above when you're finished. Press flat.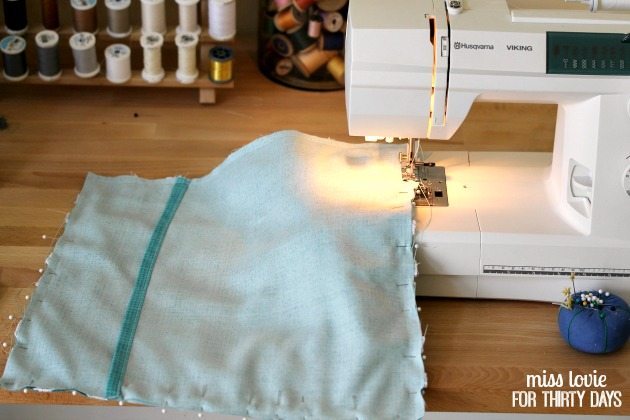 Next, you'll hem the long side of both of your 16×13″ pieces (not pictured) and then pin them onto the front piece right sides together with the hems facing inward. Sew all the way around the edge of the pillow cover with a 3/8 in seam. Trim the corners and then turn the pillow cover inside out and use something with a blunted tip (like a dull pencil) to push out the corners. And you're done!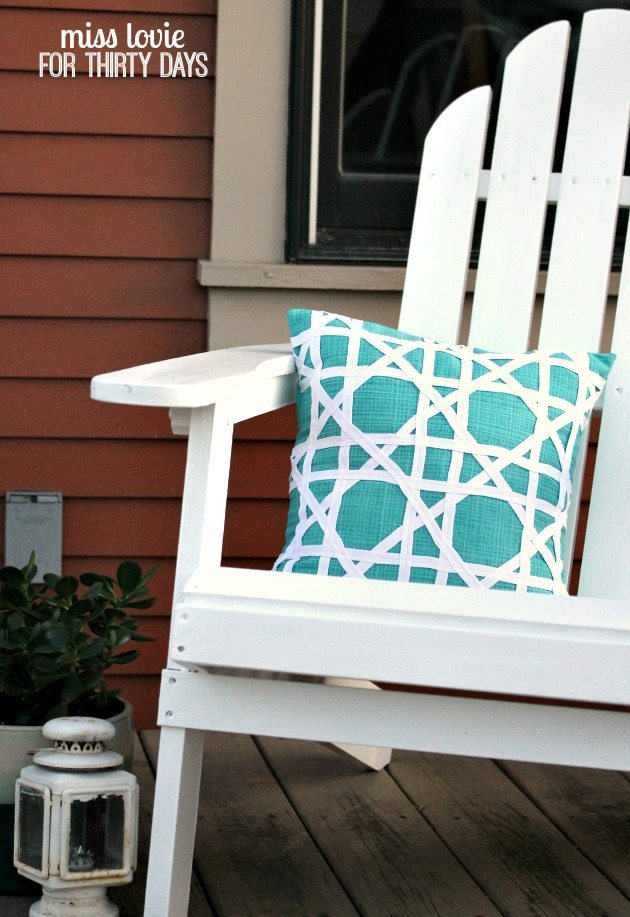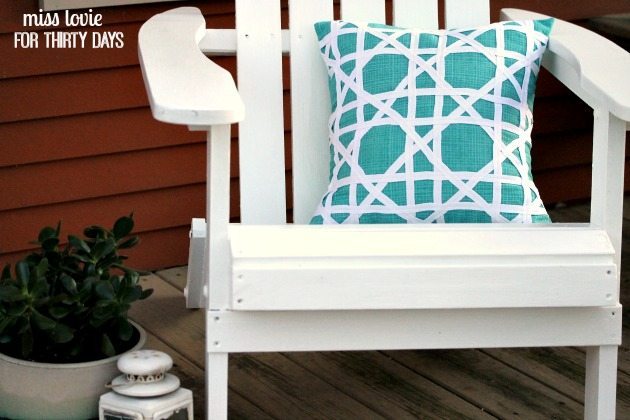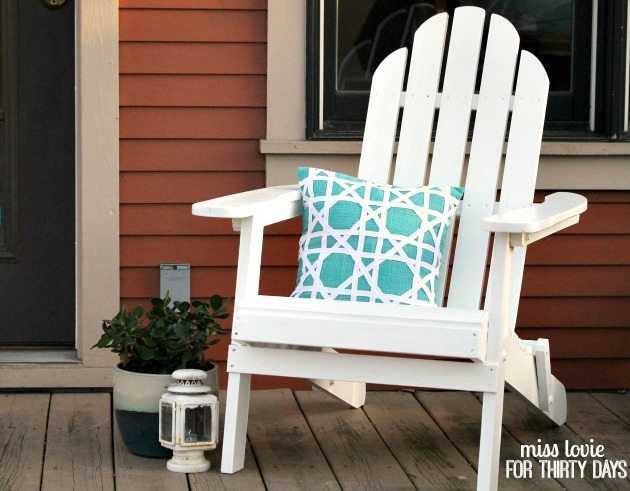 Now all I need is a cup of coffee, my book and a little sunshine!
I hope you enjoyed this tutorial! If you want more simple sewing ideas, be sure to check out my Dog Silhouette Art, Floral LOVE Pillow, and Monogram Crinkle Baby Toy!