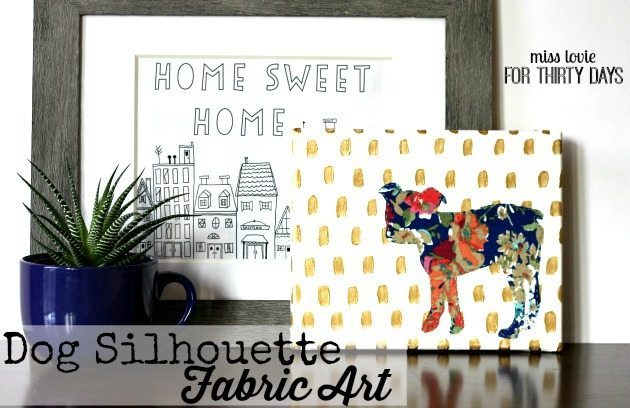 Hi, Thirty Days readers! I'm Allie from Miss Lovie and today I have some Dog Silhouette Fabric Art to share with you! We just moved to a new home not long ago and I've been trying to decorate our living room which is so fun, but is also challenging while on a budget. I believe art that is meaningful to you and your family can really add so much to a room, but it can also be so expensive! DIY art is can make a great addition to your shelves or walls and it costs much less!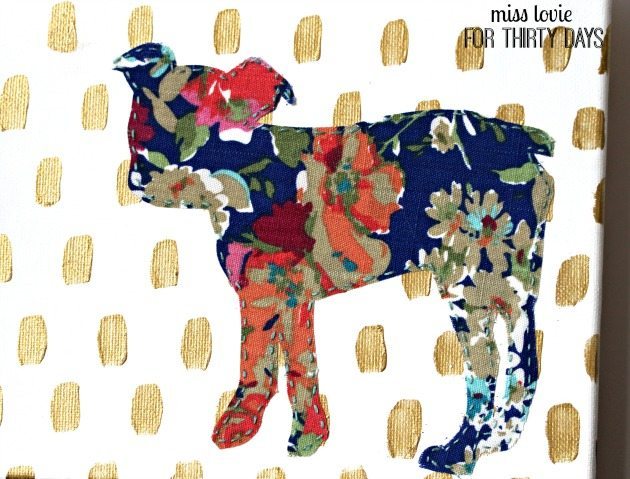 This silhouette art could of course depict children or other pets besides dogs and it's really fun and easy to make! I made this quickly in one afternoon so if you're looking for one more piece to add to a collection, but you can't seem to find it, this may be the perfect quick fix project for you!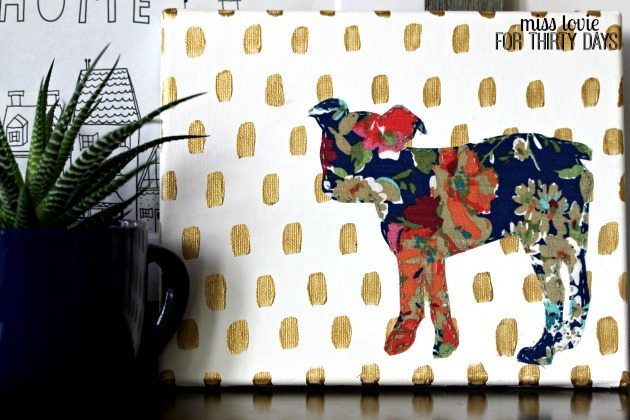 Let's make one!
The materials you'll need are a small canvas, metallic gold paint, a paint brush, floral print fabric, fusible webbing, coordinating embroidery floss (optional), and an embroidery needle.
Find a picture of your dog where the outlines of their head can be seen clearly. This is a picture I took of our sweet Larry when he was only three months old. Print it out, and cut it out.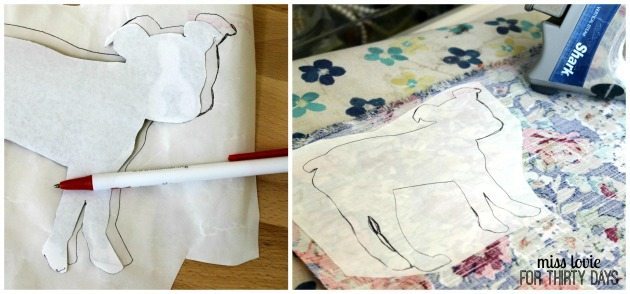 Flip that template over backwards and trace it onto the paper part of your fusible webbing. Iron your fusible webbing (sticky side down onto the back of your fabric) onto your fabric and cut it out.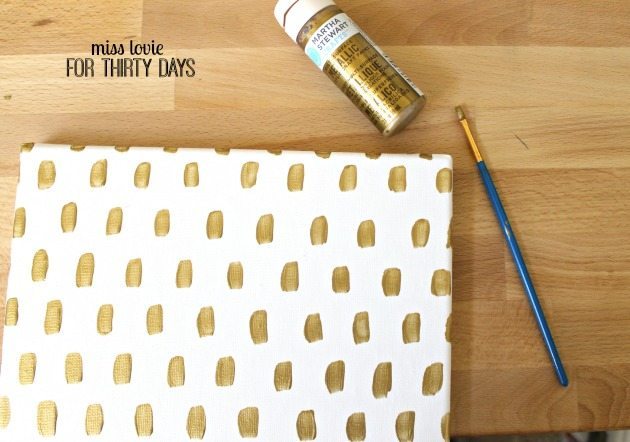 Prepare your canvas however you like. I used a small paintbrush and did quick brush strokes all over the canvas. This was super easy and fast! Let dry. It should only take about 20 minutes.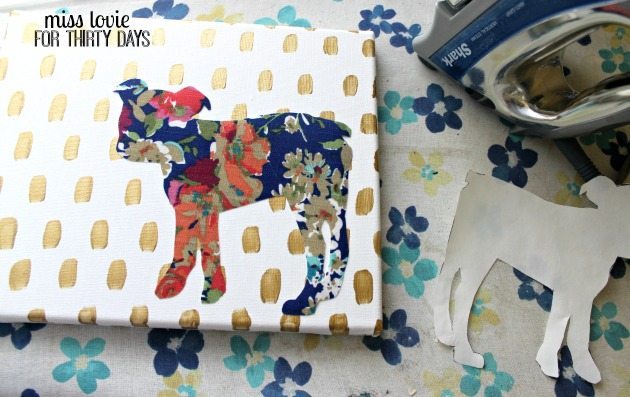 Peel off the paper backing from the dog and iron it in place onto your canvas.
**NOTE**My canvas had a very wide frame. I didn't really notice this until after I adhered the dog. This made it pretty difficult to do the next step of embroidering because the bottom of the dog's feet and part of his rear end had wood behind it instead of just straight canvas. I ended up getting it done despite the wood barrier by strategically sewing at an angle, but it took way longer than it would have if the dog had been placed on the canvas where the frame wouldn't interfere with embroidering. If you plan to embroider, place the dog where the frame won't be in your way or you could remove the canvas from the frame and then reattach it later.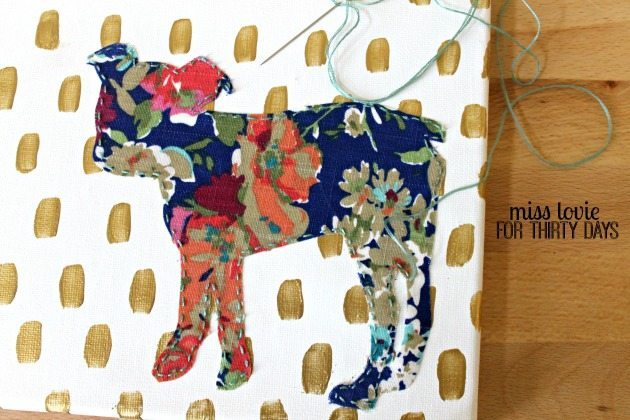 You could definitely skip the next step if you don't like embroidery or don't want to take the time to do it. It looked really cute without it, as well! If you want to embroider, however, use coordinating embroidery floss and do a simple stitch around the outside edge of your dog. I think it adds a little more texture and is a fun detail. Done!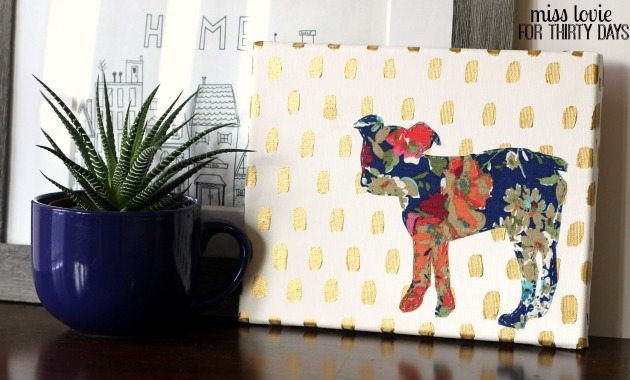 Larry is a boy, but I'll have to say he looks pretty good in gold and floral.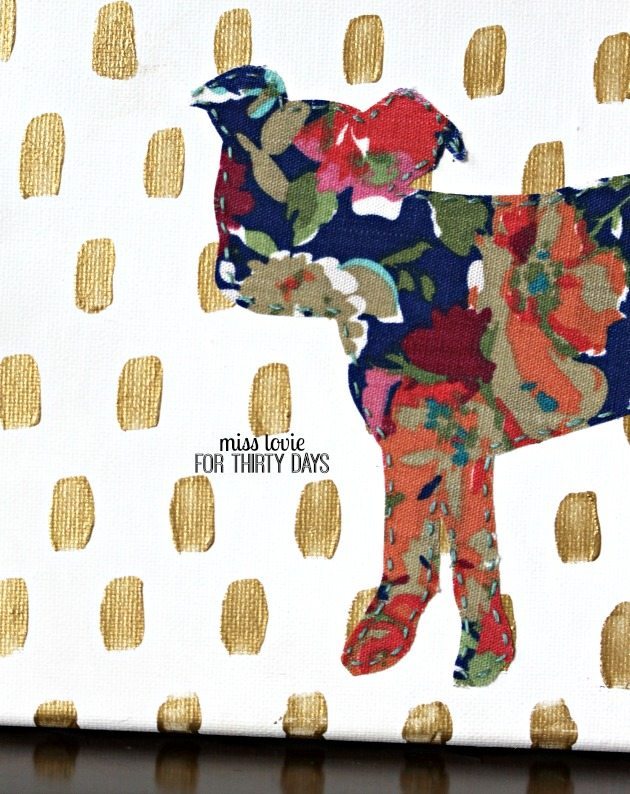 When you're finished, you'll have a one of a kind piece of art that is cheerful and reminds you of your favorite pup.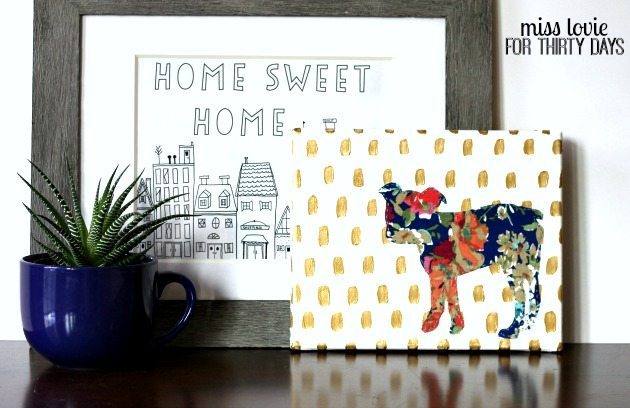 Thank you for reading!
If you loved this post, be sure to follow Miss Lovie on Facebook, Instagram, and Twitter for more great ideas!