Hi 30 Days Readers! I'm Allie from Miss Lovie and I'm here today to share this Handmade Monogram Stationery. I am constantly looking  for quality, unique, beautiful and fun stationery to use for a note to a friend our a thank you note. I think stationery makes a statement about you and your style and what better way to express yourself  than to create your own?! Monogram stationery is pretty popular, but it can be very expensive. You could make a set to have around or just one card when you need it. All your friends and family will be so impressed.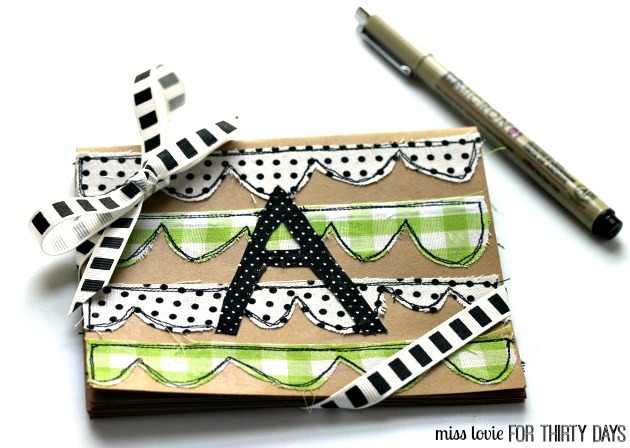 I also love this idea for putting a set together and giving it as a gift. You could make a set of cards that are all the same or use a variety of designs within the same theme like I did. These would make perfect stocking stuffers, mother's day gifts, hostess gifts, or anything really. They're awesome, too, because if you've got a little card stock, some fabric scraps, and a couple hours, you've got a free gift!
 Ok, let's make some!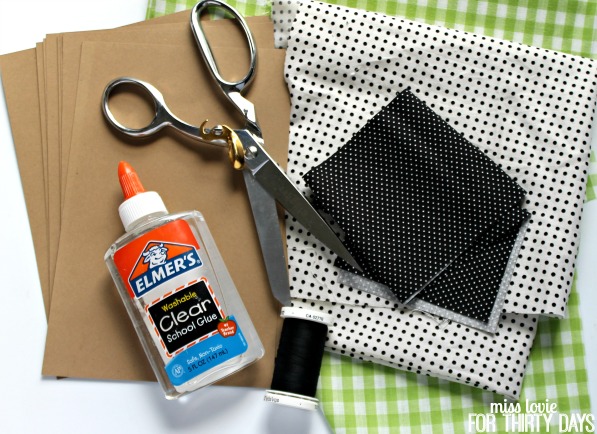 Gather Materials:
For a 5 card set, you'll need 3 pieces of kraft paper card stock (cut in half) to give you 6 pieces.
Clear Elmer's glue
Coordinating Fabric
Fabric Scissors
Coordinating Thread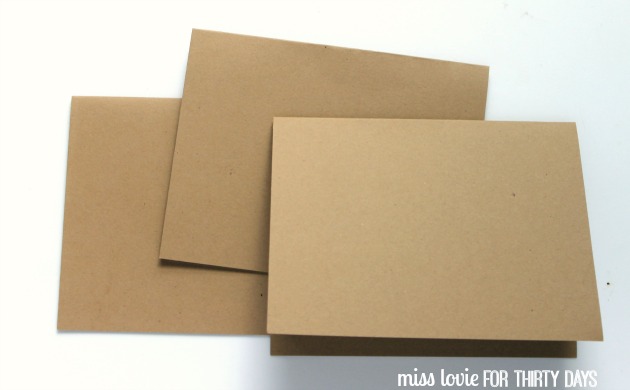 Next fold all the card stock that you'll be using in half to create small cards.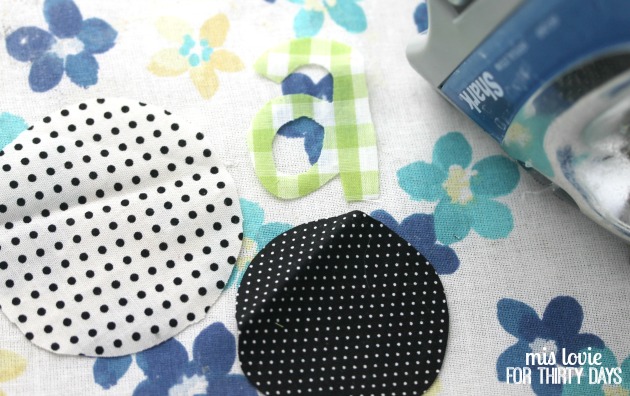 For each card, you'll plan your design, cut the fabric, iron the pieces out if needed…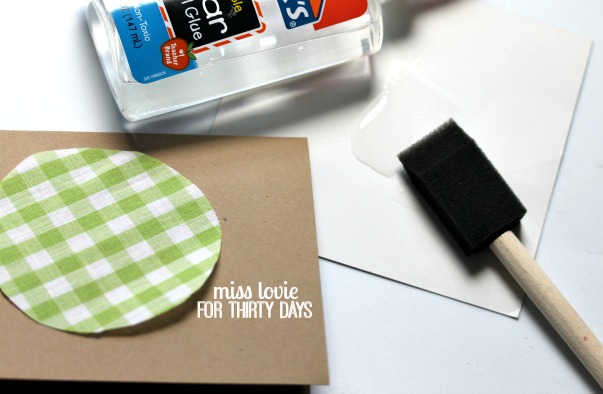 and secure them in place with a little glue. To be sure you don't soak your card or your fabric, you can use a paintbrush to spread the glue out.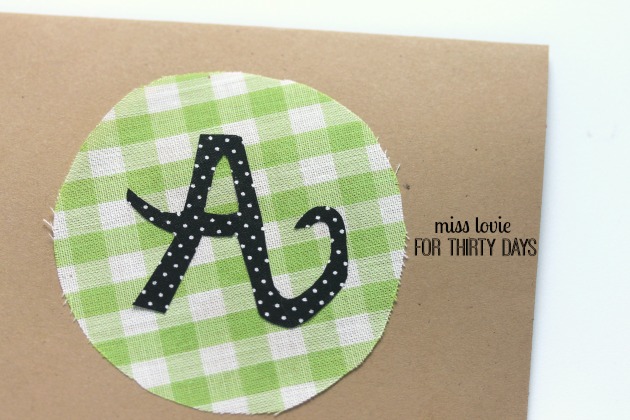 Once you have one piece glued on, continue until all pieces you want are glued on.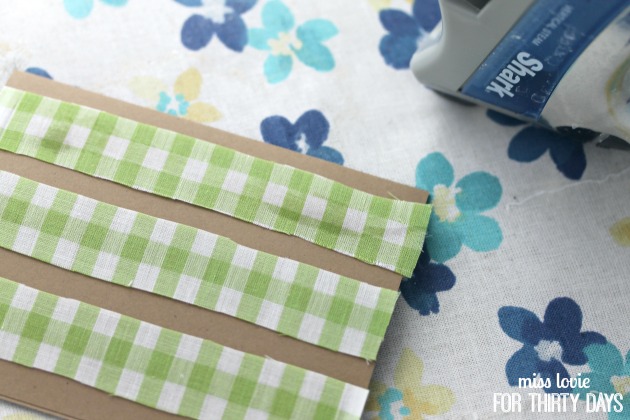 Sometimes when the fabric is thin, the glue bleeds through. When this happens, you can run an iron over the card several times quickly. This will dry the fabric and ensure the card doesn't curl up.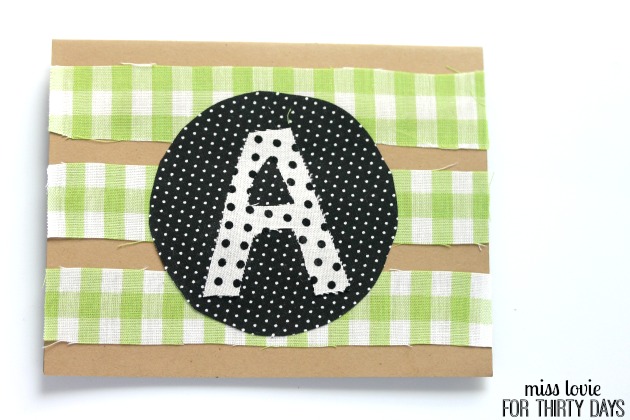 As far as design goes, it's up to your imagination. If you want to do the same kind of design, I did, you can follow these general guidelines:
For the cards with circles, cut a circle with a 3 inch diameter and then a letter for the top. I free-hand cut my letters, but if you are worried about the letters looking wonky, you could create a letter in your favorite font on Microsoft Word, print it, cut it out, trace it to fabric, and cut it out.
For the card with the stripes behind the circle, cut strips of fabric 5 1/2 x 1 inch, glue them first, then the circle, then the letter.
For the card with the scallops, cut strips of fabric 5 1/2 by 1 inch and then free hand cut the scallops.Glue them down in an alternating pattern if you used different colors, then glue the letter.
For the card with the polka dots, cut 7 circles  3/4 inch diameter and 8 circles  1/2 inch diameter. Arrange them around the letter in the bottom right  corner.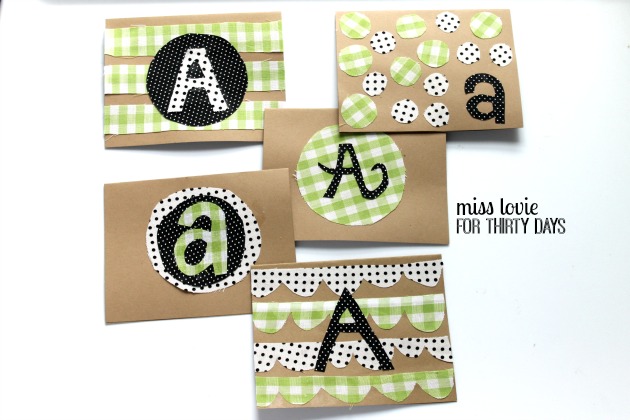 Here are mine all glued together-ready to sew.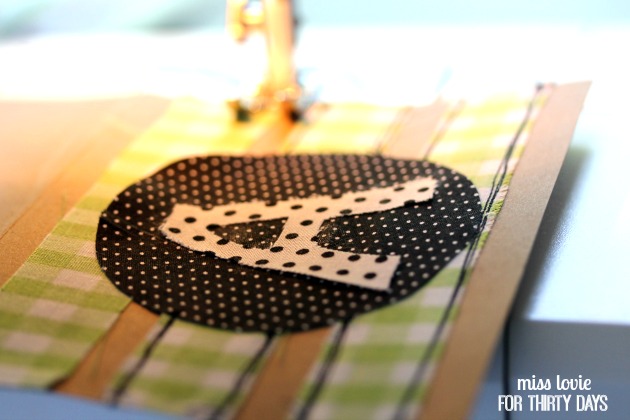 Once you have everything designed and glued on, the sewing begins. This part is a little time consuming, but it's fun. Sew lines to outline each part. I like to sew a few haphazard sketchy lines around each part (2 or 3 is your choice).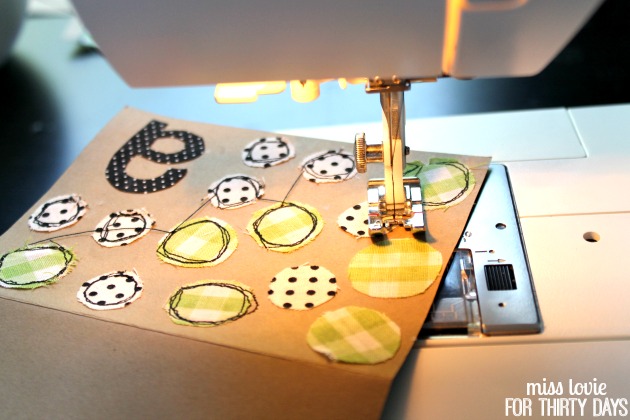 For the cards that have several rounded edges, set your stitch length to short and take it slow.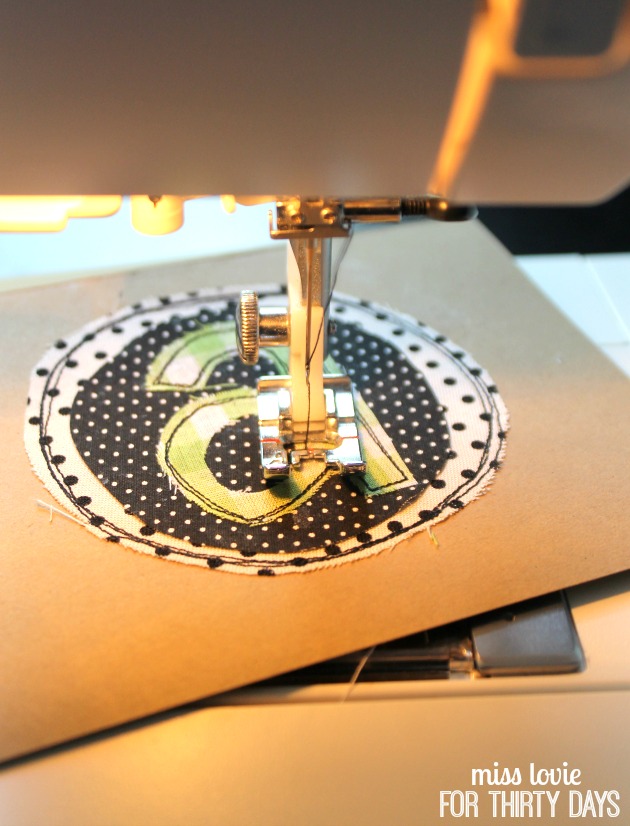 For the letters, you can sew a couple lines of sketchy lines around the border if the letters are thick, but when they're thin and more delicate, one should be sufficient.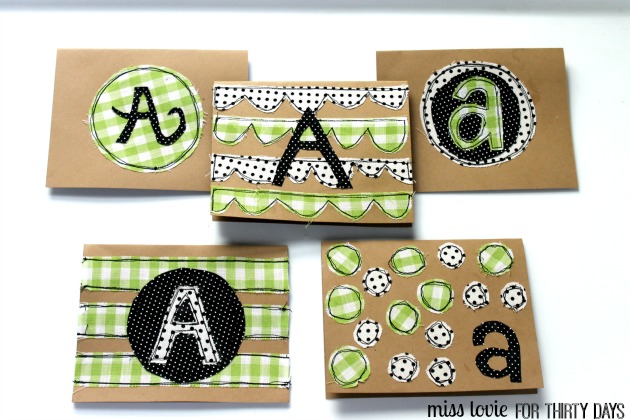 Once all your cards are created, warp them up in a sweet bow and give them to a friend or save them for you!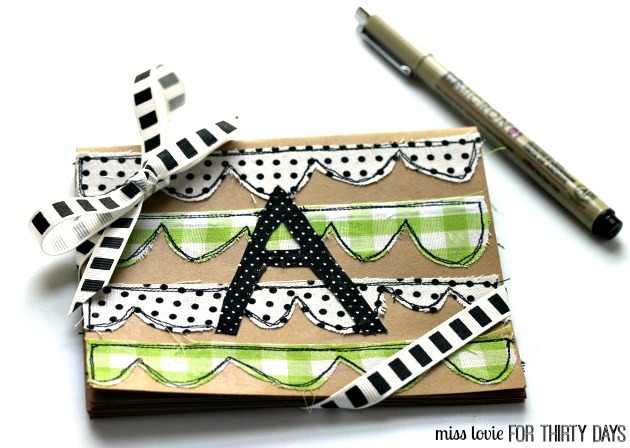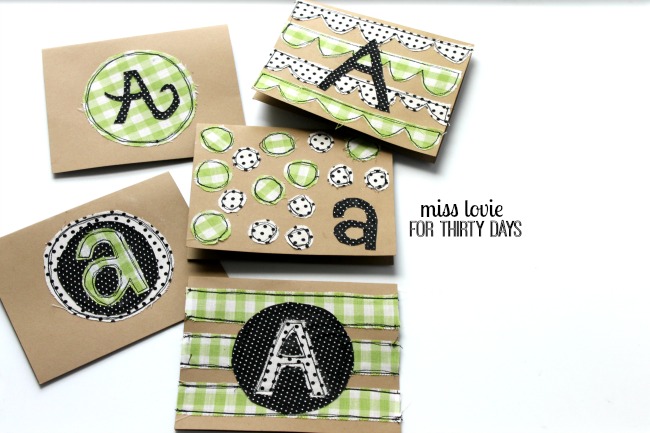 I hope you enjoyed this tutorial on creating your own handmade monogram stationery! If you loved this idea, be sure to check out my other post on Handmade Sewn Birthday  Cards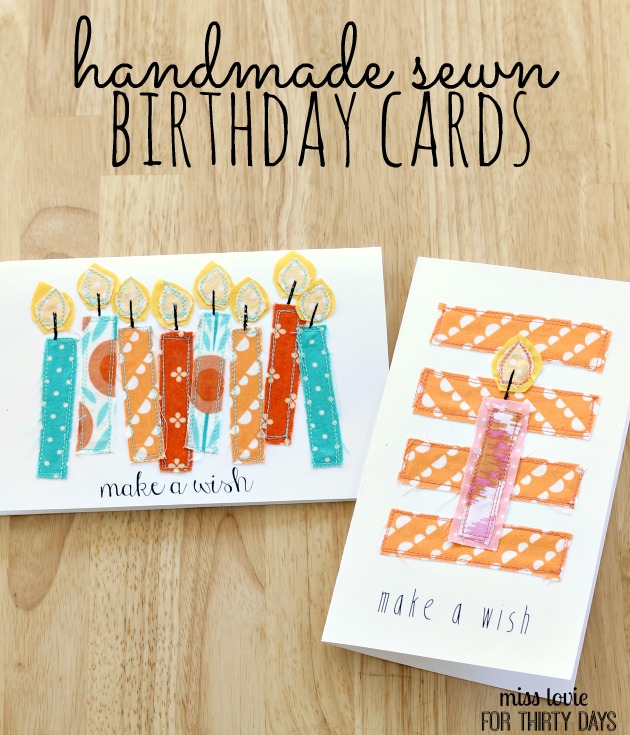 and this DIY Fabric Heart Banner with Free Template
If you're looking for more gift ideas, go check out my Succulent Hostess Gift and No-Sew Banner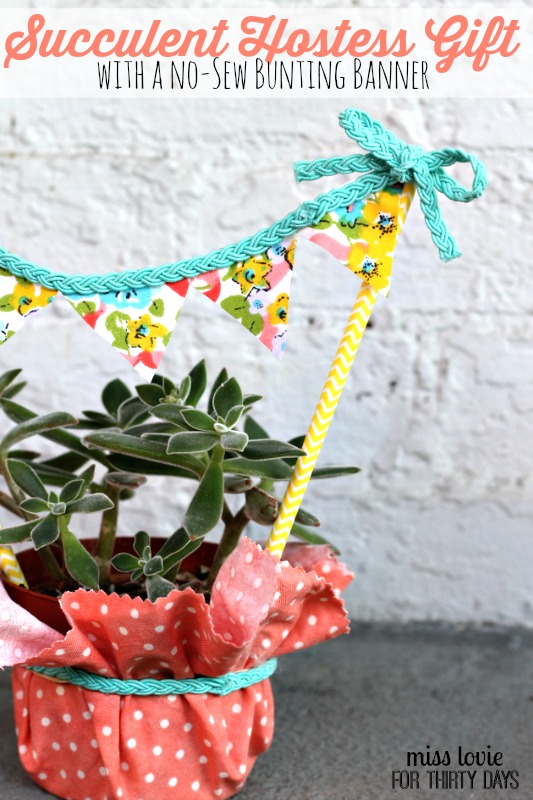 and my Fabric Heart Coasters!!!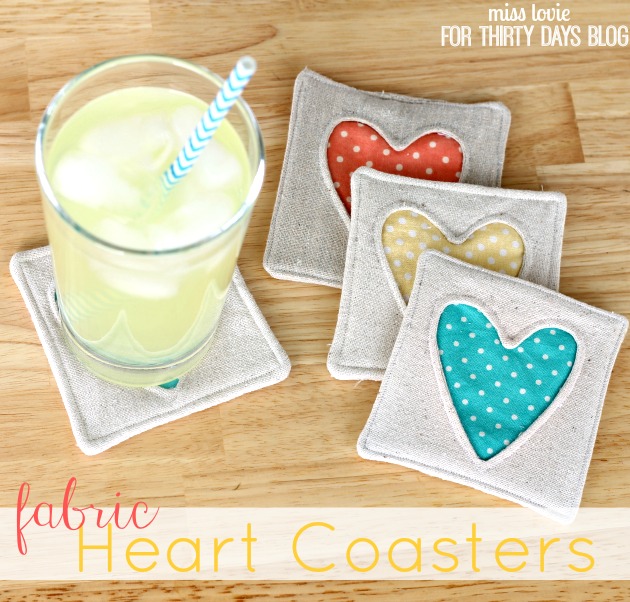 Happy Sewing!!