I wanted to share a fun way to make hot cocoa…on a stick! As an added bonus, it comes with a printable. DOUBLE bonus…it makes a wonderful gift! And TRIPLE bonus…it requires no baking!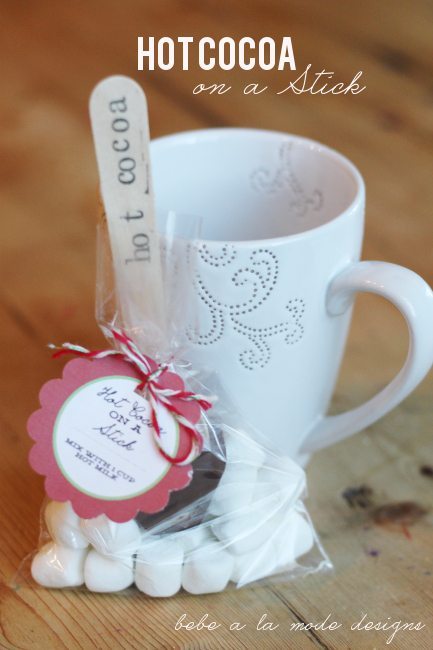 If you like all things hot chocolate, there is another fun recipe for Reindeer Hot Cocoa.  Or you could make a hot cocoa station too! And there's even a post on how to make hot chocolate ornaments. One more gift idea – make a hot chocolate gift kit and attach a cute printable.
Hot Cocoa Recipe
Start with 2 cups of chocolate chips. Use milk, dark, white or semi-sweet chocolate. Place in a microwave-safe bowl and microwave at 70% power for 1 minute. Stir. Return at 100% power for 15 seconds. Stir and repeat until completely melted.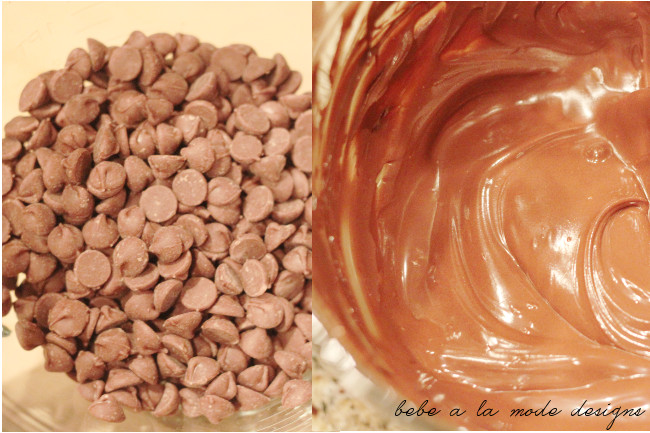 If using a flavor, add 1 tsp. extract and mix well.
Spoon into ice cube tray or silicone mold. A baby food tray (like this one) works well too. I used a Jello Party Mold.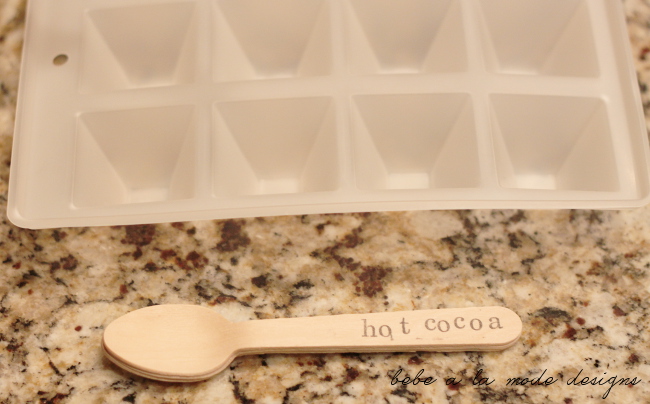 Insert disposable spoons and refrigerate until hardened, about 30-40 minutes.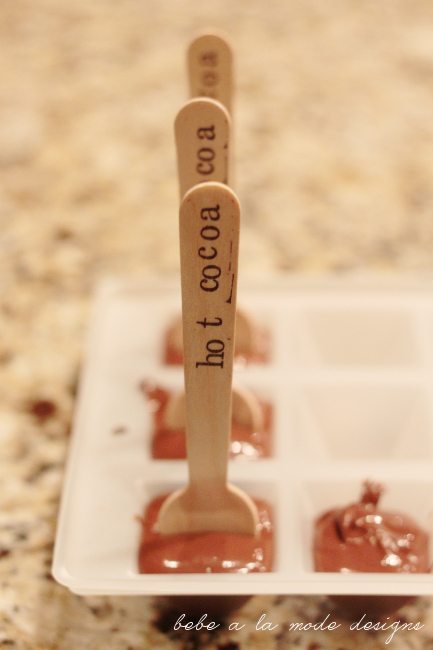 Remove from mold.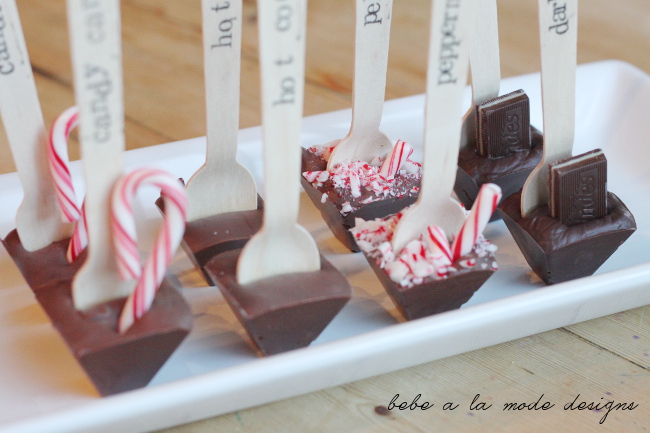 One of my favorite variations is a Mint Dark Chocolate, topped off with an Andes mint!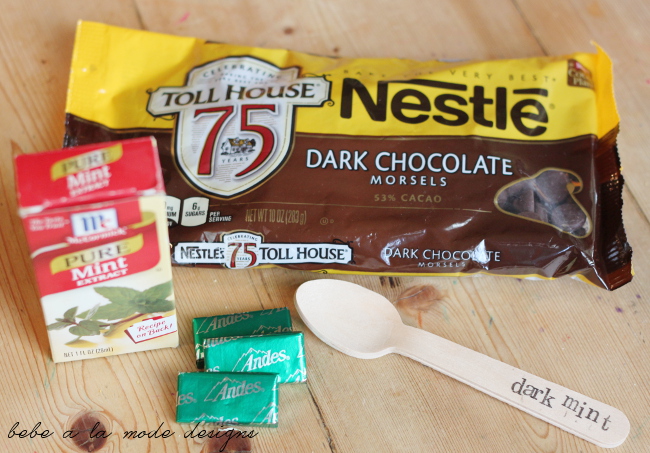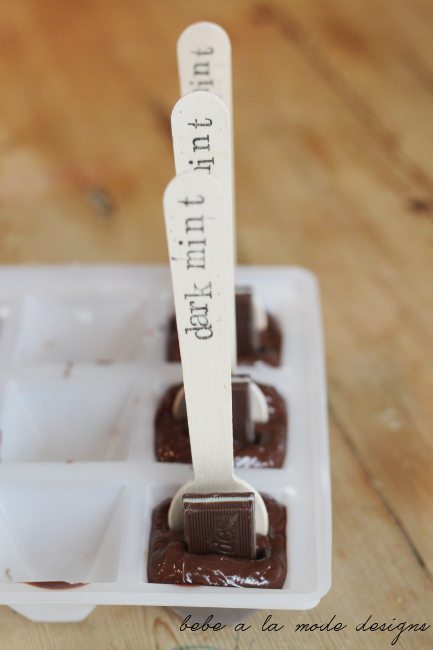 There are so many great combinations! Insert a candy cane or crushed peppermint candies for a festive holiday treat!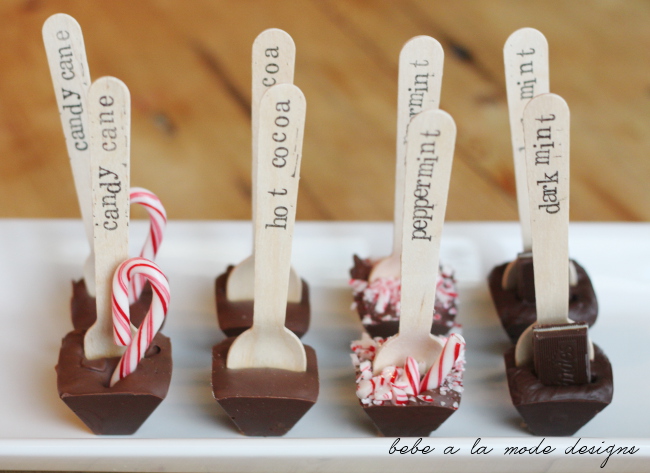 To use, stir into 1 cup of hot milk. Or package with marshmallows to give away.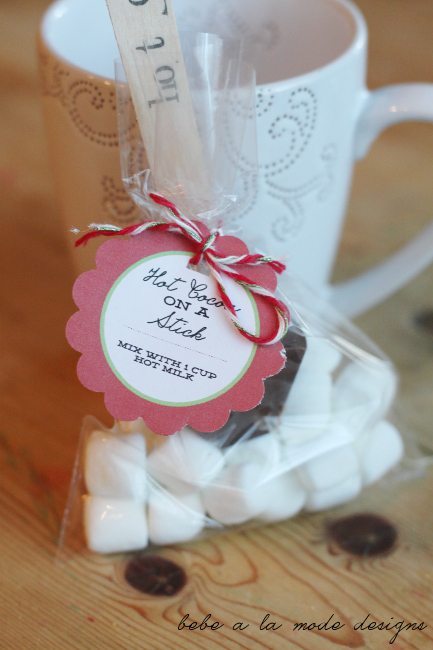 Tie it up with this cute printable and include a mug for an adorable gift for a teacher, co-worker or neighbor.

Hot Cocoa on a Stick
Ingredients
2 c. chocolate chips (milk, dark white or semi-sweet chocolate)
1 tsp. mint, peppermint or other flavor extract (optional)
Assorted toppings: candy canes, crushed peppermint candies, chocolate mints, etc.
Disposable spoons
Marshmallows
Instructions
Place chocolate in microwave safe bowl.
Microwave at 70% power for 1 minute; stir.
Microwave on high for 15 second increments; stir. Repeat until completely melted.
Spoon into mold (silcone or ice cube tray).
Insert disposable spoon.
Add desired topping.
Refrigerate until set, about 30-40 minutes.
To serve, mix into 1 cup of hot milk.