I love fonts. La la la love them.   I've shared several posts of my favorite free fonts.  Let's talk about how to pair your favorite free fonts together.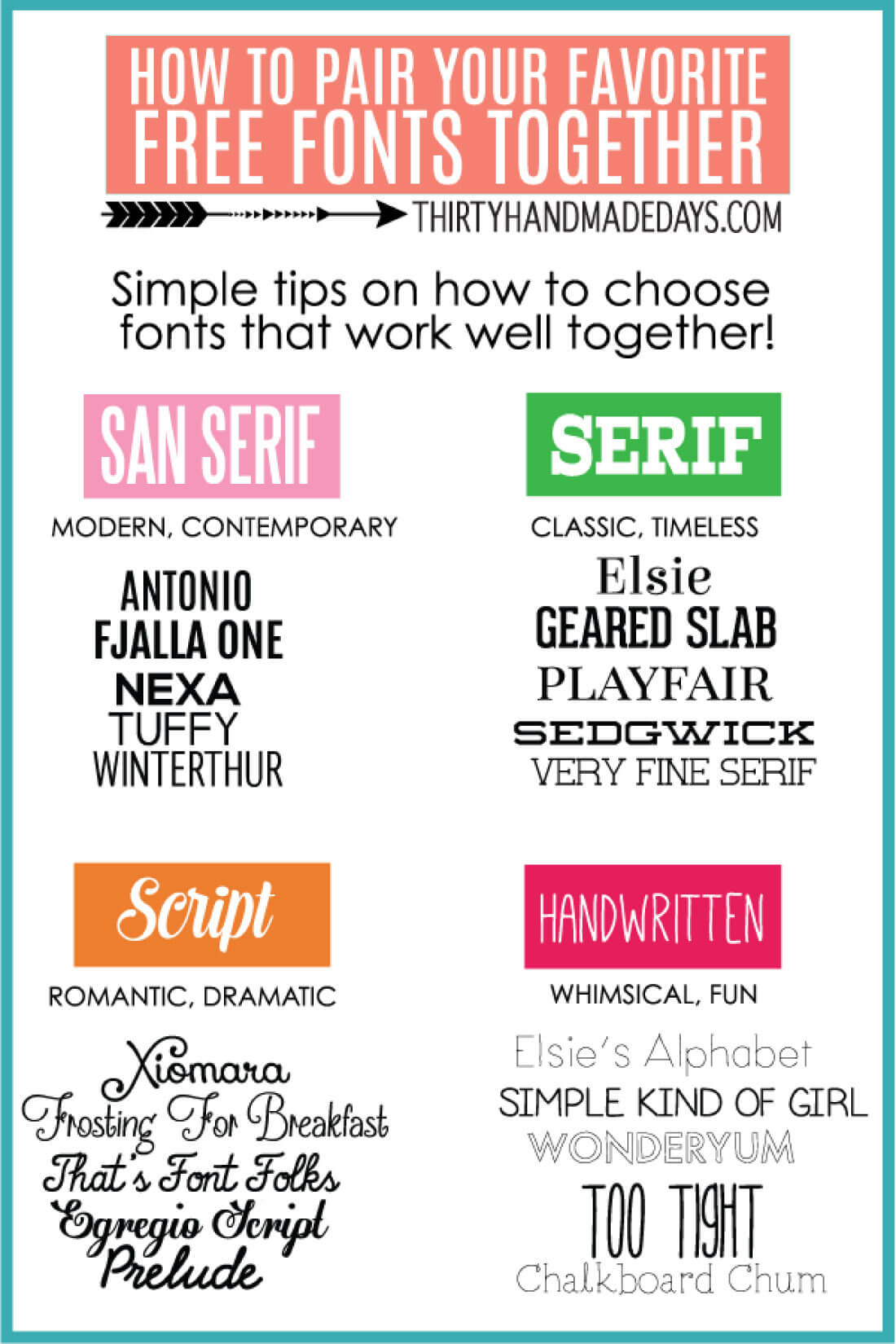 There are a few things to keep in mind when picking out fonts to go together.
-LESS IS MORE.
Choose two to three fonts at a time at the most.  (unless you're creating subway art or something along those lines)
-MATCH THE TONE.
Pick fonts that go hand in hand with the text. If you use mismatched text to font, it'll confuse your audience. For example- don't use a scripty, dramatic font for a word like "dinosaur" or "punk rock."
-BALANCE IS KEY.
In choosing your two fonts, make sure that they balance each other out.  Opposites attract.  Use one san serif and one script font.  Or one handwritten font and one script.  But stay away from fonts that look too similar. Creating contrast can be magical.
-LEGIBILITY.
Above all, make sure everyone can read whatever fonts you choose. Simple idea but I can't tell you how many times I've had to zoom in on something because I couldn't read the font.
Oh and I found this cool font pairing site called Type Connection. It makes matches for you!
Here are some of my recent favorites listed above:
SAN SERIF FONTS:
Modern.  San Serif are clean lined and contemporary.
Nexa
Fjalla
Antonio
Winterthur Condensed
Tuffy
SERIF FONTS:
Classic.  Serif is has a timeless element to them.
Playfair Display
Sedgewick
Elsie
Geared
Very Fine Serif
SCRIPT FONTS:
Romantic.  Script is often used for drama.
Frosting For Breakfast
That's Font Folks
Egregio Script
Xiomara
Prelude
HANDWRITTEN FONTS:
Whimsical.  Handwritten can be used to create whimsy and playfulness.
Too Tight
Chalkboard Chum
Wonderyum
Simple Kind of GirlElsie's Alphabet
Unsure of how to install them? Kayla Aimee has good, simple directions for installing fonts.
Check out these other font posts:
For the New Year
Fonts + Dingbats to Add to Your Growing Collection
For Spring
That Any Tween Would Want
In time for summer!
What style of font do you like best?  How do you like to pair your favorites together?