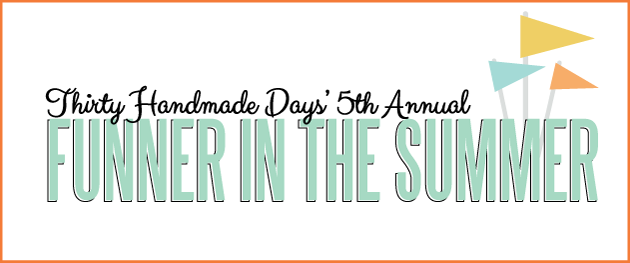 Next up for Funner in the Summer–   Kim from 733 is here with fun a fun kids craft: Painting with Ice.  How cool is that?  I'm for sure going to do this with my kids sometime over the summer.  Make sure to head over to 733 for tons of printables, party ideas, kids crafts and more.
Hello everyone! My name is Kim and I blog over at seven thirty three, a creative blog full of kids crafts, free printables, and DIY party ideas. I would love for you to stop by and look around. But before you do, I'm going to share with you a really fun activity for kids on a warm summer day – Painting with Ice!
Painting with ice is lots of fun and there are lots of ways you can do it. But the best part?It is super easy to make the paint! So let's get started:
Ingredients:
Food Coloring
Water
Ice Cube Tray
Plastic Wrap
Toothpicks
Directions:
Add a couple of drops of food coloring to each section of the ice cube tray.  Remember to mix the colors to get even more fun colors to paint with (add a drop of blue and a drop of red to make purple, etc!).
Add water to the tray. I use a squirt bottle so that I can make sure to control the water flow so that my colors don't get "muddy".
Cover the tray with plastic wrap and insert toothpicks (oops! As you can see, I ran out of toothpicks…)
Place in freezer for several hours until frozen through.
TIME TO PAINT!
Once the ice cubes are frozen, take them outside with some paper and get painting.
You can paint like normal or you can let them drip onto the paper and use a straw to blow the paint around the paper.
The warmer the day, the faster they melt, so keep that in mind! If you have any ice left over after the child is done painting, even if it is melted at all, just put it back into the freezer to use on another day!
Thanks, Mique, for having me here today!
I hope everyone will stop by seven thirty three for some more fun kids crafts like the three below:
 Easy Finger Puppets | Clothespin Catapult | Clothespin Fairy Doll
Kim is a Marketing Director by day and Crafter/Blogger/Blog Designer by night. She lives with her husband, three beautiful children, and shih-tzu, Mushu. For even more seven thirty three fun, like her on Facebook or follow along via Twitter!