Do you switch to holiday scented cleaning products this time of year? I love getting new scents – just can't resist the cleaning supplies and candles during the holidays!  I especially love Mrs. Meyer's products and can't wait to share this awesome deal with you.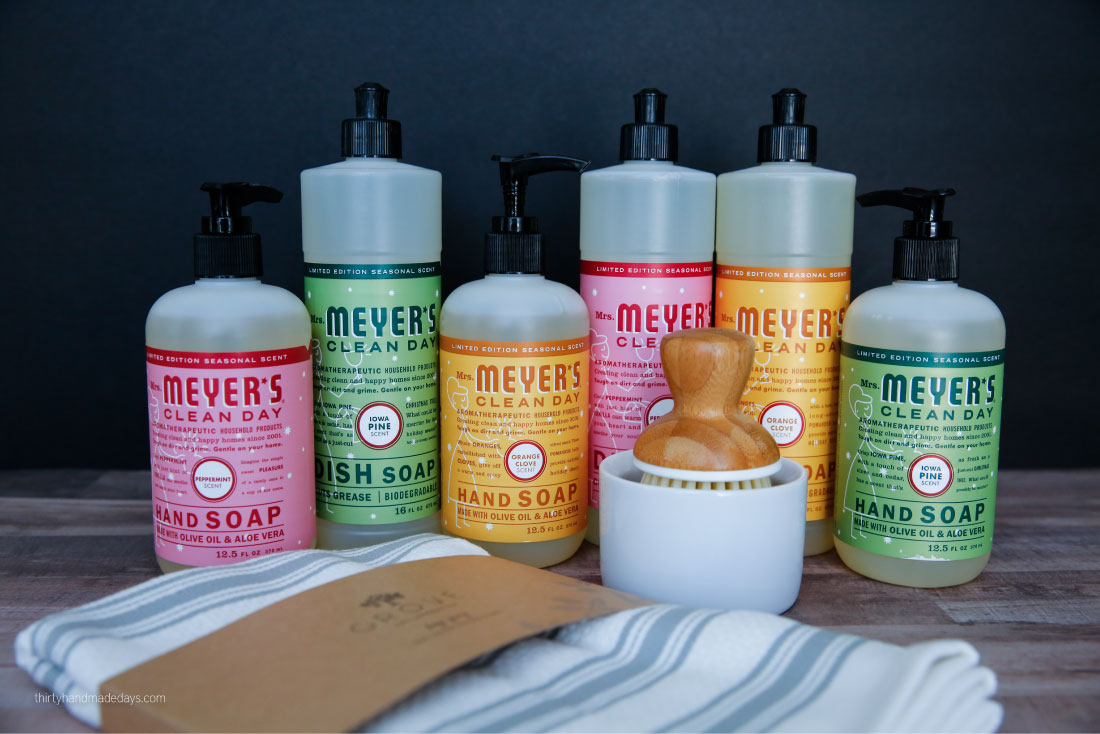 I'm so excited about their new seasonal Peppermint scent. Peppermint is my favorite.  Especially ice cream.  But soap isn't so bad either. :) Mrs. Meyer's also brought back two favorites from last year: Iowa Pine and Orange Clove. The Iowa Pine smells just like a fresh-cut Christmas tree, and the Orange Clove reminds me of my stovetop potpourri simmering on the stove.
With this Holiday Set from Grove Collaborative, you can experience the magic of Mrs. Meyer's seasonal scents for free. (The hardest part is choosing a scent!)
The set includes a Mrs. Meyer's dish soap, Mrs. Meyer's hand soap, Grove Collaborative Bubble Up, and Grove Collaborative kitchen towel.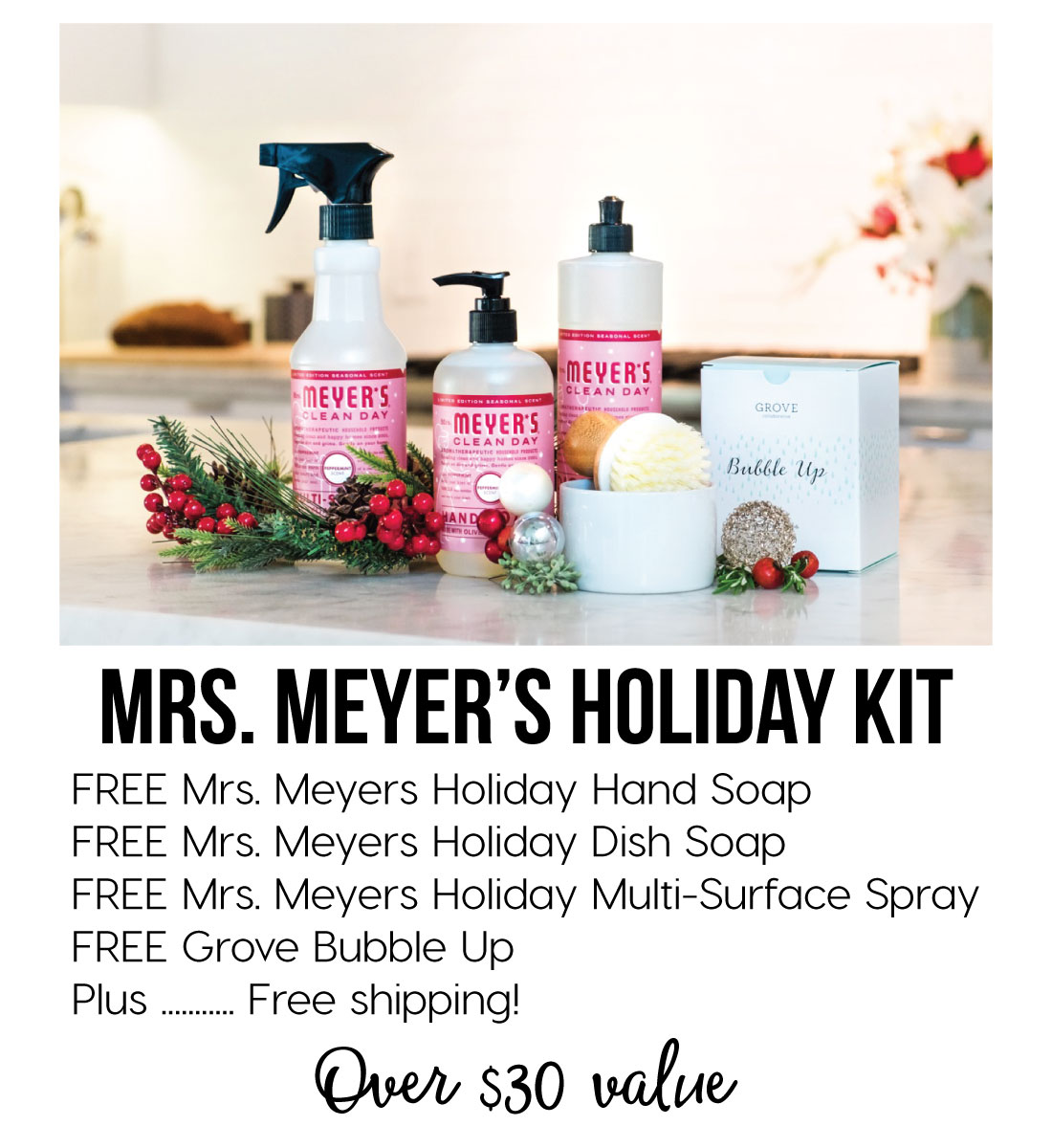 UPDATE: 
WOW you guys are amazing..this offer is selling so well that Grove sold out of the Iowa Pine and  Kitchen Towels – but have no fear, they have updated the offer to give you the Meyers Holiday Multi-Surface spray instead of the towel in Peppermint or Orange Clove – this is an amazing deal but hurry – it's moving fast!!
When you sign up with Grove Collaborative, you'll get the entire set for free. Grove ships high-quality, healthy brands like Mrs. Meyer's, Seventh Generation, and Method straight to your door at an affordable price. Since I started using Grove, we've never run out of paper towels or detergent and we spend less on home supplies than ever. Plus, I've cut down on runs to the grocery store to grab one or two items (which always ends up turning into $200… sigh).
Mrs. Meyer's seasonal scents usually sell out before the holiday season even begins (see the update above… some has already sold out), so this is a great chance to get your hands on them for free. If you're interested, don't wait — the offer is only available through November 16 or until the sets are gone! Here's how it works:
Sign up for Grove Collaborative here. You'll receive the Mrs. Meyer's offer for free when you sign up! If you're already a customer, you'll receive the new bubble up for 50% off.

Answer 4 quick questions about your home that Grove Collaborative will then use to customize your first basket — this takes under 30 seconds!

Once you've answered the questions, you can finalize your basket of products to suit your household needs by adding or removing items.

To receive this offer, your order needs to be a minimum of $20. Choose the combination of products and scents you love and receive in your first box.

You made it! Click Finish & Pay and place your order.


Bonus tip: Once you've submitted your Grove order, be sure to sign up for the free 60 day VIP trial. For 60 days, you'll save even more with free shipping, free gifts, price matching, exclusive sales and personal service. I can't recommend it enough!