They say it's your birthday……well it's my birthday too! What better post to share than a dessert, right?
With a Swiss Mother-in-law, my kids and husband have been fans of Nutella for a long time.  Grandma treats the kids to "Nutella sandwiches." Translation- Nutella spread in between two slices of bread.   I combined a few recipes to create this one: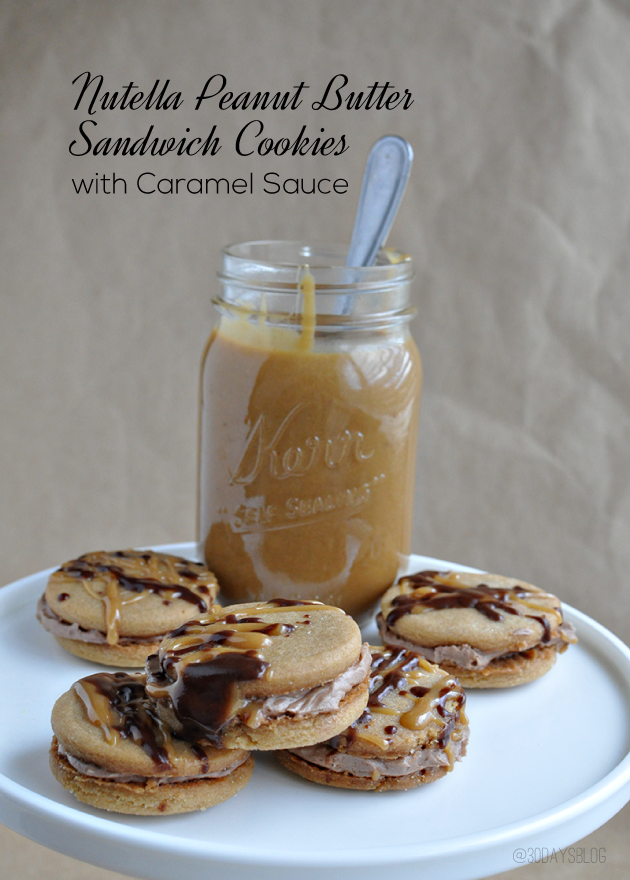 Make sure you have a glass of cold milk close by when you're ready to dig into these cookies.   They are rich.  But if you like chocolate and peanut butter these will make your sweet tooth sing.  Nutella and a little homemade caramel sauce is the perfect finishing touch.  Yum!   If cookies are your go to dessert try out my favorite chocolate chip cookies ever or over one hundred recipes.
Nutella Peanut Butter Sandwich Cookies with Caramel Sauce
Ingredients
Cookies
¾ cup Creamy Peanut Butter
½ cup Shortening
1¼ cups firmly packed brown sugar
3 tablespoons milk
1 tablespoon vanilla extract
1 large egg
1¾ cups all purpose flour
¾ teaspoon baking soda
¾ teaspoon salt
Filling
based on Add a Pinch's Nutella Buttercream Frosting
1 cup unsalted butter, softened
4 cups confectioner's sugar
½ cup Nutella or hazelnut spread
1 tablespoon vanilla extract
2 tablespoons whole milk
Caramel Sauce
1 can sweetened condensed milk
1 cup brown sugar, packed
2 tablespoons butter
½ teaspoon vanilla extract
Optional Nutella Drizzle
Heat 2 Tbsp of butter in a small sauce pan, add ½ c. Nutella spread and whisk until it thins out.
Instructions
Cookies
Heat oven to 375 degrees. Combine first five ingredients in a large bowl and beat at medium speed with an electric mixer until blended. Add egg and beat until just combined. Combine dry ingredients and add to wet mixture on low speed. Mix just until combined. Roll into balls and flatten with the bottom of a round glass. Use a circle cookie cutter or similar item to create perfectly round cookies. Bake for 7-8 minutes or until the edges begin to brown. Cool on rack.
Filling
Cream together butter and small amount of powdered sugar at a time. Alternate adding sugar with adding Nutella slowly. Add vanilla and beat frosting. Add milk and whip until the it reaches desired consistency.
Caramel Sauce
In a saucepan, combine sweetened condensed milk and brown sugar. Bring to a boil over medium heat, whisking constantly. Whisking constantly will prevent from burning. Reduce heat and simmer for 5 minutes while continuing to whisk constantly. Remove from heat and whisk in butter and vanilla.
Here's how you put your cookies together
First make the Peanut Butter cookies and let cool completely. Next make the Nutella filling, spread on 2 cookies and sandwich together. Make the caramel sauce and thinned Nutella. Drizzle both on top of cookies.
Looking for other awesome cookie recipes?

White Chocolate Chip Macadamia Cookies


Maple Sugar Cookies
 This post was originally a guest post over at I Heart Nap Time. 
P.s. Tune in tomorrow when I will have a PRESENT for one of you!