This post is sponsored from Mod Podge and Plaid.
I've been talking a lot about organization around here.  Binders, binders and more binders.  But today I want to talk about another nemesis of mine – the MAIL.  Ugh.  I've never been able to find a system that works well for us and today I'm changing that.  Mod Podge sent me some fun new products to test out and used them right away for this DIY Mail Sorter.   It's ridiculously simple but it's cute too!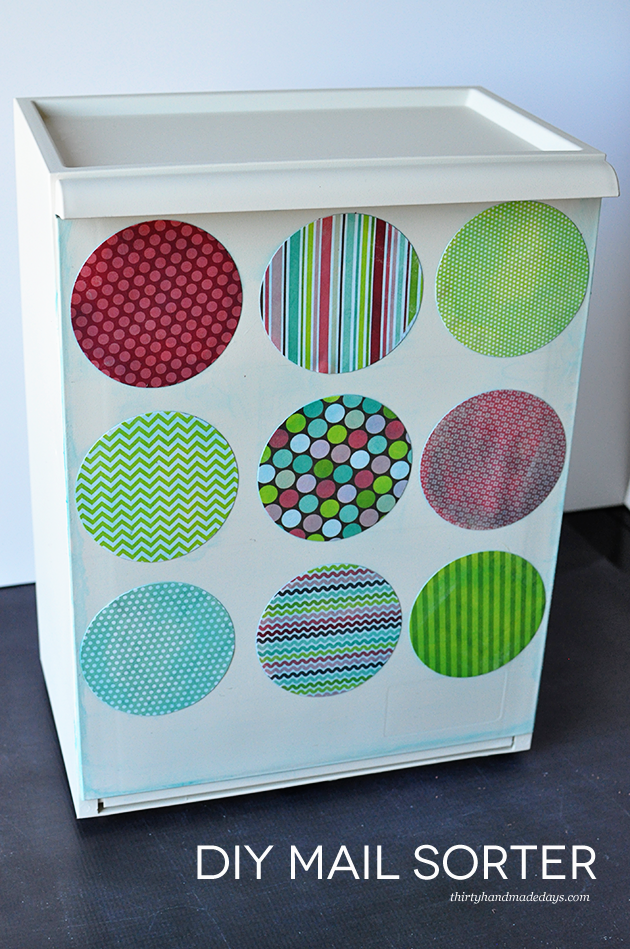 I found a recycling bin at Ikea and thought it would be the perfect thing to turn into a mail space for my family.  Here in California, we have centralized mailboxes. Long gone are the cute mailboxes at your door.  The idea for this box is to get the mail, open it and label it with the due date and amount owed on the front and then store until bill paying time.  It might seem silly but we have mail strewn all over- in the car, in the kitchen, desks, etc.  Please tell me I'm not the only one suffering from mail issues!  I'm determined to have one spot and stick to it.

Here's how I made this simple project:
Note: below is an animated image, you should see pictures rotating.  If you are seeing this in a reader, click over.  Thanks!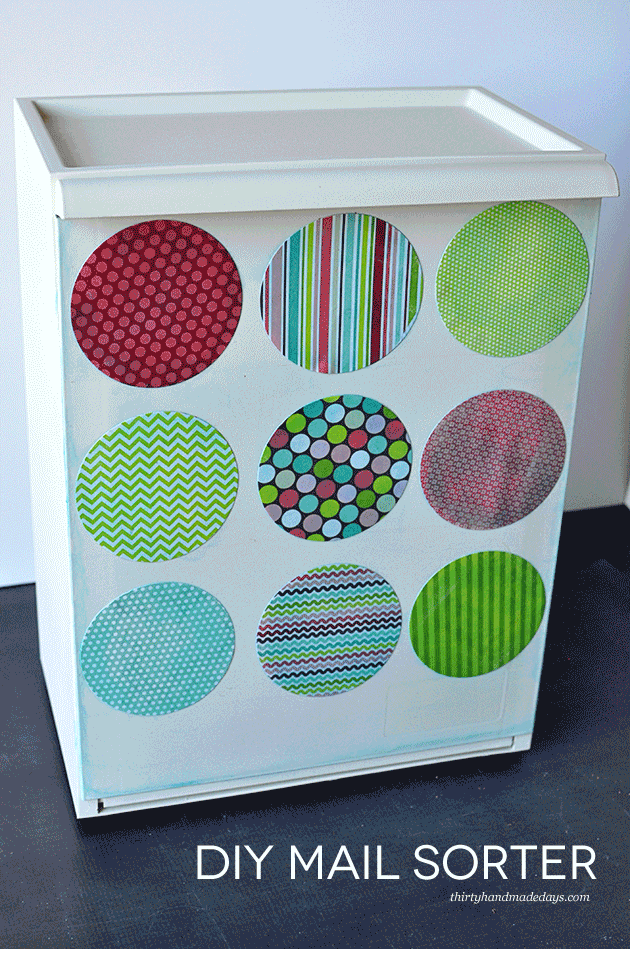 For this project I used – Ikea recycling box, Mod Podge Sheer Colors in Aqua, Mod Podge Matte, large circle punch, scrapbook paper I had on hand, ruler, pencil.   Plaid officially launched new product this month with 9 transparent colors as well as dishwasher safe options (for the top wrack) available on their site and at Michael's. They transparent color Mod Podge is great on glass, wood, metal and more.  I can't wait to use the dishwasher safe version on some cups, plates, etc.  So fun!   Sign up for Plaid's newsletter for tutorials and inspiration.  And get more ideas on their Pinterest boards.
Wipe down the box with a damp cloth and a dry one to remove any dirt or grime.  (hey, ya never know!)
Cut or punch circles out of fun paper.  I have a lot of old scrapbook paper that I searched through to find these fun colors/patterns.
Use a ruler to mark even lines between the dots.  I marked 4″ a part on either side and then drew a straight line across.
Using sponges and products, spread Mod Podge on back side of circles and align evenly on the straight ruler lines.
Using an eraser, carefully erase the pencil lines.   *Chalk would be a great alternative to pencil and then you could simple wipe it off after.  But it also might not get as crisp a line.  Your call!
Make sure to properly coat the circles underneath with Mod Podge.
I used the new Mod Podge Sheer Color in aqua to give it a little blue-ish tint.  This is optional.
Brush on one layer of top coat to seal the circles.
Let dry.
Stuff with mail.  Or school papers or whatever you like! You could actually use it for a recycling bin as originally intended if you heart desires.
I'd love to know how you deal with all the mail madness.
To learn more about the new Plaid products, you can watch these videos:
This post is sponsored from Mod Podge and Plaid. All opinions are 1 million% my own and I'm happy to be working with a company I believe in.