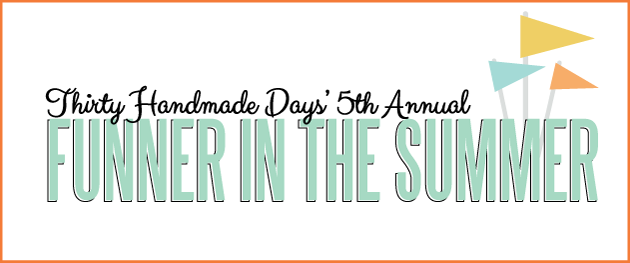 Next up for Funner in the Summer–  Kim from Today's Creative Blog.   I met Kim years ago and love her to pieces.  She's made lots of bloggers dreams come true with the "best day of their life" being featured on TCB! She has awesome ideas for all kinds of creative things, recipes, family ideas and more.  I admire her as a wife, mom and business woman too. Make sure to visit TCB and tell her hi from me.   Today Kim is sharing a delicious recipe.  Take it away Kim…..
It's always a great day when I get to hang out with Mique! I'm Kim from Today's Creative Blog and InspirationDIY.
You'll find me sharing all kinds of creative inspiration to keep you living a creative life year round. And when I just can't find my glitter, I'll whip up something fabulous like this Ultimate Peanut Butter Scotcharoo Recipe or my Apple Cream Cheese Quick Bread.
Ultimate Peanut Butter Scotcharoo Recipe
I've been making Scotcharoos since I was a teen. (Scotcheroo…..Scotcharoo, no matter how you spell it, it's all the same goodness) Of course I've tweaked the recipe a little to combine my love of peanut butter and butterscotch with the all time favorite Rice Krispie Treats. It all started because sometimes when I'd make them, they would fall apart and honestly, life is just too short to have treats that fall apart. So I fixed it. This is when my secret method comes in.
Having a teen boy in the house and having his friends roaming around often, it helps to have treats ready. I'll set these out with a mixture of healthy snacks and just like I figured, they also ate the healthy ones too! Not that these are horribly unhealthy, but they do have sugar. Pair these with a bowl of blueberries, a plate of sliced apples, carrots and hummus, cheese and crackers and they will fill up on all of it, possibly even leaving one Scotcharoo for you. But don't count on it.
Good thing these are super easy to make.
Peanut Butter Butterscotch Scotcharoos Secret Ingredient
The typical Scotcharoo doesn't have marshmallow cream like the typical Rice Krispie treat, but why the heck not? I thought it would taste good and it would solve my "falling apart" problem. They no longer fall apart, and have that magical chewy consistency. They are delicious!
Peanut Butter Butterscotch Scotcharoos
1 cup light corn syrup
1 cup sugar
1 cup peanut butter
1/2 cup marshmallow cream
6 cups rice krispies
1 package butterscotch chips
Place corn syrup and sugar into a 3 quart saucepan (grab your large sauce pan because you'll be placing the rice krispies inside too, but not yet). Cook over medium heat, stirring frequently, until sugar dissolves and mixture begins to boil. Remove from heat. Stir in half a bag of butterscotch chips, marshmallow cream and peanut butter until mixed well and melted. Add rice krispies. Stir until well coated. Place mixture into a greased 13×9 pan and press into place.
Sprinkle butterscotch chips (you could use chocolate here too) over the top. The heat from the mixture should melt them in 10 min or so. I have also placed the pan in a warm oven for just long enough to melt the chips. Once the chips are melted, spread across the top of the rice krispies.
Let stand until cool and firm. Cut into bars and enjoy!
You will be a changed person after trying these!
Head on over to Today's Creative Blog for more Recipes, Slow Cooker Sunday's, Crafts, Home Decor and Printables!
You may also want to follow TCB on Pinterest where I have all kinds of useful things.
Visit Kim Demmon (today's creative blog)'s profile on Pinterest.