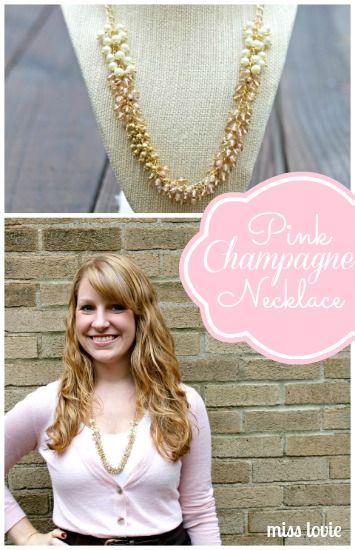 Hi 30 Days friends! It's Allie from Miss Lovie back again with another jewelry how-to- my Pink Champagne Necklace!
With Valentine's Day coming up, I thought it would only be appropriate to make a great necklace that was rosy and lovey. Pink champagne reminds me of the cheesiness that Valentine's Day can bring- and I just couldn't resist naming the necklace after it.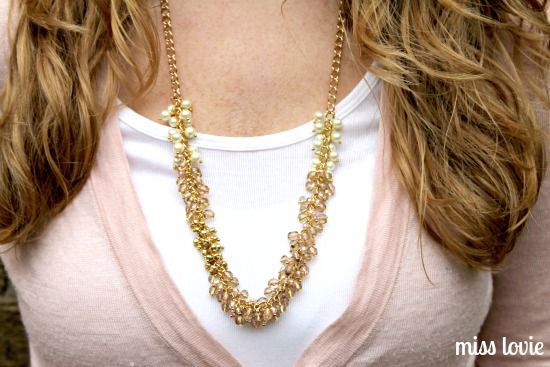 This necklace is perfect to dress an outfit up or down. While it is a pinkish hue, it is definitely neutral enough to go with just about anything.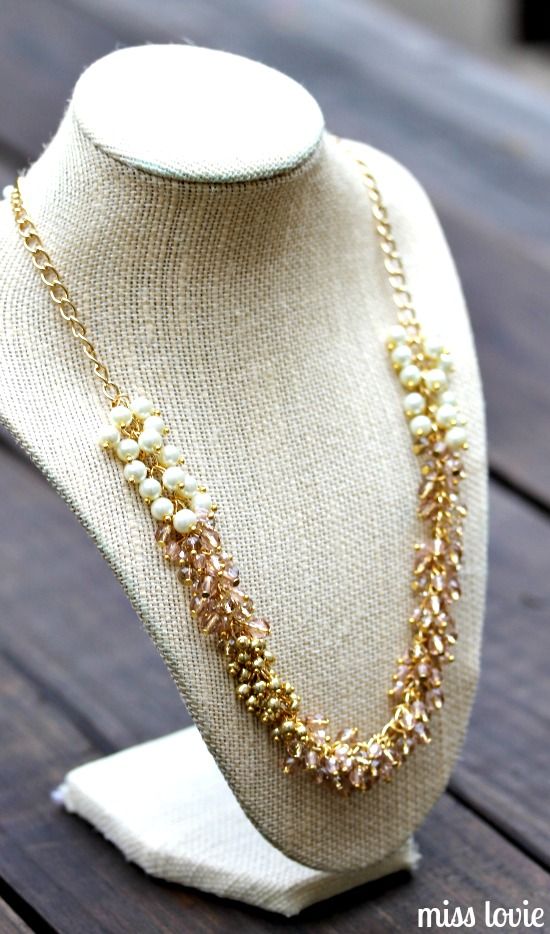 I got the inspiration for this necklace from Target: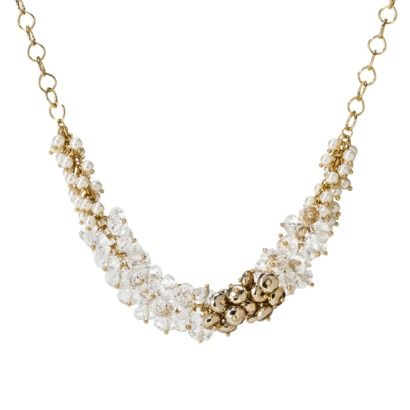 The pink in mine gives this necklace a whole different look so I'd still like to make one like the one at Target (or just go buy that one. Ha.)
Want to make one?!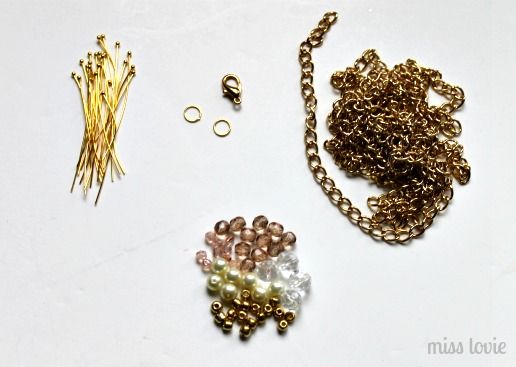 Materials Needed (clockwise from left):
around 150 (or more) 2 inch gold head pins (with ball ends)
2 jump rings
1 lobster clasp
chain (medium or small link)
pink (or clear if you want it to look more like Target's version) glass beads
small pearls
small gold beads
***All my beads came from either JoAnn's Superstore or Michael's Crafts, but these particular beads did not come from there recently. For this project, I cleared out some of the supplies I'd had stocked up for awhile. For the pink/champagne color, I used a mix of light pink and dark pink/champagne, but you could use whatever you can find. Most of my beads were pretty small and close to the same size, but I think just about any size would work.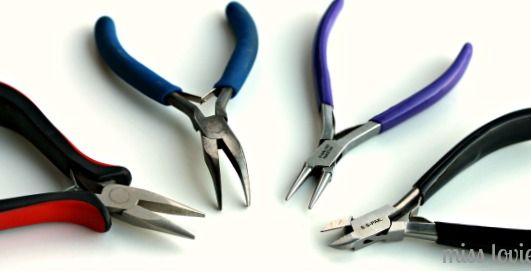 Jewelry Tools: flat nose pliers, bent nose pliers, needle nose pliers, and wire cutters
First, cut a length of chain about 28-32 inches long (depending on where you want it to hit). Then mark the area where you'll be attaching beads.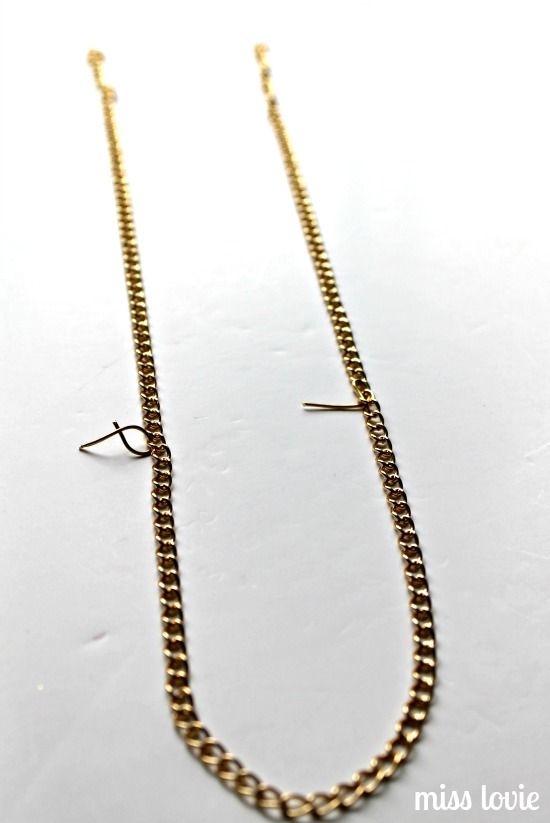 To do this find the center of your chain and then measure out 5 1/2 inches from the center on each side and mark the chain somehow. I just tied some extra wire in there.
Next, make the simple loops on all the beads. Start with the pearls that will go closest to the markers on your chain.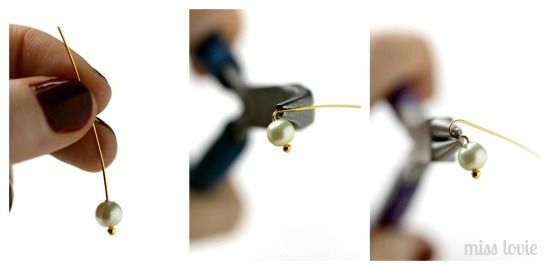 To make a simple loop, slide the pearl on your head pin. Then use the bent nose pliers to bend the wire against the pearl at a 90 degree angle. Then take your needle nose pliers and place them as close to the bend as possible without chipping the bead. Take your fingers and bend the wire over the needle nose pliers to create a half loop.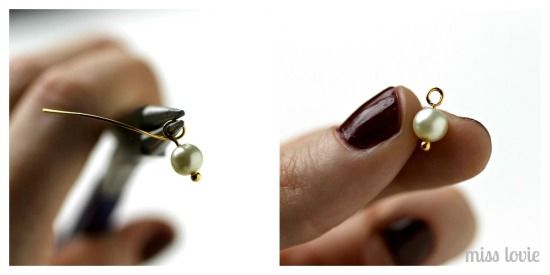 Readjust the needle nose pliers and use your fingers (or another pair of pliers if you need to) to pull the wire all the way around to create a complete loop. Use wire cutters to snip off the excess wire where the wire meets itself.
Make about 28 of these on the pearls to create enough beads for the top two sections of pearls.
To attach the pearls, open the loop with needle nose pliers and attach two to each chain link (14 on each side under the markers-2 pearls on each link for 7 links). Be sure to attach a pearl to each side of the link as shown above. To close the loop, you can either use the needle nose pliers to close it back or you can the bent nose pliers to squeeze the loop shut.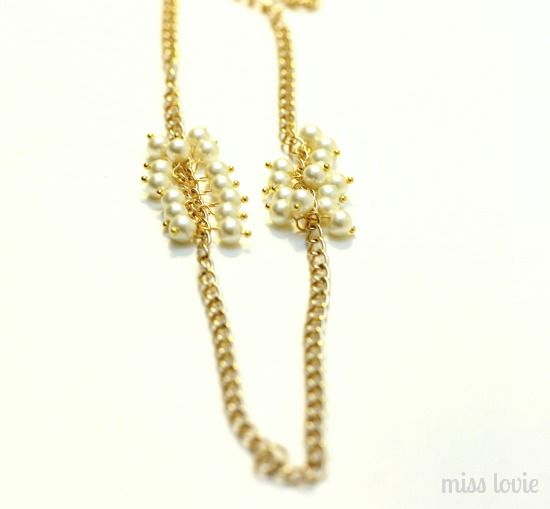 Once you've attached the pearls your necklace will look like this.
For the next part of the necklace, I didn't take many pictures, but you do the same thing as you did with the pearls, except this time, you should attach 4 beads per link (especially if your beads are as small as some of mine were). Again, you should have-2 beads on each side of each link-4 beads per link. Attach the pink/champagne beads on 7 links under one side of pearls and then on the next 6 links, attach the gold beads the same way. Then attach the pink/champagne beads on the rest of the links left. I love the asymmetrical look this gives the necklace.
I know since there aren't any pictures, that might be confusing, so if you have questions, don't hesitate to ask!
Finally, to finish off the necklace, open a jump ring and slide on one end of the chain and the lobster clasp and close it back. On the other end attach the other jump ring and another tiny section of chain if you want to make it adjustable.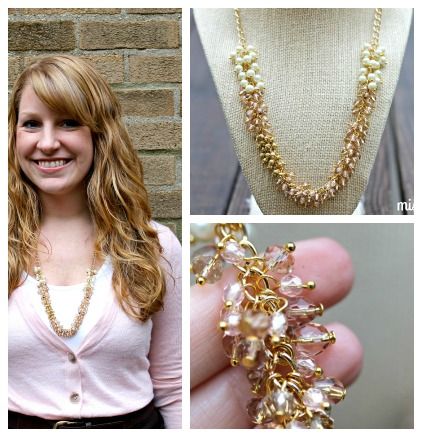 I hope you liked it! I'd love to see it if you make one!
If you loved this, you might want to check out my other jewelry tutorials on 30Days and on my blog, too!
Thanks for reading!