Using some inexpensive craft supplies, you can make some cute pipe cleaner flowers with your kids this summer!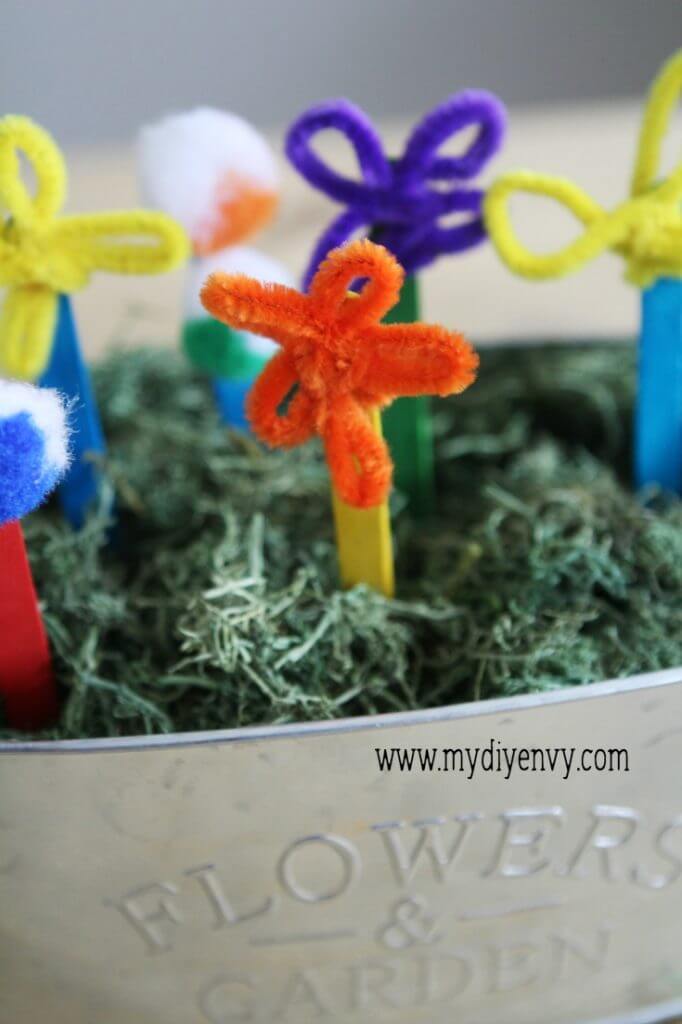 We're so excited for summer in our house. But before we can get there we have to get through our typical spring showers and hailstorms. We were just majorly hit by a hailstorm and our flowerbed took a beating. Since I would like my kids to start learning the importance of service I thought of this cute little activity they can create for others. This summer flower garden was fun for my kids to create and they are so excited to find someone to give it to.
Hi! My name is Jes and I blog over at My DIY Envy. I love to create and absolutely love to make things for our home. But sometimes I forget that my kids love to create too! In the summer they love to play outside while mom and dad work on projects like our DIY Pallet Headboard or when I paint furniture. But sometimes I like to sit down at the table with them and watch them DIY something of their own.
I gave my kids the suggestion of someone who might have lost their flowers in the hailstorm or maybe someone who can't have a real flower garden, like someone in a nursing home. My kids are still pretty shy around strangers, so we might wait until they are older to do a nursing home activity. You could also do this with silk flowers and it would look so pretty!
Supplies Needed:
I found all of our supplies at the Dollar Tree and we have plenty left over to make more flower gardens or other activities.
Colored popsicle sticks
Pipe cleaners
Pom poms
Glue
Floral foam
Container
Moss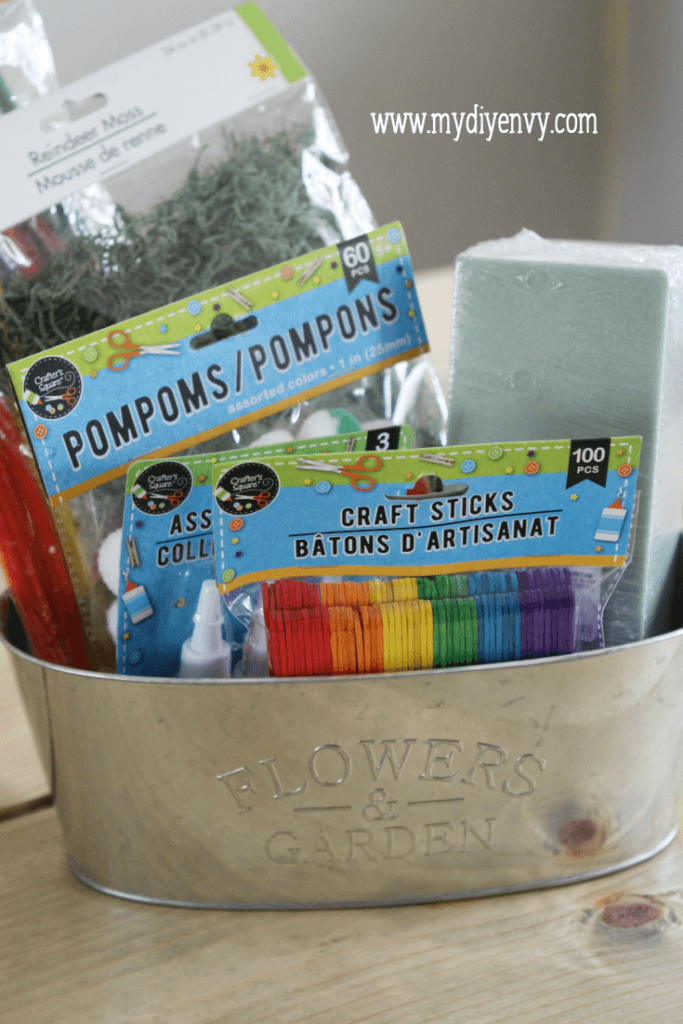 Putting it together:
We found that when making the pipe cleaner flowers you need to leave a tail to twist around the popsicle stick. We also glued it but the glue wasn't drying fast enough. Older kids can use hot glue too. Then we also added a few "dandelions" or pom poms glued on sticks.
We placed the floral foam into our flower container and covered it with reindeer moss. After our flowers dried I let the kids push them into the floral foam and arrange their flower garden.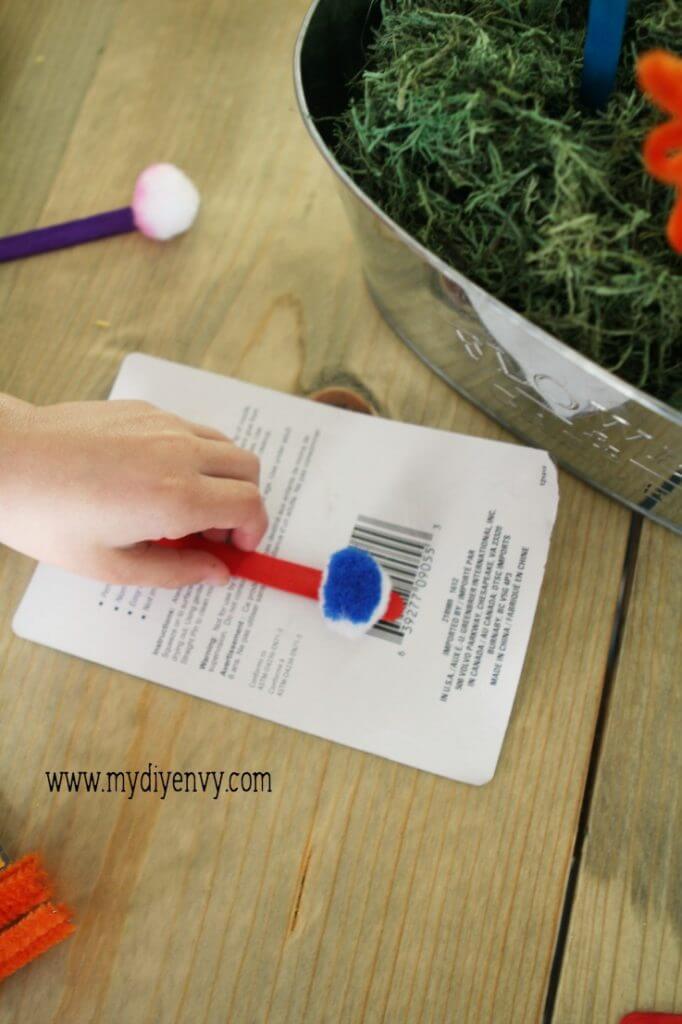 My oldest, who is 4, loved picking out colors to go with each other. Sometimes it's hard for me to sit back and watch him create. I want to get in and do it for him so we don't make a huge mess. This is a great starter activity for moms like me. There are not too many steps involved and not much mess.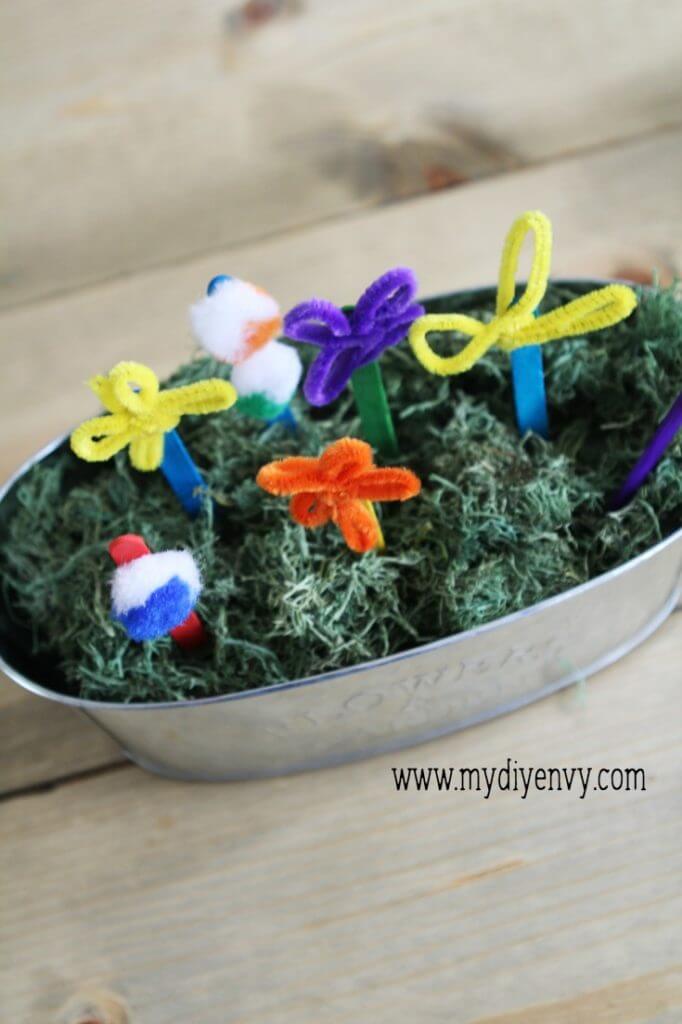 I'm so excited for them to find someone to give this to. They could even place these DIY flowers into a neighbor's flower bed or walkway with a cheerful note attached to the door. A summer doorbell ditch!
The dollar store is a great place to fill your kids' craft bucket this summer. They won't always want to be outdoors and crafts are a great way to keep their minds going during their summer break.