I've thought a lot about how to write this "random acts of kindness" post.  Last month my oldest turned 13.  Yep, a teenager.  I'm the mom of a teenager!! You can read more about my journey with my J here in my "a word" series.
So….a couple days before J's birthday, I got the idea to spread the love for him.  He doesn't need much.  Give that boy food, clothing and music and he's content.  Add in some family members and the trampoline or a day at the pool?  Total heaven.  Unfortunately in January, swimming isn't really possible.  Even in California.  (trust me, we did that last year)


Once again I was at a loss for what presents to give my sweet boy.  And then I thought- why not spend the day doing random acts of kindness in his honor?  I decided to share this idea on Facebook and Instagram hoping that I could get some more people involved.  And did I ever!? This is what I posted:

This will be the day forever known as the day my heart grew three sizes.   Bright and early on the 14th, this picture showed up in my stream:


"It's cold this morning. I saw a guy in a light jump suit huddled against a sign and looking cold so I stopped
and gave him my jacket. He put it on and was grateful. Thanks Jonathan, I'm a better person today. Happy B-day."
Tears streamed down my face as I read this post from someone who has never met J.  (the creator of Bubble Frame posted that- if you don't have that app- go get it!!!)   That was the perfect way to kick things off.  And the rest of the day was just as magical. I bawled and bawled and bawled.  In the best possible way.  I was floored by the love given freely from people I've only connected with via Instagram.  I was tickled when my teenage nephew posted on Facebook that he gave his friend a sweatshirt because he was cold and needed it and did it because of J.  And I choked up with my mom and sister as they recounted everything they did and how it affected them.  Amazing!
I can honestly tell you that my perspective changed that day.  I started to see that there are people EVERYWHERE that need help.  They need something as simple as a smile or as big as a warm bed.  I have the chance to serve people through church but I haven't paid attention as well as I could to the world around me.  I spent the whole day smiling, passing notes out and surprising people with love.  I paid for a car behind me, sent a card to our pediatrician, donated money to the library, sent cookies to J's favorite teacher and to unexpected friends who love J so much.
I was caught off guard with how uncomfortable it felt at first to do something nice "just because."  It's sort of a vulnerable feeling to give of yourself.  What if they think it's lame? Don't appreciate the thoughtfulness?  Or worse deny me? (which actually happened to my mom!)  But it's the act of giving with expectations of ZERO in return that made my heart soar.  Did I want others to pay it forward? Sure.  But I didn't expect anything.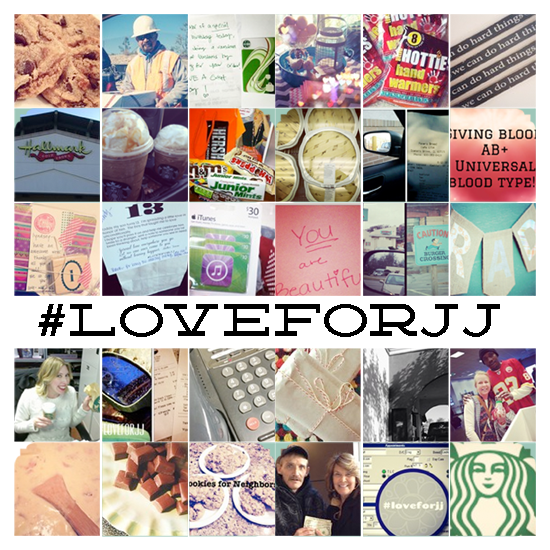 Because of my feelings that day, I have decided that on the 14th of every month I am going to do random acts of kindness.  Some months I'll do one little thing.  Other months I'll spend the whole day going around spreading the love.  I work better with a solid deadline and I think setting it for the 14th (his birthday is January 14th), will help remind me.  Don't you think the 14th of this month is perfect?  Nothing could be better for Valentine's day.
I would love love love love love for people around me (yes, that means you) to get involved.  I will be sharing some of my ideas and some printables here.  Starting with this one: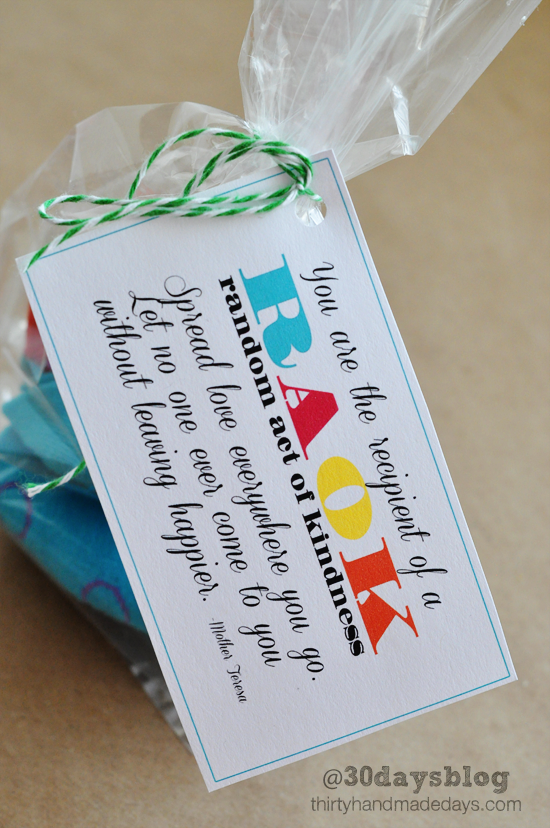 For J's birthday I created a sheet of cards that explained what I was doing.  You can use this sheet of cards for whatever you like.  Pass them out at the drive thru, to someone who needs a little pick me up, attach it to a plate of cookies….anything you want.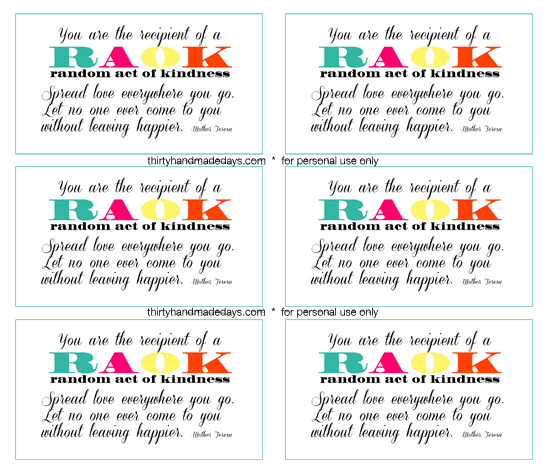 Download a sheet of Random Acts of Kindness printable.
For 30days subscribers and personal use only.
Who's with me?  I'd love for you to leave a comment or email me and let me know that you're joining in.