What's all the hype about with Red Aspen Nails? Learn how to do a manicure at home in minutes and way less than you'd pay at a salon.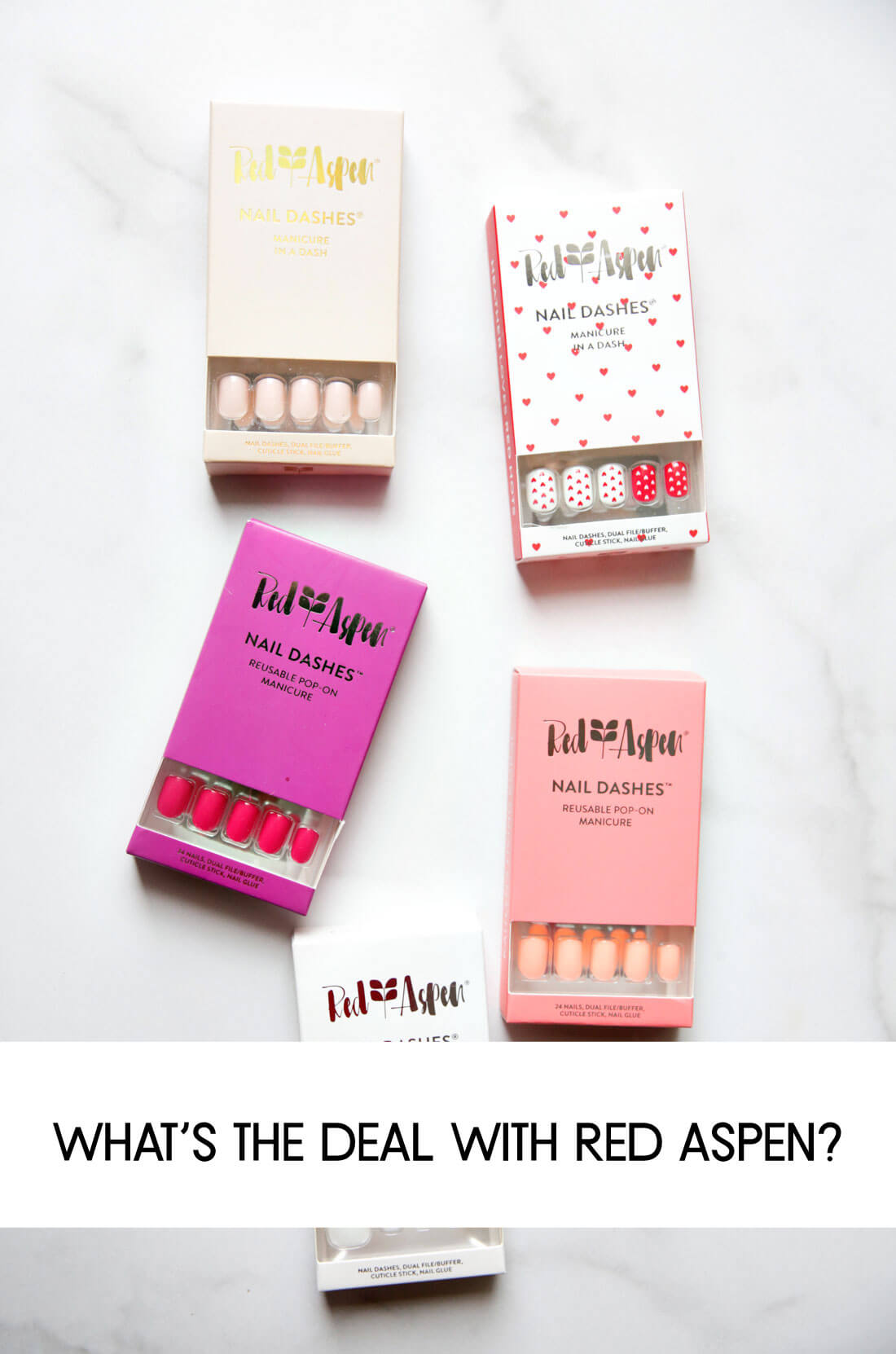 What are Red Aspen Nails?
Red Aspen's Nail Dashes are a pop-on, salon quality manicure.  They are shaped to fit natural nails and applied with a glue included in each kit. Not the typical press on nails – they don't get stuck in your hair, come off easily and there are tons of designs and colors to choose from.
A few months ago, I started seeing lots of people talking about Red Aspen.  For the last several years I have gotten my nails done at a salon but due to the shutdown, my salon was closed for most of this last year.  So many alternatives popped up for DIY manicures but after painting my own nails and having them chip quickly,  I was apprehensive to try anything else.
After some encouragement from friends who had tried Red Aspen, I finally gave them a try.  I was immediately hooked. My only regret was not trying them out sooner.  I didn't anticipate signing up to be a Brand Ambassador but here I am!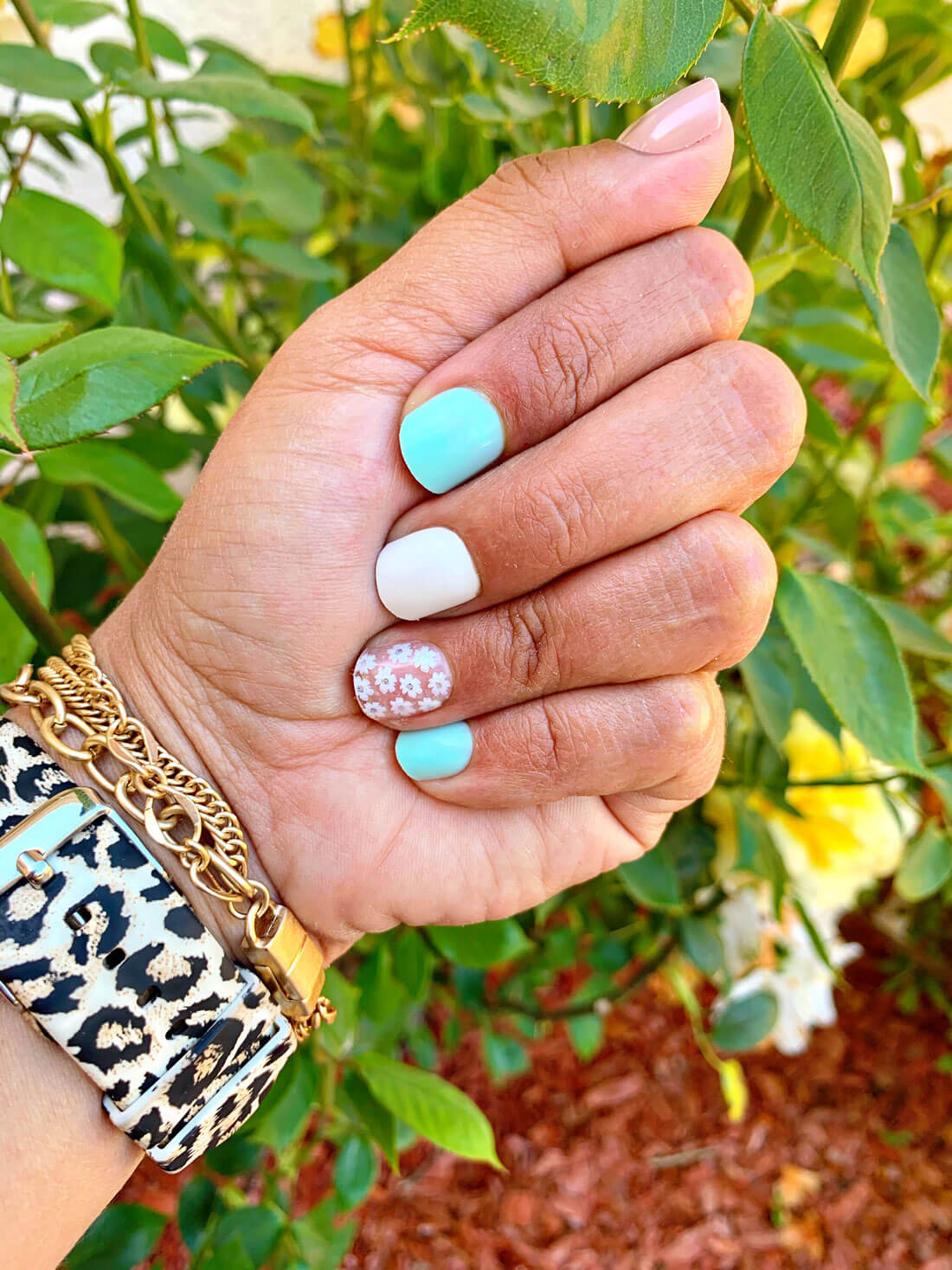 Red Aspen Nail Dashes
There is a little bit of a learning curve with how to apply these nail dashes.  I've been wearing them for months now and have gotten better and faster with each application.  I'm now down to put them on in about 10-15 minutes, from start to finish.
To make sure that you are applying correctly, watch my stories: How to Apply Nails
Step by step, How to Apply Nail Dashes:
Push back cuticles with cuticle stick.
Gently buff natural nail with the pink side of the included nail file.
Clean nail with rubbing alcohol or wipe.  Vinegar can also be used.
Select Dashes that fit all 10 of your natural nails and set aside.
When applying, start with pinkies and work inward, ending with thumbs. The number on the inside of the Dash will go toward your finger tip away from the cuticle.
Apply glue to natural nail and back of Dash, based on desired glue wear time.
Let glue dry for a few seconds, then align Dash with cuticle and apply at a 45-degree angle. Press firmly for 30 seconds.
File or gently clip Dash to desired length and shape.
To reapply, add glue to back of Dash after repeating steps above
These press on nails last up to two weeks.
Nail Dashes range in price from $13-$15 per set of 20+ nails.  There are tons of colors and designs – from neutrals to fun.  We also have pedi dashes for pedicures that I'm so surprised I love.  They last for weeks and look so good!
I do not miss making an appointment, spending more than double this and taking at least an hour out of my day one bit.
How to Remove Red Aspen Nails
One of the things you need to know how to do once you apply the nails is how to remove Red Aspen nails.  I have shown the step by step in my Instagram stories so if you are a visual learner like me, you can watch these stories: How to remove nails
To remove your nails, you will follow these steps:
 Soak in warm, soapy water for 10 minutes.
I use a lot of Dawn soap to a little bit of warm water.
Lift from side of Dash to remove. Apply light pressure – never force removal. Soak for additional time if necessary.
Use a dental flosser to help lift the nail dashes.  They easily pop off this way if they are ready.
Remove excess glue and restore natural nails using blue then pink side of included buffer.
It's a good idea to take time off in between applying sets of press on nails.  I often take a day or two off to let my natural nails breathe.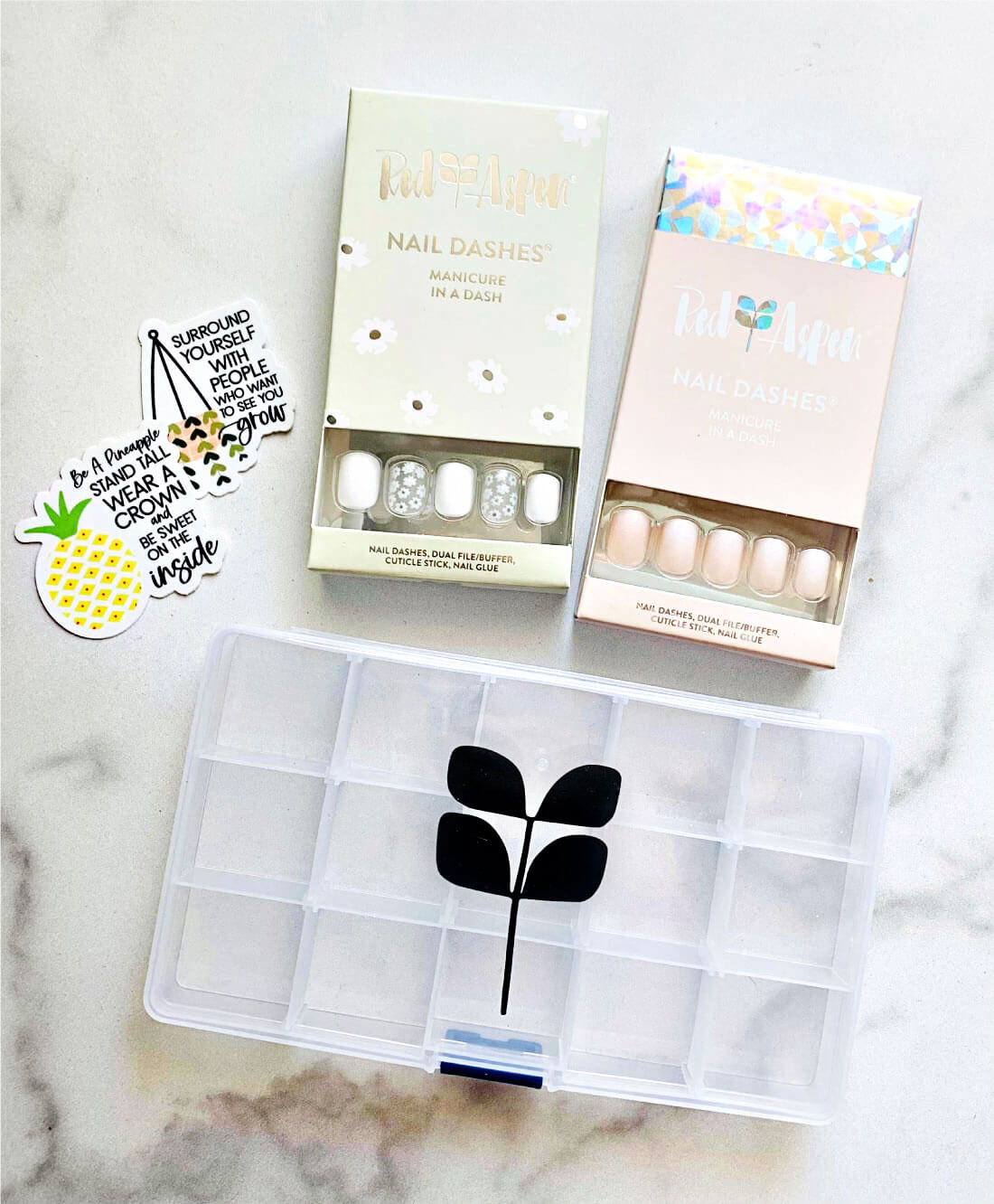 One of the surprising things that I realized when signing up as a Brand Ambassador is that I would *love* sending out happy mail to customers and people on my team.  (pictured above)   I've been in such a rut for awhile now and it has re-ignited something in me.  I'm having so much fun connecting with my community in a new way.
I'd love to have you to join my team!