Lucky #22, Marlena wins!
Thanks for playing. ;)
Happy Monday!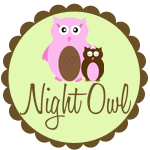 To kick things off on a good note this week, I want to introduce you to another friend on my sidebar- Night Owl.
Trisha has fun items in her shop. She's a big believer in refashioning. I love that her tags are made from fabric scraps. And look at these cute dresses:

And we are all about the hooded towels in my house:
She does made to order
hooded towels for boys and girls.
So you can choose which fabric you want.
I'm also loving this
fun flip flop tutorial
that Trisha shared on her blog.
How cute!
Lucky for you, Trisha is giving away one $20 gift certificate to her shop.
So how do you win?
*Leave me your email address in all
comments otherwise I'll have to pick someone else. Thanks!
-Visit Night Owl. Tell me your favorite item.
-For an extra entry, follow the Night Owl blog.
And that's that. ;)
I'll choose a winner this Thursday, October 14th.
To stay connected to Night Owl:
shop blog facebook

P.s. Leave me your blog, Facebook or
Twitter on my Facebook page
so I can stop by and say hi!