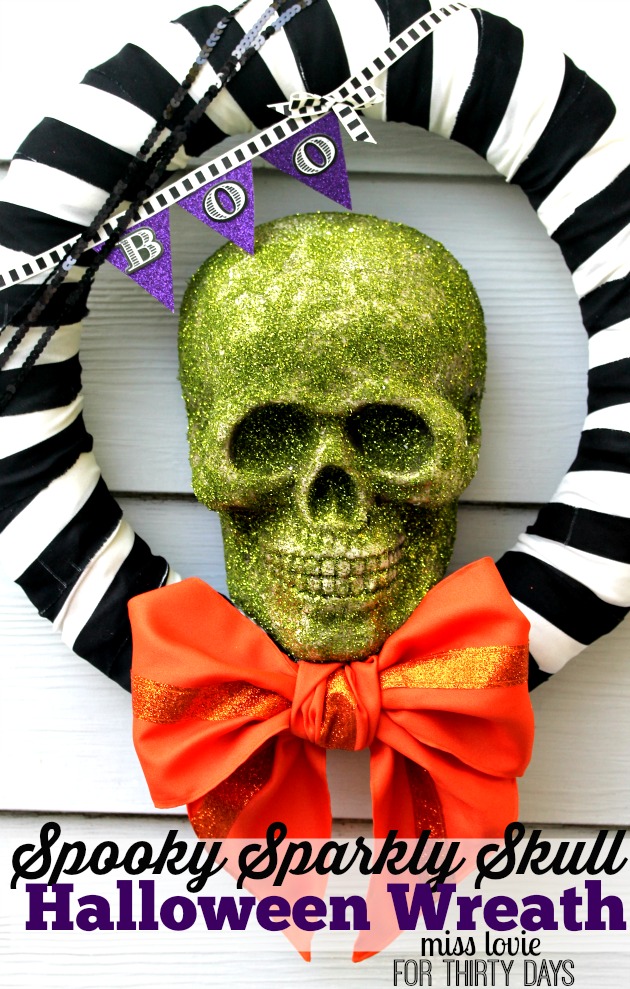 Hi 30 Days Readers! I'm Allie from Miss Lovie and today I'll be sharing probably my favorite project in a very long time , the Spooky Skull Halloween Wreath (and sparkly, too!). If you follow my blog or know me well, you know it's a very fair statement to say that I am kind of obsessed with Halloween and all things Fall. Pumpkins, the food, the leaves, the smell of  the air, the crisp weather, costumes, Halloween parties and decorations- all of it makes me giddy. So it should be no surprise that Halloween decorations are an absolute must for me. Even though I've made plenty of wreaths, I had never had the perfect idea for a Halloween one- until now. Ha.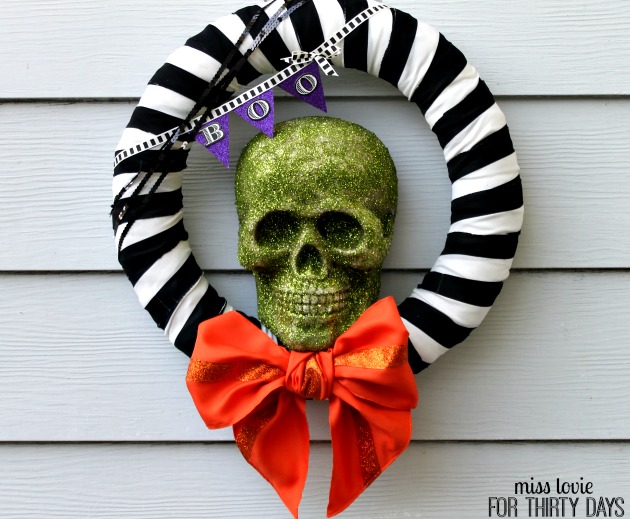 I am in love with this wreath. The colors, glitter, stripes-favorite. I hope you'll enjoy it too!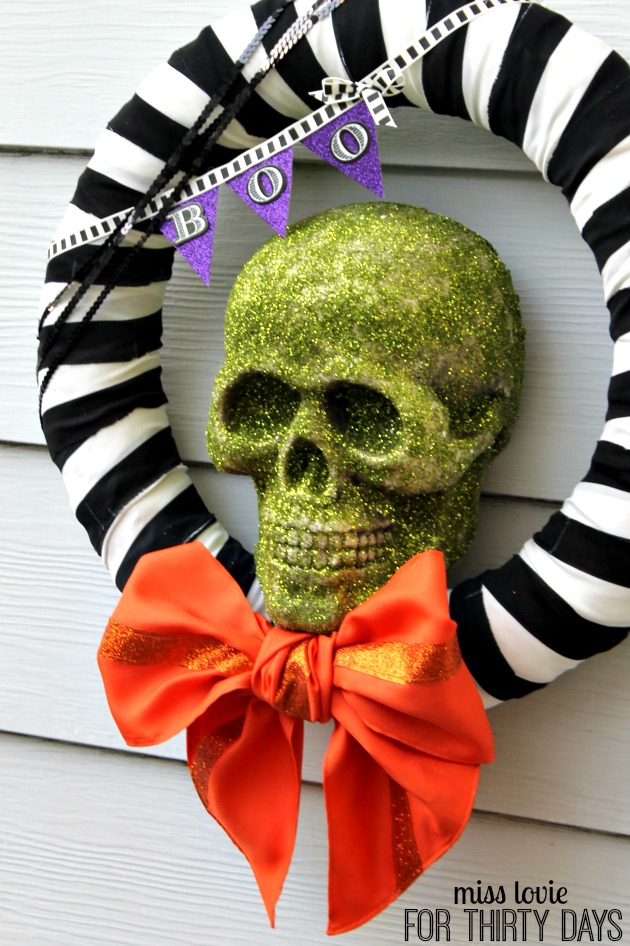 This wreath is mostly no-sew besides the bow, but you could definitely skip sewing a sash for the bow and do something else for the bow instead. So therefore, it is also a relatively  quick project.
Let's make one! 
Gather your materials:
Straw wreath form (I like these best because they're thick and cheap!)
Striped fabric cut into 4 or 5 inch strips or wide striped ribbon (mine is a very stretchy fabric from JoAnn's in the Halloween section) to wrap around the wreath form
Orange fabric and orange sparkle ribbon for the bow (I used polyester for the fabric, but if you wanted a no-sew option, you could get a medium weight jersey fabric that you wouldn't need to hem and would be nice and fluffy- or just use a nice wide ribbon)
Purple sparkle scrapbook paper (got mine at Michael's), ribbon, black sequin trim, and scrapbook stick on letters (got mine at Michael's) for the banners at the top of the wreath
Styrofoam Skull (I found mine at either JoAnn's or Michael's a few years ago, but they almost always have things similar every year around this time.)
Bright Green Glitter, Mod Podge, and a foam paint brush.
Hot glue gun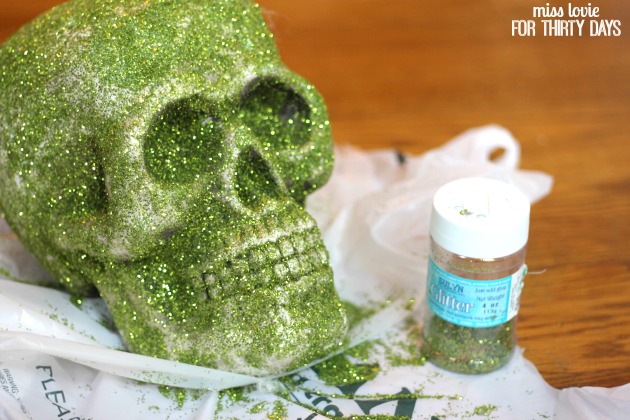 Time for glitter!
After any glitter project, my husband has a mini freak-out because I can never contain glitter to one spot. I track glitter literally all over the house- no matter what I do. He HATES glitter. Anyone else's husband like this? Thought so. :) He even tried to get me to agree to a glitter-free house in the new house we're about to move to. But Halloween isn't Halloween without lots of glitter in my book, so that is not happening. He knew this about me when he married me so hopefully, he'll still keep me. :)
Ok so first you're going to glitter up your skull. Paint on some Mod Podge and pour glitter all over. I liked a little bit of the skull to poke through so I wasn't extremely thorough. I actually used these glittered skulls in a Halloween display at a few Halloween parties over the past several years so I was excited to be able to repurpose one! It had a few areas where the glitter was sparse so I just spruced it up.
****NOTE: If your skull is HUGE like mine, place it on the wreath form where you think you'll want it and see if any of the back of the skull bulges through the back of the wreath form. If it does, you'll need to cut the back of the skull off with a sharp, serrated knife. I recommend you do this now before you glitter the skull (I may or may not have made an enormous mess of styrofoam and glitter in my kitchen because I had to cut mine! with glitter already on it). Cutting styrofoam isn't fun, but it can be done. Once you have it cut, you can place something over the part that is cut off because it will be flaky.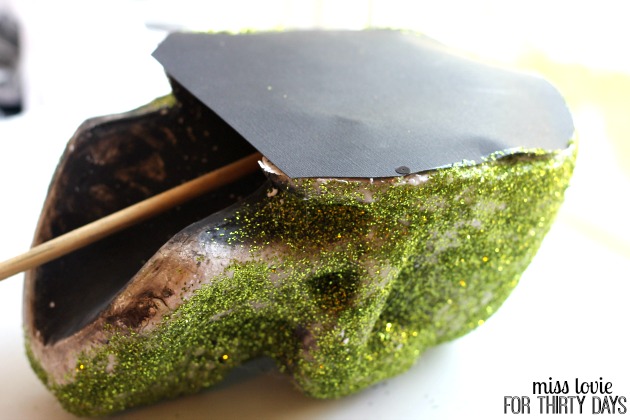 As you can see from the picture above, after I cut the back off my skull, I  then hot glued a piece of scrap book paper to the back so the styrofoam wouldn't flake off. More about the wooden dowel rod in a minute.
Ok next, let's prepare the wreath form.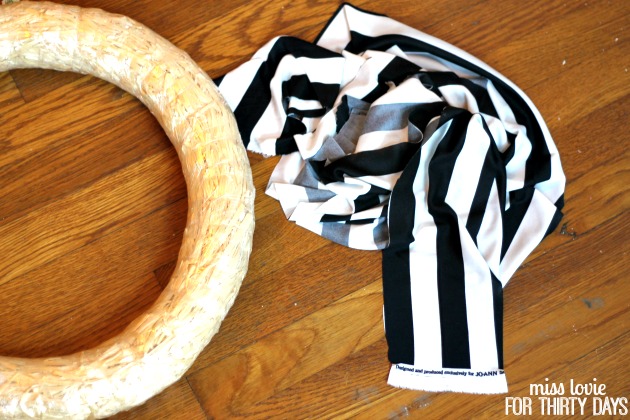 I always leave the plastic on these forms. This keeps the straw from getting everywhere and keeps it a little smoother.
My form was extra rough, however, so I actually wrapped strips of white felt around the form before my striped fabric (not pictured). This gave me a nice white background since my fabric was a little see-through and a smoother base. You may not need to do this step if you have a cotton fabric or are using ribbon.
After your base is ready. Get your strips of fabric and just start wrapping. Glue one end of the strip down (on the back side of the wreath) and wrap until the strip ends, and then glue again to the back side of the wreath. If the strip doesn't end on the back side, cut it so it does. For this wreath you want the stripes nice and straight so be sure to line them up on the front as you wrap (it doesn't matter what the back looks like). Since my fabric was stretchy and a little see-through I overlapped my fabric quite a bit and made sure to overlap the black stripes on top of black stripes.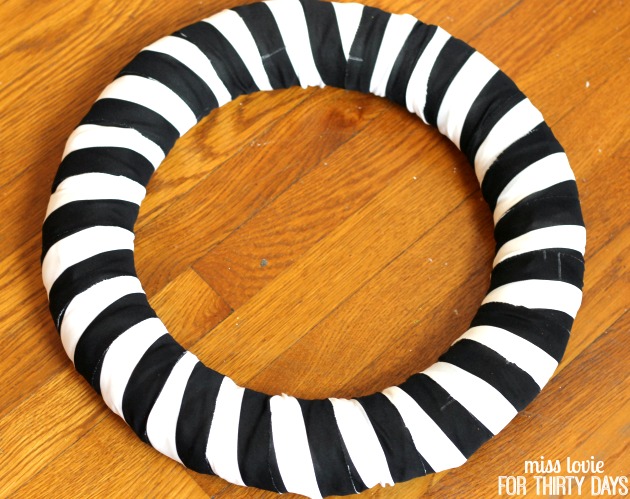 All done.
Now, let's make some banners.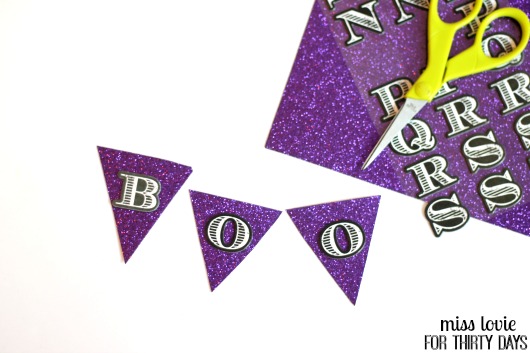 Now these really could be optional because the skull and bow are really kind of perfect on their own, but I tend to over-accessorize, so I just had to add something more! Cut small triangles from your purple sparkle scrapbook paper, stick on the letters (add some dots of hot glue if your letters don't want to stick to the paper).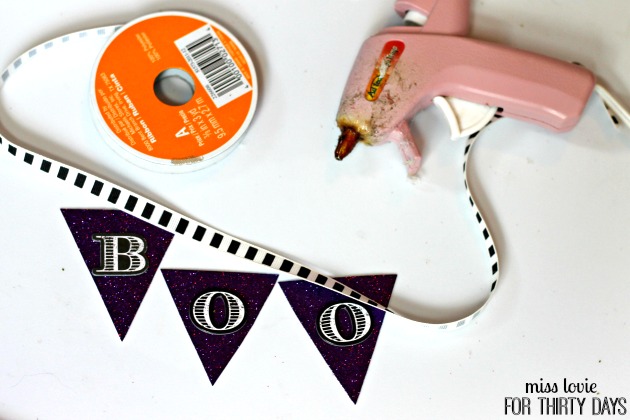 Cut a small length of ribbon and glue your triangles on with hot glue.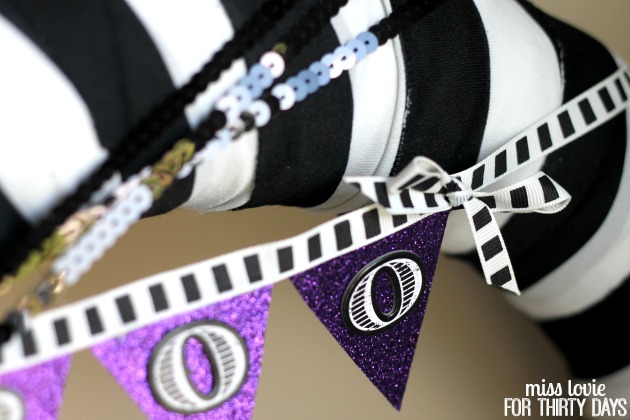 Make a tiny bow and glue it onto one side of the banner.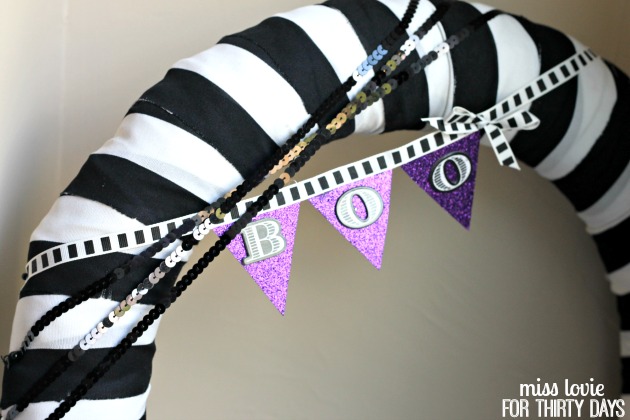 When you attach the banner and sequin trim, use some sewing pins to attach them and move them around until you like the placement. This is the best part about using straw wreath forms- these sewing pins really stick in there! You could just leave those in or hot glue the ends down once you like the placement. I found that stretching the ribbon and trim straight across works better than draping it for this project.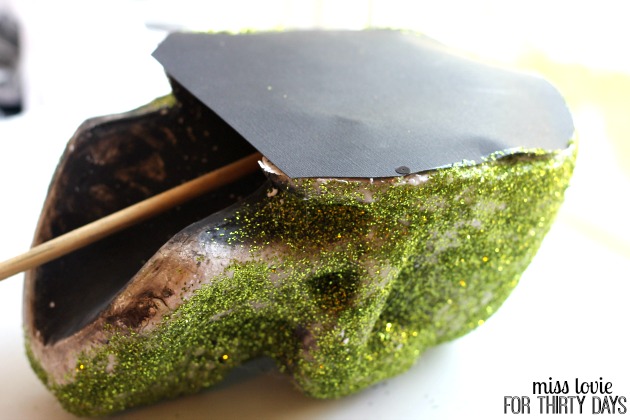 Ok now onto placing the skull onto the wreath…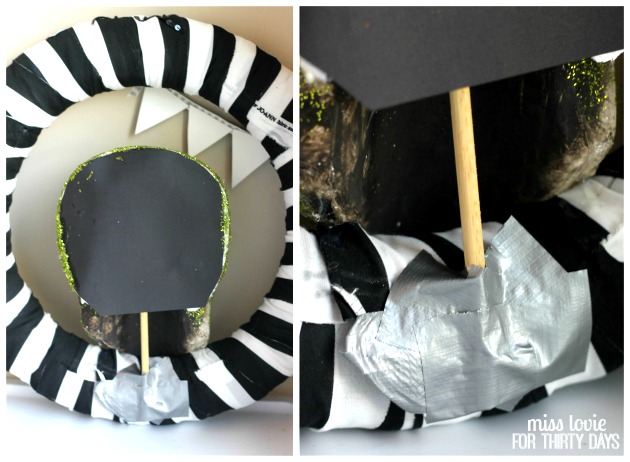 This was tricky. The skull was too heavy to just hot glue the jaw to the wreath, so I had to stabilize it another way. The dowel enabled the skull to stand up on it's own and stabilized it better on the wreath form. It doesn't look pretty from the back, but who cares. :)
Depending on the skull you find, you may or may not have to do this.  If you do, grab a wooden dowel rod and  jam it up into the skull to make a hole. Take it back out and put a dab of hot glue on the end of the dowel and then jam it back in there. Be sure to measure the length of your dowel next to your wreath form before gluing. It should be long enough that it reaches to the bottom of the back of the wreath form, but does not exceed that. Mine was a little too long, so I simply broke the end off- you could also saw it if you're trying to do it the right way. Ha. I simply stuck the broken end inside the skull so the smooth end was at the bottom.
Once the dowel rod is in place, hot glue the jaws to the wreath form, hot glue the dowel rod to the back and then secure the dowel rod again. I used some duck tape, but you could also use a strip of felt or heavy fabric and hot glue it on. That would look a little nicer.
You definitely can't slam this wreath around or anything, but it is plenty sturdy to hang on a front door!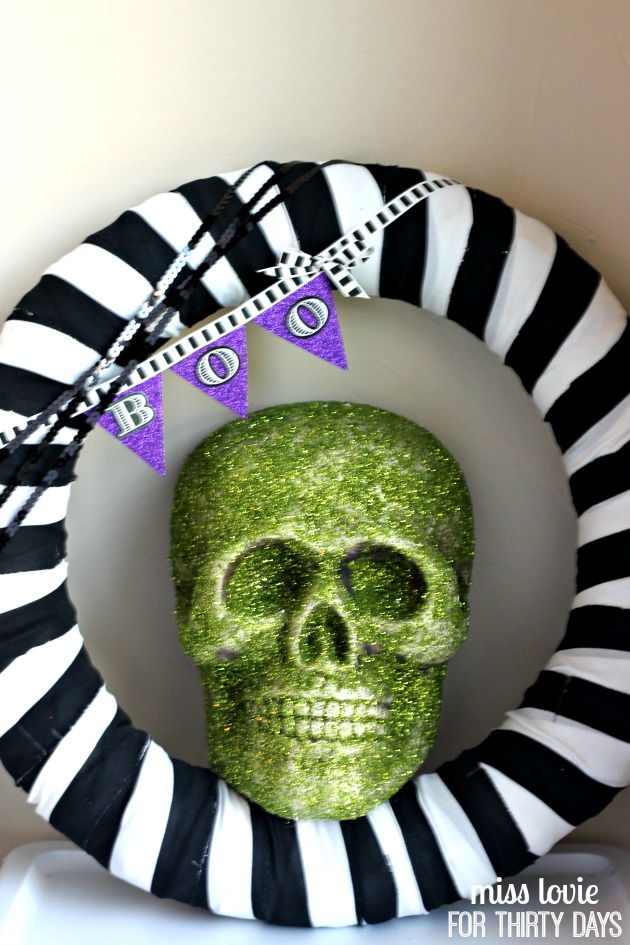 Please excuse the blurry picture (no idea what happened here or why I didn't take another picture!), but this is what your wreath should look like now.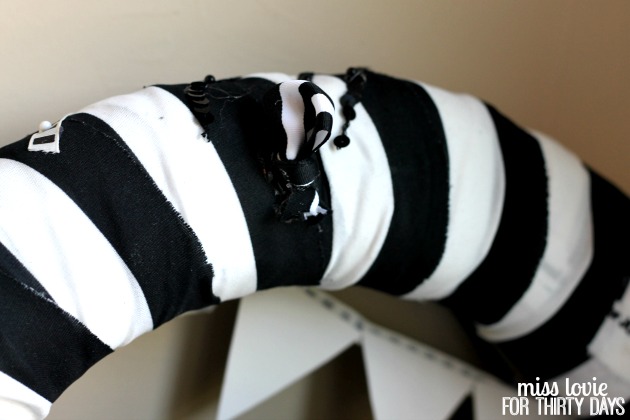 Attach a small piece of ribbon tied in a knot so that it creates a loop. Hot glue it to the back at the top. You'll use this to hang your wreath.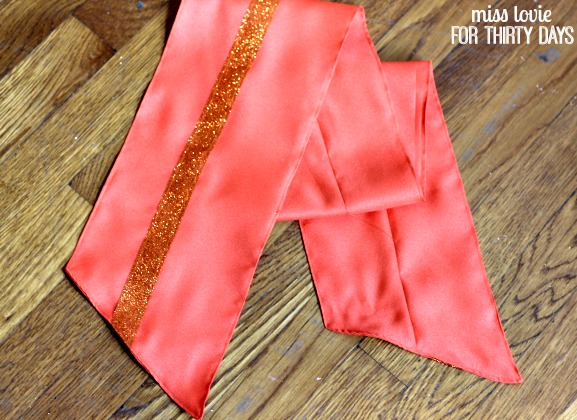 Now let's attach the big floppy bow!
As mentioned above, you could make this a no-sew project by using an extra wide ribbon here or some jersey fabric that doesn't need hemming. If you want to make the sash, however, read on.
I did not do a full tutorial for the sash that I tied into a bow, but if you sew, you could figure it out pretty easy. Here's a quick run-down: I used a 13 inch wide strip of fabric and sewed a sparkle ribbon to the middle. Then I folded it and sewed up the side with a 1/2 inch seam with right sides together, leaving the ends open. Then I pressed the seam open (still inside out), and pressed the sash flat. I then drew lines with a pen and cut angles on a 30 degree angle on the ends with a quilter's cutting mat and ruler and sewed those shut, leaving an opening in the middle of one end so I could turn it inside out. I trimmed the threads, turned it right side out, pressed it and top-stitched. I think the sash is about 24 inches long.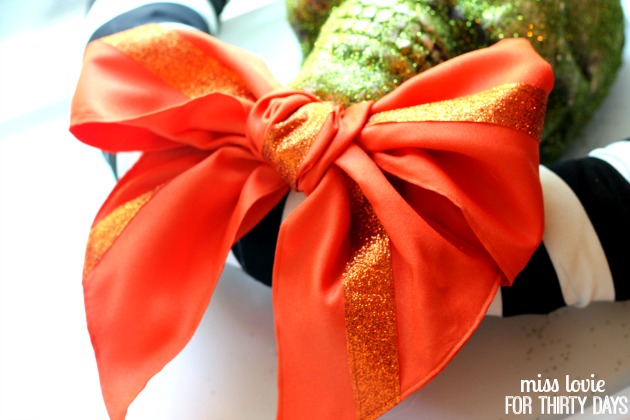 Once you have your sash or ribbon, simply tie it into a bow and glue it onto the wreath under the skull.
Finished! Hang it on your door or above your mantel and enjoy a spooky sparkly Halloween!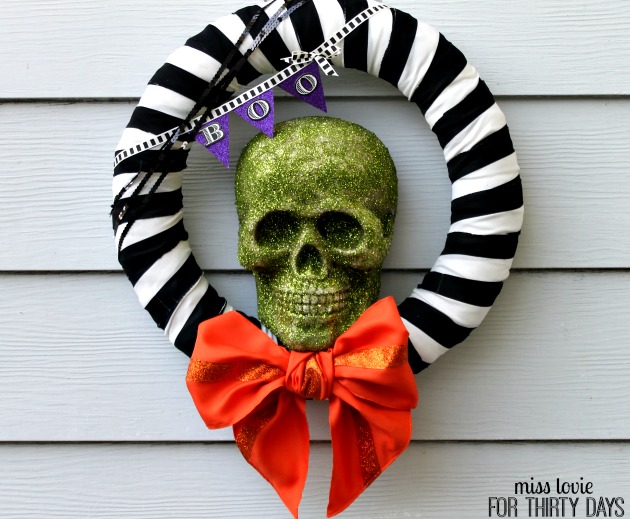 I could just die. Can I keep it up all year?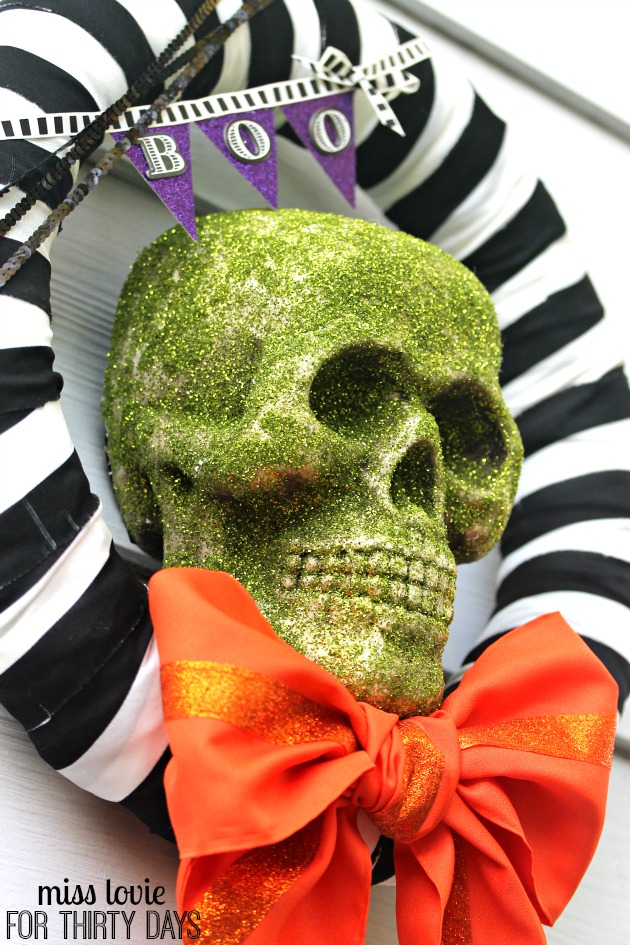 Ooooh oooooh oooooh! (Those are ghosts)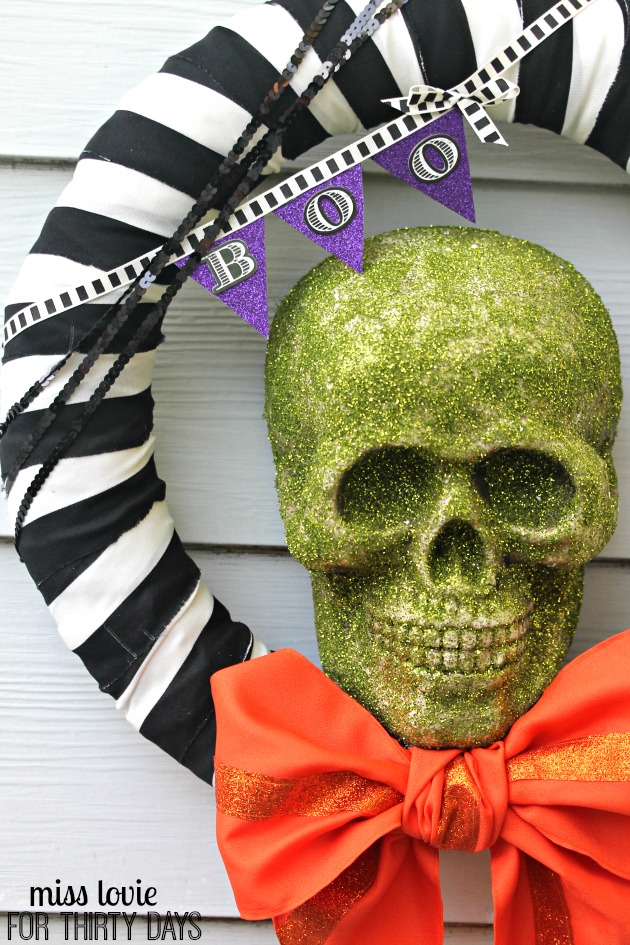 It has all the sparkly glitter goodness that Halloween should be made of. I hope you enjoyed this tutorial.
Be sure to check out more Halloween posts on my blog, this Batty Table Runner and this C3PO and R2D2 costume tutorials. If you want more wreath tutorials, be sure to check out this Gold and Orange Pumpkin Patch Wreath and this Back To School Wreath!
Happy Creating and Happy Halloweeeeeeen!
Thanks for reading!