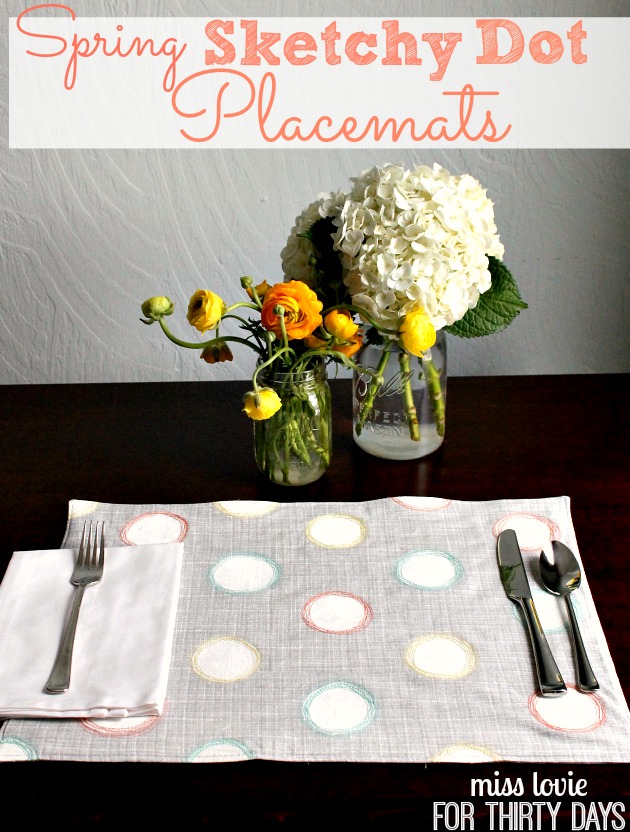 Hi, 30 Days readers!I'm Allie from Miss Lovie and I'm so excited to be here today with a great tutorial for my Spring Sketchy Dot Placemats! I have been DYING for some color and life this winter (that will seemingly never end) and these colorful, but still neutral placemats have done the trick for our dining room- with the help of some fresh flowers, of course! I love having flowers in the house.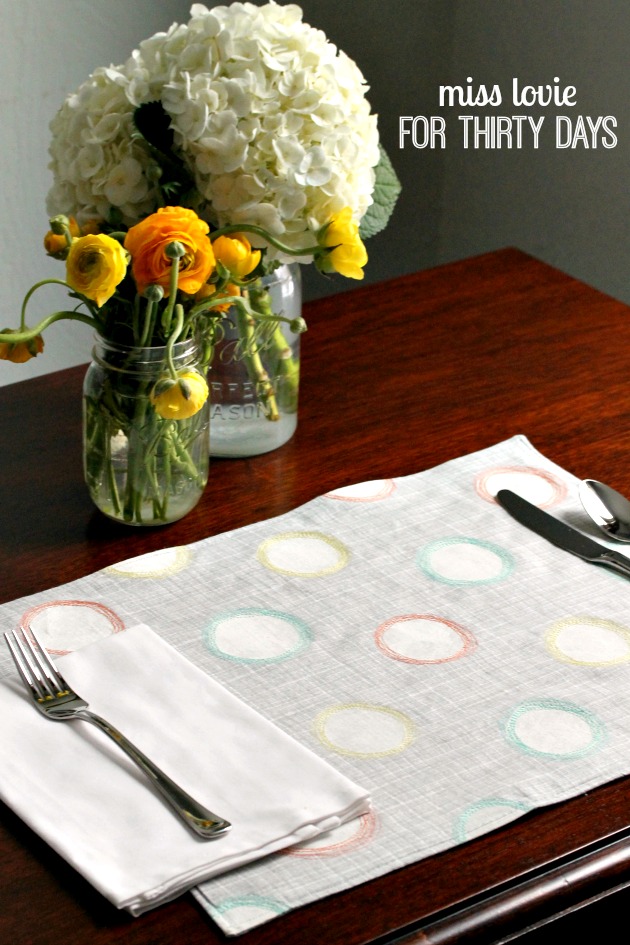 This project is very easy, but admittedly a little time consuming. However, I look at doing any sort of sketchy stitching like this a little like quilting. I know it's going to take awhile, so just pop on a book on tape or a movie in the background and sew the night away. It's pretty relaxing actually.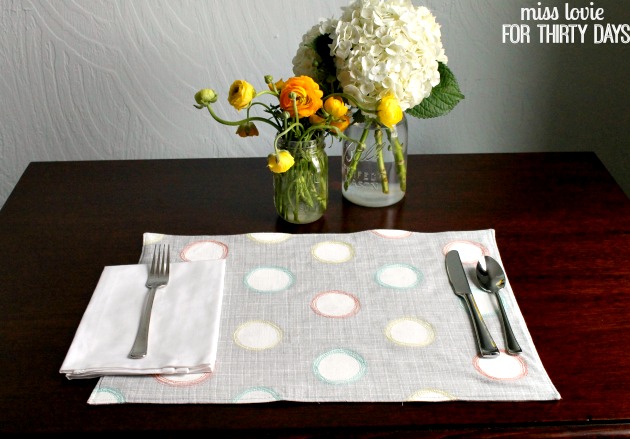 For a 6 placemat set:  2 1/2 yards of cotton fabric, 2 1/2 yards of thin batting (I used Loft 1 -up to 3/16 inch Soft and Crafty 80/20 quilter's batting), contrasting thread, acrylic paint, textile medium for acrylic paint, a sponge brush, and a stencil to create the dots. You could use a heavy interfacing or thing fusible fleece instead of batting if you have that on hand instead. These plaemats definitely turned out to be more on the thick side for placemats, but look very nice and feel substantial.
** A note about the acrylic paint on fabric: I just love the look and rough texture of the acrylic paint on the fabric, but if you want yours to be a little more flexible (and a little easier to wash later!) you can use a fabric textile medium in with your paint. Most would recommend this. I would have used it for my project, but I didn't have any at the time and was wanting to get started. For more information on using acrylic paint on fabric and the textile medium go here. Since I did not use the textile medium for this project, I may have to spot clean the placemats to keep the paint from fading. I don't have children so this is okay for me, but if you think you'll definitely need to wash these, you may want to add the textile medium to make washing them easier. Whether you use the textile medium or not, be sure to heat set your paint into the fabric. More on that later.
First, cut your material and batting into 15 x 20 rectangles. You'll need 2 15 x 20 rectangles of the fabric and one batting for each placemat. This definitely makes an oversized placemat.
If you don't have a circle stencil, you can just make your own.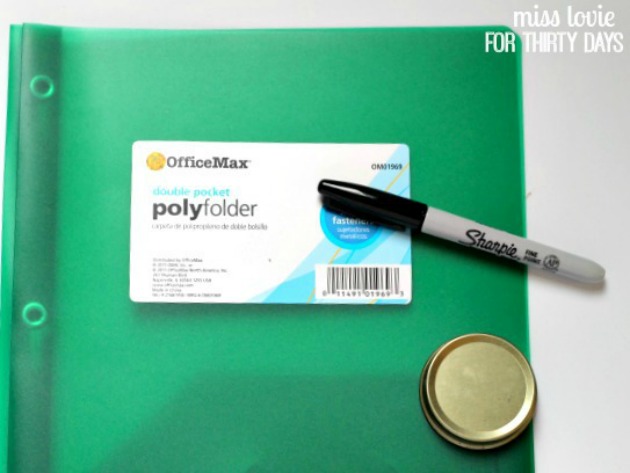 Find or purchase a sturdy plastic folder and use something circular to trace. This jar lid created a circle a little over 2 inches wide. A circle with measurements somewhere in that department would work fine.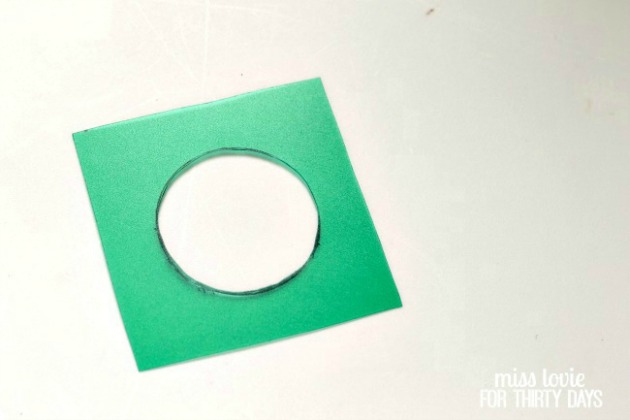 Cut a square around it to create the stencil. Leave a 3/4 inch border around the circle. this will help you measure later when you're using it.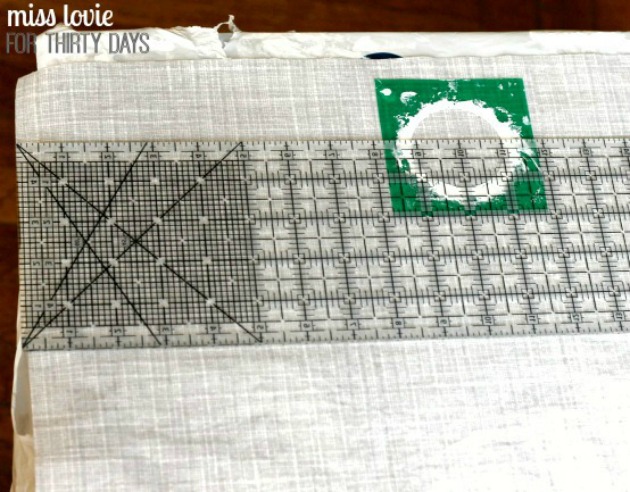 Mix your acrylic paint and textile medium if you are using a textile medium. Prepare your work surface by taping down some plastic (I used an old shopping bag).  You can tape down the fabric  on top of that to keep it in place. Before painting, find the center of the fabric by measuring to the center. Place the top edge of your circle 2 1/2 inches from the top. The center of the circle should be at the center of the placemat.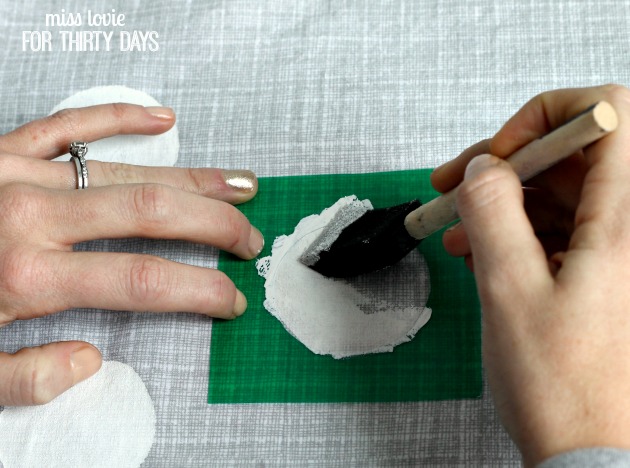 Hold the stencil down with your fingers and use a sponge brush to dab on the paint. Do not brush, because this often leads to bleeding under the stencil. Continue dabbing until you have a thick layer of paint-you don't want to have to paint a second coat. Peel the stencil back carefully. If any paint has gotten on the bottom of the stencil, simply wipe it away with a paper towel so that when you use it for the next dot, the paint on the back of the stencil doesn't mess up the new dot shape.
As long as you dab up and down (not side to side!) and hold down the stencil firmly, you shouldn't have any problems. You could use spray adhesive to keep the stencil in place, but I didn't have any, and it worked fine with out it. After the first dot, measure 2 1/2 inches from the bottom of the first dot to the top of the circle in the stencil. Use a ruler to line up the edge of the first circle with the side edge of the circle in the stencil. Do the same for the third dot in this row.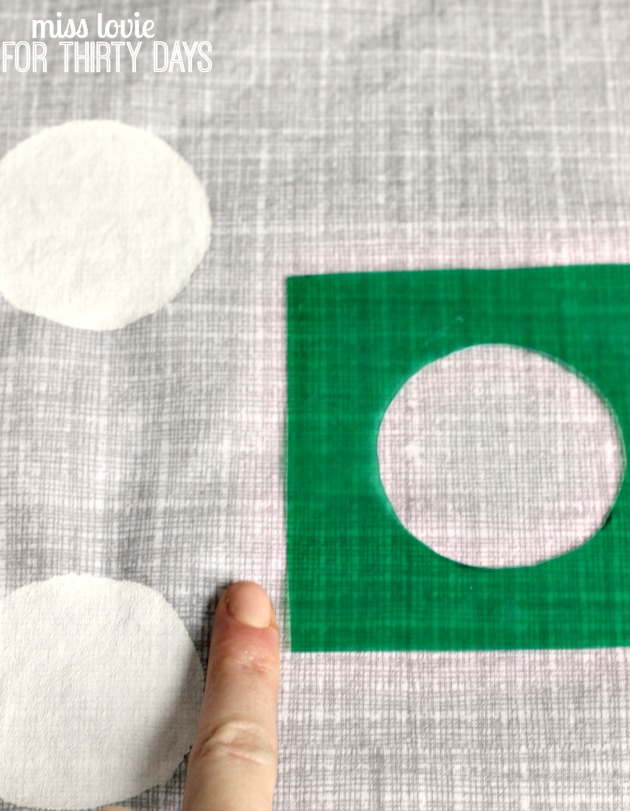 For the next rows, use your finger to measure between the dot you've already painted and the outside edge of the stencil. Just eyeball to find the middle between the two painted dots in the previous row and place your stencil there. Continue across the placemat.

 If some paint does accidentally get under the stencil, simply move the stencil over some to include the paint outside the edge and dab to fill in. The circle may not be precisely round, but it won't matter in the end. Be sure to clean the bottom of your stencil when you do this before moving to the next dot.
 When all the dots are painted, let it dry for at least 24 hours.  Next you'll need to heat set your paint by setting your iron to a medium high setting and pressing the fabric. Don't let your iron sit for too long in one spot, though. You can place a thin cloth over the painted side and iron on top of that so you don't ruin your placemat front or your iron.
Once it's all been heat set, it is time to sew!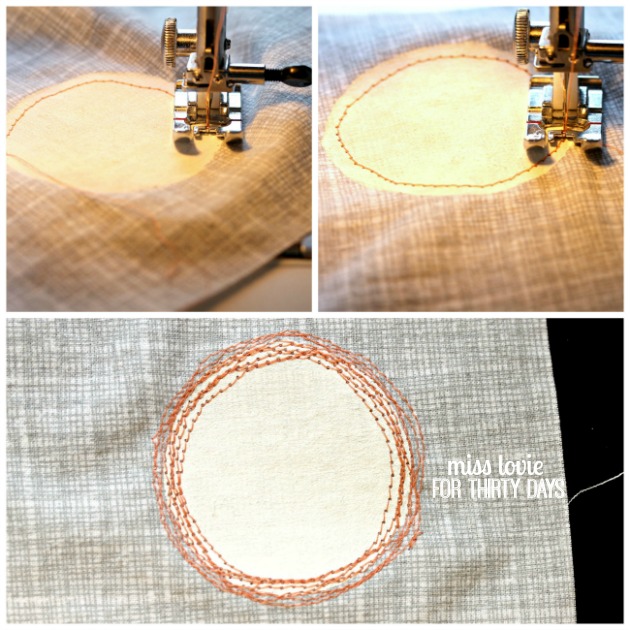 To sew the sketchy circles, set your stitch length at about 2 1/2. Start with your needle about 2/8 inches from the edge and sew a complete circle. While it's easier to sew rounded edges with small stitches, it's not as pretty, so you'll just have to sew slow until you get the hang of it. Simply sew a few stitches, leave the needle down lift the presser foot, turn your fabric so the needle is facing in the right directions, sew a few more, and repeat. Once you get really good, you can definitely turn the fabric some as you sew. I did this a lot once I got going. This circle and the one on the outside edge (about 2/8 inches from the edge of the painted circle) are the only two that really need to be precise. After you're done stitching the first circle, continue on around and stitch several circles until you achieve the look you're after. I have no idea how many times I sewed around each circle. It doesn't have to be precise ! Which is how I kind of like things. :)
My placemat ended up with 21 circles and since I was sewing with 3 colors, I made 7 circles of each color. When beginning a new color, you can map out where you want your color and mark those circles with pins (next to the paint-not through it – this leaves permanent holes). Continue with the same color until all 7 circles are sewn, then changed your thread and move on to the next.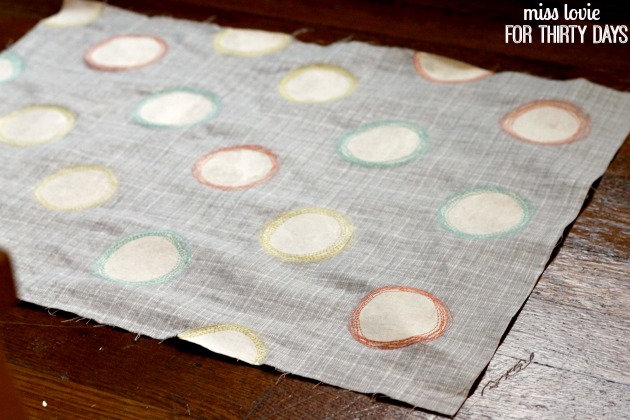 So spring-y and fun!
Next you'll piece together your top and bottom pieces of your placemat and your batting.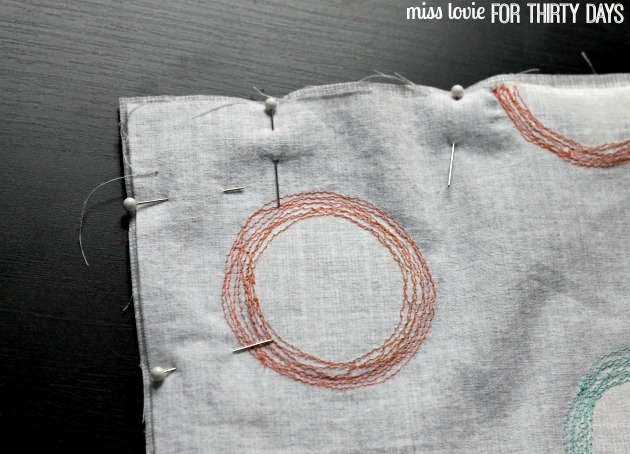 Lay batting flat on the bottom and right sides facing layer the placemat fabrics on top. Pin well. Don't pin through the painted circles. This is difficult and will leave permanent holes in the painted fabric.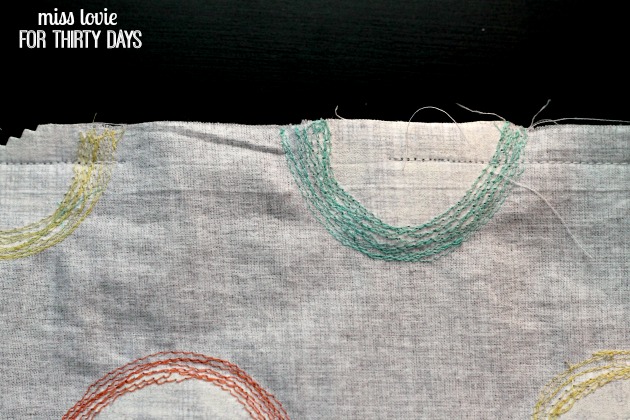 Sew with a 1/2 inch seam allowance leaving a 2 inch or so opening so you can turn it inside out. However, don't do as I did and leave that opening on a painted dot (I'll tell you why in a minute!). Leave the opening where there is only fabric.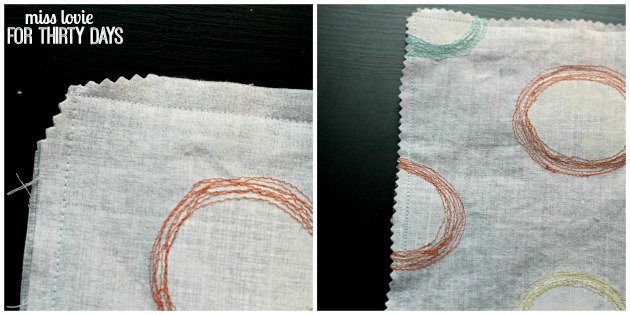 Clip your corners and use pinking sheers to trim the edges. Flip the place mat inside out.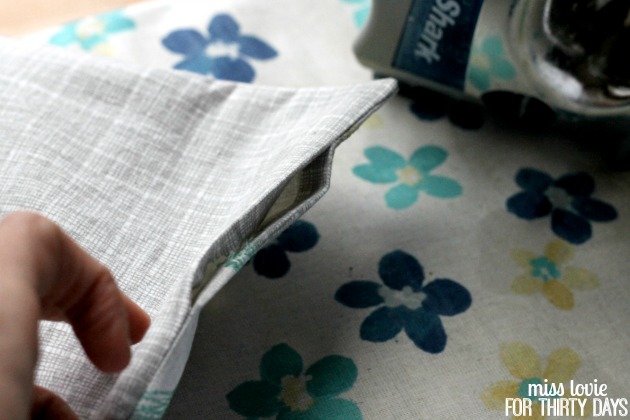 Turn the edges under where the opening is, press, and whipstitch it closed. Here is where you don't want there to be paint on the edge you're trying to whipstitch. Your machine needle flies right through that paint, but hand sewing through it is NOT fun.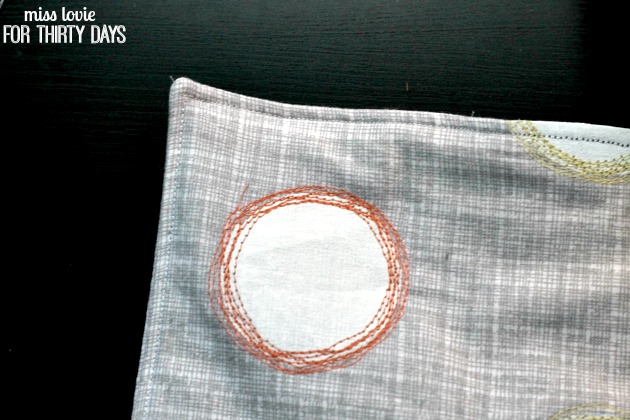 Once the opening is all stitched closed, press everything well and top stitch with a 2/8 inch seam allowance.
Finished!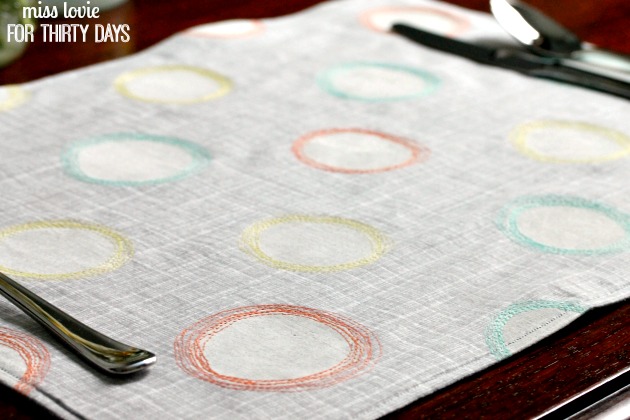 Spring sketchy dot goodness. Now that my dining table looks spring-y, the weather outside needs to hurry up and match it.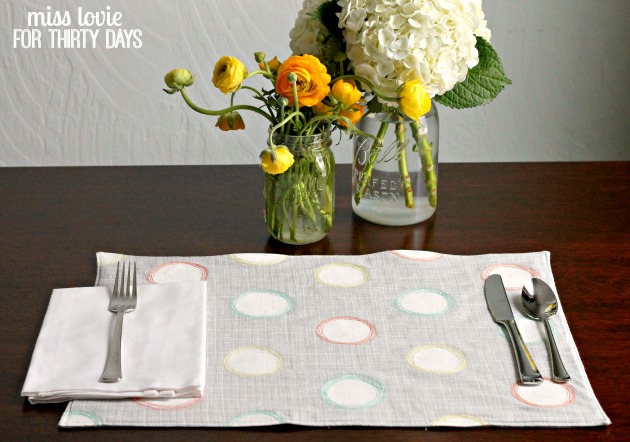 I hope you enjoyed this simple sewing tutorial today! I'd love to hear what ways you're trying to bring spring into your home. Let me know in the comments because while my dining table looks nice, the rest of the house needs work!
If you loved this simple sewing idea make sure to check out  more of my favorite easy sewing ideas.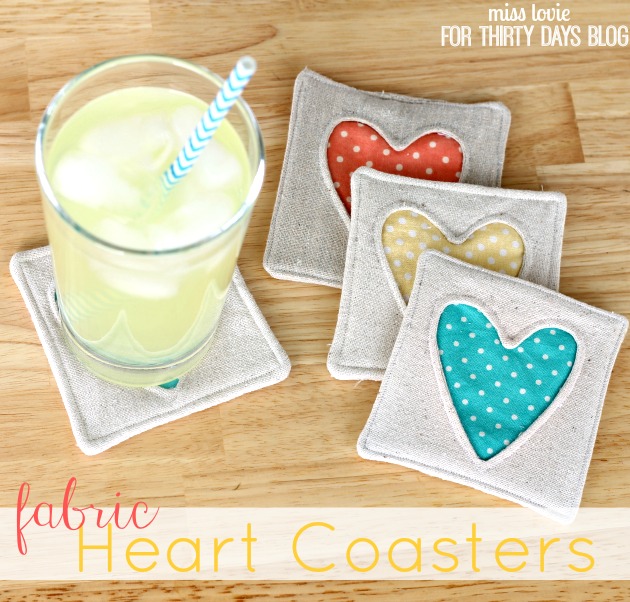 These Simple Fabric Coasters are so easy and cute and make the perfect gift. Hm. And they're almost in the same color palette! I'm definitely craving spring.
You should also head over to my blog to check out my Antho-Knockoff Heart Collector Pillow, Easy DIY Backyard Hammock, and Travel Felt Board Tutorial!
Happy Sewing and Crafting!