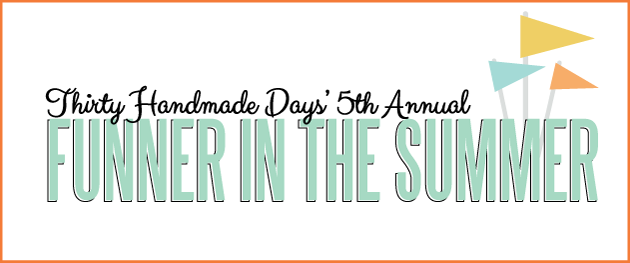 Next up for Funner in the Summer–   Nikkala from Crafting Chicks is here with a fun idea that's perfect for summer: a DIY Tabletop S'mores Roaster.  I've never seen one of these before and can't wait to make one with my kids.  Make sure to head over to Crafting Chicks for all kinds of tips, crafts, recipes, photography and more!

Confession time. I pretty much hate everything about camping. The dirt, the bugs, and especially the smell of campfire without a shower nearby. But I happen to be raising boys that love dirt and fire. So we've come together and met in the middle on this one. An evening at the park with our own tabletop s'mores roaster that is completely smokeless let's them roast mallows and I don't have to deal with smoke from the fire.
To make your own, you'll need just these 3 supplies: shiny little pebbles, a small tin bucket, and a sterno can. While I was picking up the rocks I noticed that you can get all the supplies at the dollar store making this a $3 project.
First, pour some rocks into the bottom of the bucket. Since the bucket is deeper than the sterno can, you'll need quite a few down there to bring the sterno up. To fill up the space faster you can use larger rocks on the bottom and save the shiny pebbles for the top.
Make sure you loosen the lid before you place the sterno in the bucket since its hard to get a grip when the can is spinning in the rocks.
Keep adding rocks to secure the sterno and keep it from tipping.
Using a long match or a lighter go ahead and light the sterno can. The flame isn't very bright, and kind of hard to see, but you can sure feel it. Be careful not to get too close!
If you look close you can see the flame here.
The flame is hotter than you think and it's tempting to get too close. It doesn't take long for your marshmallow to burst into flames. But really, isn't that what s'more roasting is all about!
Thanks for letting me be part of the Funner in Summer series! I'd love to have you stop by, say hello and check out our other fun projects for summer!
Dream Dessert Bars / DIY Glitter Shoes / How to Ride a Bike
Nikkala is a cute and fun mom of 3 whose creative and analytical sides are in a constant battle and the results are very practical projects. Nikkala is a gardener, champion ping pong player, and undefeated in fantasy football. Nikkala is a co-founder of thecraftingchicks.com.