Lately I've had a fun time with a few home decor projects. Today's personalized world map was easy to make and I love how it turned out.
I found my inspiration over the weekend at Paper Source– a cute little card with some embroidery thread attached.  Lindsey showed me the specialty world map paper that they had and my wheels started turning. This big world map was born.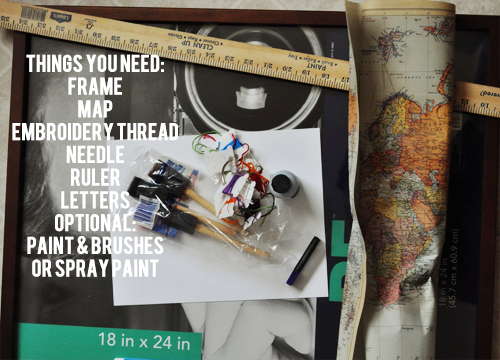 Specialty paper at Paper Source= $3.99
The frame was a find at Target on clearance, 18×24= $4.26
Other supplies, had on hand. 
So for $8.25 I have a new favorite piece of art to hang.
This is how you can make your own personalized world map: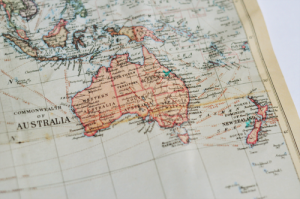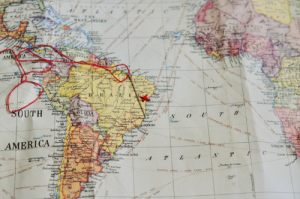 Using a pen, mark spots on world map that you've visited.
Then with the embroidery thread and needle make an x for each spot.
I used a few colors.  One represented places we'd been as a couple, another for places we've been as a family, and others for places we've been separately.  You could just use one color if you want.  I think it's kind of fun to break it up a bit.
Some places that I've been:  Costa Rica, Spain, Australia, New Zealand, Paris
Places we've been together: Tahiti, Brazil, Kauai, the Caribbean
Because I have a Silhouette, it was really easy to make this cute little saying and adhere it to the personalized world map.  I created the file in the Silhouette program, weeded it and adhered it. 
If you don't have a Silhouette, you could use stickers found at a craft store. Or you could print something on your computer and glue it down as well.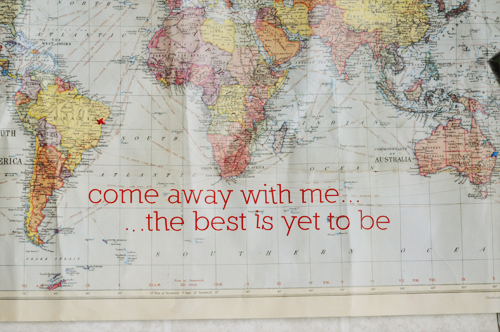 This is what it looked like after adhering the vinyl.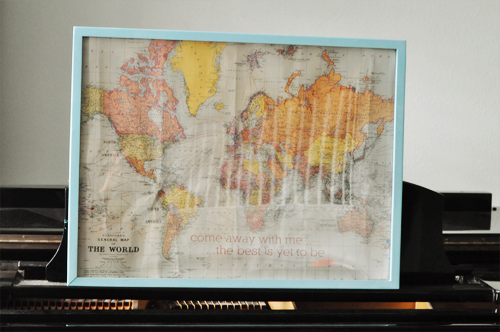 My frame was originally boring old brown.  I wanted to make it pop a bit.  I first tried to paint it but that didn't go over well.  So I used some aqua spray paint and love the end result.  Note- using spray paint in windy conditions is not the smartest idea.
It was really hard to take a picture that showed off how fun this turned out.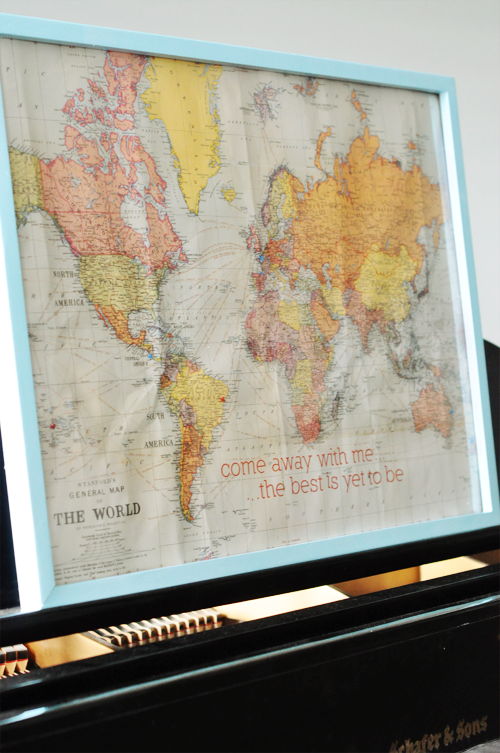 I love that we have a map that we can look back on and add to as we explore the world more.
What is your favorite place in the world?
I linked up to Tidy Mom's I'm Lovin' It
Tatertots and Jello's Weekend Wrap Up
Beneath My Heart's Best DIY Projects of March