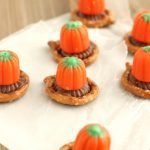 Print Recipe
Peanut Butter Pumpkin Bites
3 ingredient Peanut Butter Pumpkin Bites. Very easy, quick treat. No oven required. Perfect treat for any party or get together this Halloween season.
Mini pretzels

(I used Utz Halloween shaped mini pretzels)

Mini unwrapped Reese's peanut butter cups

Candy corn pumpkins
Place wax paper on a microwave safe plate.

Place pretzels on top of wax paper.

Put one mini peanut butter cup on each pretzel.

Microwave for 25 seconds (or until peanut butter cup bottoms barely start to melt)

Remove from microwave and immediately place a pumpkin on each peanut butter cup, pressing down gently (if you push too hard, the pretzel will crack).
Servings and nutrition info vary based on number of bites made.