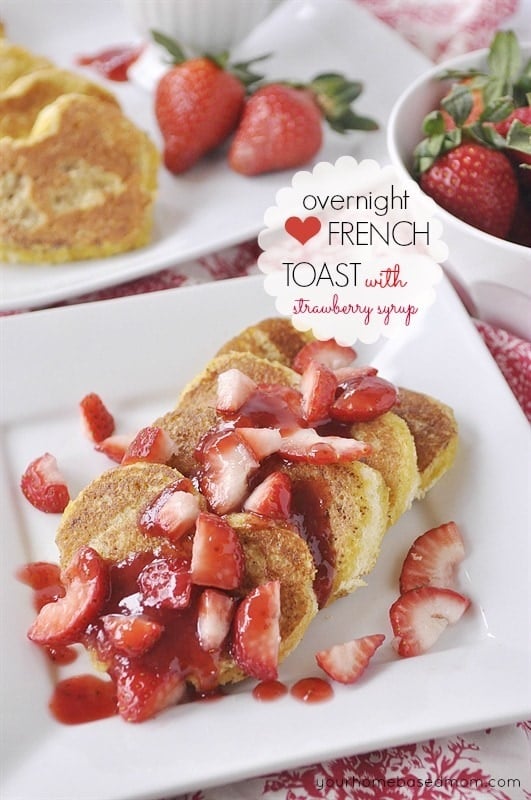 When I was little my mother would cut various foods into different shapes, grilled cheese sandwiches, pancakes etc.  There is just something that makes food cut into fun shapes taste better. So why not start off Valentine's Day with a little fun and some heart shaped overnight french toast.  Valentine's Day falls on a school/work day this year so getting a big fancy breakfast fixed before everyone heads out the door could be a challenge.  Overnight french toast makes it easy.  You do most of the work the night before and that morning all you have to do is throw it on the griddle and then add the strawberry syrup. I like using the thick Texas Toast bread.  I used one of my many heart shaped cookie cutters and cut the bread into cute little hearts.
I mixed up a mixture of egg, milk, sugar, vanilla, cinnamon and nutmeg and poured it over the bread, making sure to cover both sides of the bread.  Cover it with some plastic wrap and then put it in the refrigerator overnight.
After I had the french toast in the refrigerator I mixed up a batch of strawberry syrup.  Easy to do (directions below).  The next morning all I had to do was cook the french toast.
And then top it with the syrup and some sliced fresh strawberries.
Heart shaped french toast is just way more fun to eat than regular old square french toast!
And then cover it with fresh strawberries and your Valentine will love you even more!
Show your family a little love on Valentine's morning with some heart shaped overnight french toast!
For some other yummy Valentine treats check out these:
Cupid Corn Cookie Bark - Raspberry Cream Cupcakes - White Chocolate Raspberry Cheesecake
Enjoy!
Leigh Anne
You can also visit me on Facebook, Pinterest, Twitter, Instagram
and Google+