Diet Coke drinkers of the world- this one's for you! I'm sure you've heard of "Dirty Diet Coke" right?  I decided to make a Dirty Diet Coke Kit with a cute little stripey painted box for the base.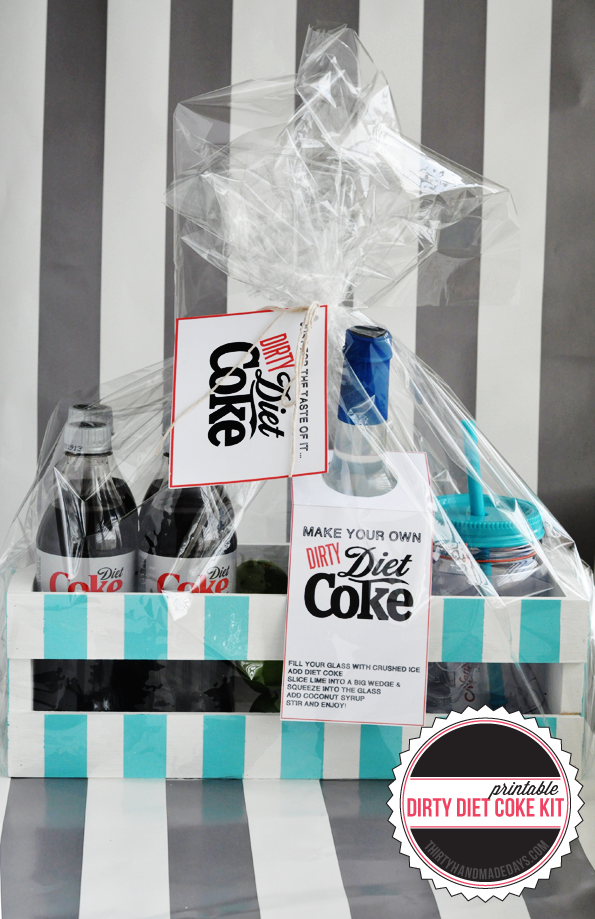 Someone I visit from church loooooooves Diet Coke and I thought she might enjoy a kit so I made this with her in mind.  I delivered the kit to her and I'm happy to report — she loved it!
Ok- ready to get started?  Here are the supplies you need: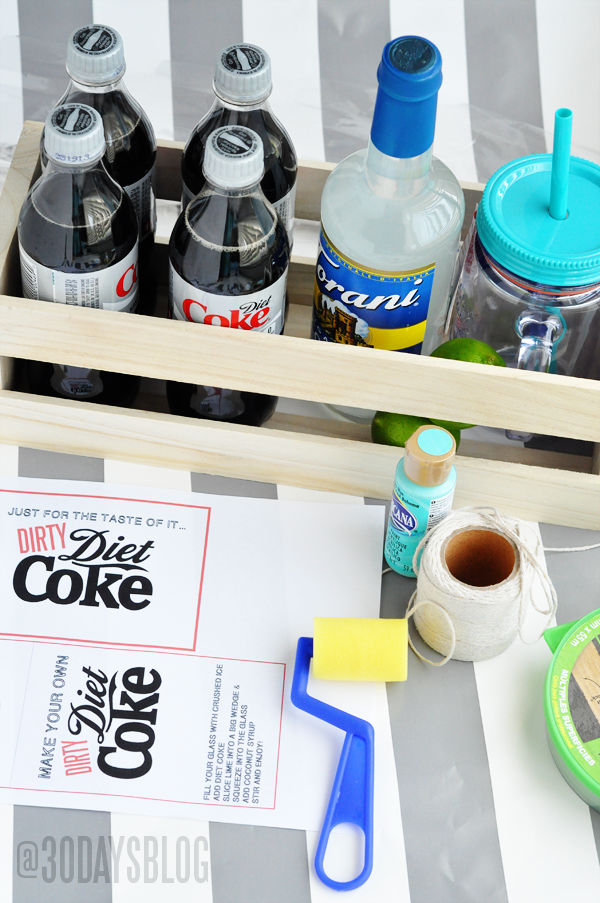 Diet Coke
Sugar Free Coconut Syrup
Limes
Cute mason jar plastic cup (I found mine at Walmart but I know Target & Costco has them too)
CD crate from Michael's
Paint
Brush/sponge
Ruler
Twine
Frog tape
Hole punch
Scissors
cellophane
That list might look long, but you probably have quite a few of those items on hand.  First up, I painted my cd crate.  I purchased it at Michael's and used a 40% off coupon so it was only a few dollars.  I painted it a base coat of white. I then painted over it with this fun aqua/teal/turquoise color and let it dry.  I was excited to take the tape off to see if worked.  And voila- amazingly crisp lines!  So there you have a fun, basic crate for the Dirty Diet Coke Kit.  This could obviously be used for annnnnything… but I thought it was a fun pop of color for this gift.
(animated GIF below- it loops, so watch through the pictures to see the painted box)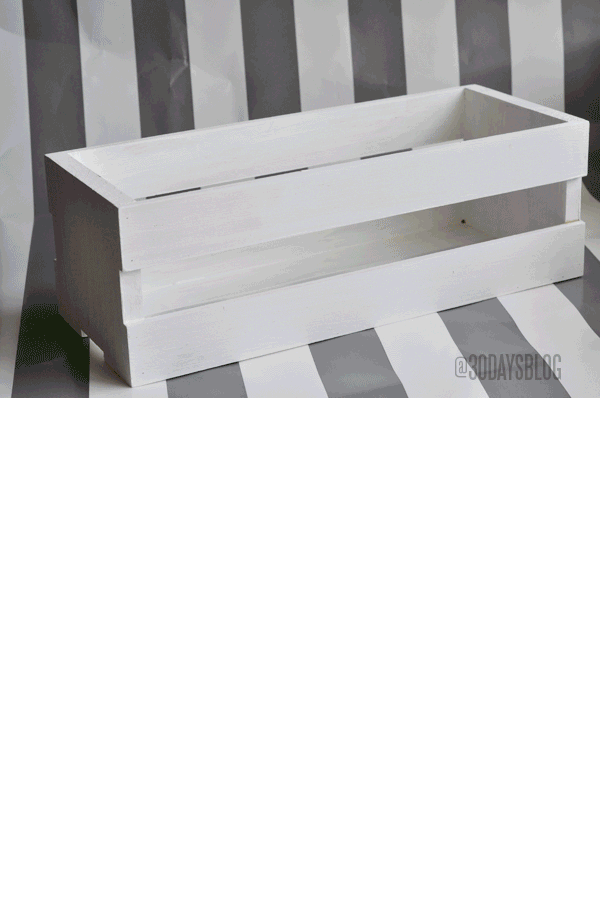 Next I printed off the Dirty Diet Coke printable: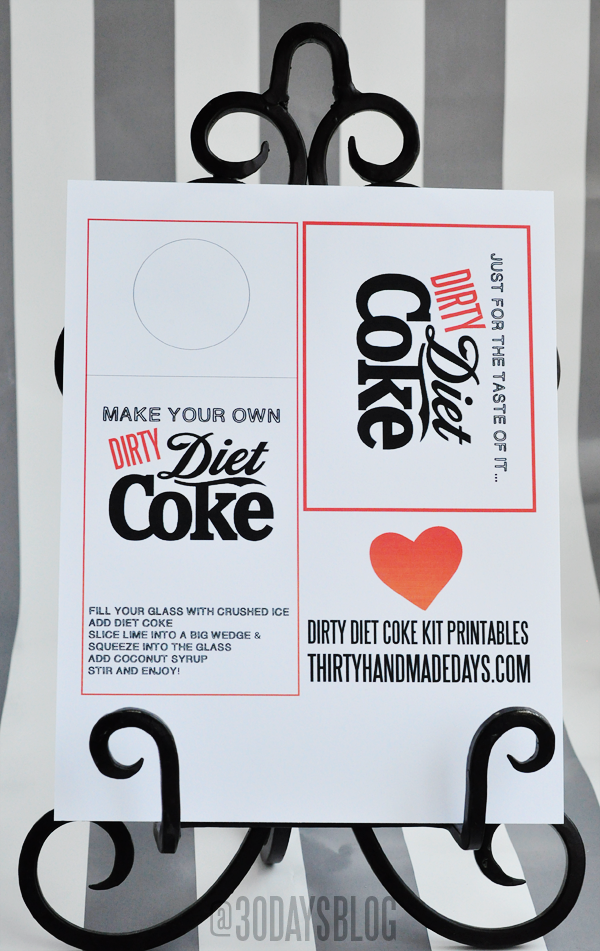 I cut out along the lines and folded where it needed to be folded.  If you have a 1 1/2 inch circle punch, that hole on the "Make your own Dirty Diet Coke" fits perfectly.  If not, just use your scissors.  I compiled everything into the crate like so: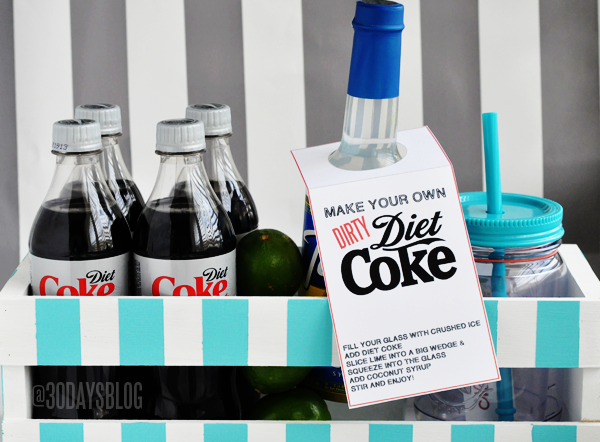 I mean- it's cuter with a printable, right? Isn't everything?

Wrap it up in some cellophane and attach the tag with twine, ribbon or whatever you have on hand: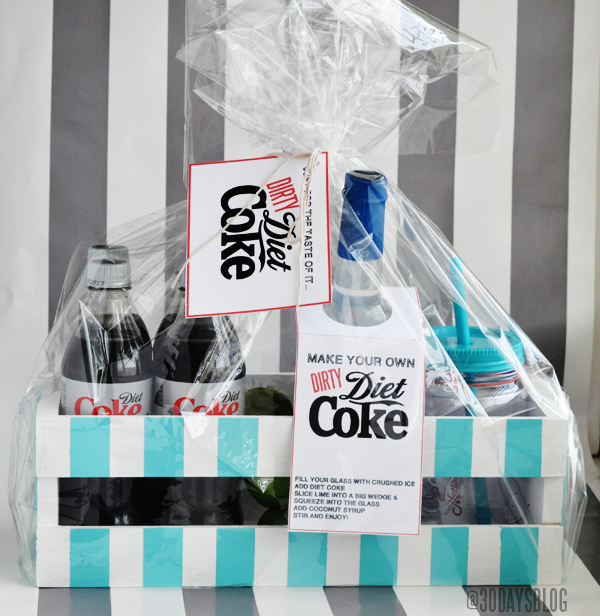 If you like this post, you'll like these too: