Between writing new recipes for my cookbook eBooks and keeping up with blogging, I use my crockpot almost every night.  There's nothing better than coming home to a hot, ready meal.  (And, boy, does my house smell amazing.)  Since I've tried so many crockpot soup recipes myself, I decided to make a list of our 15 favorites.  Free printable recipes and grocery list below!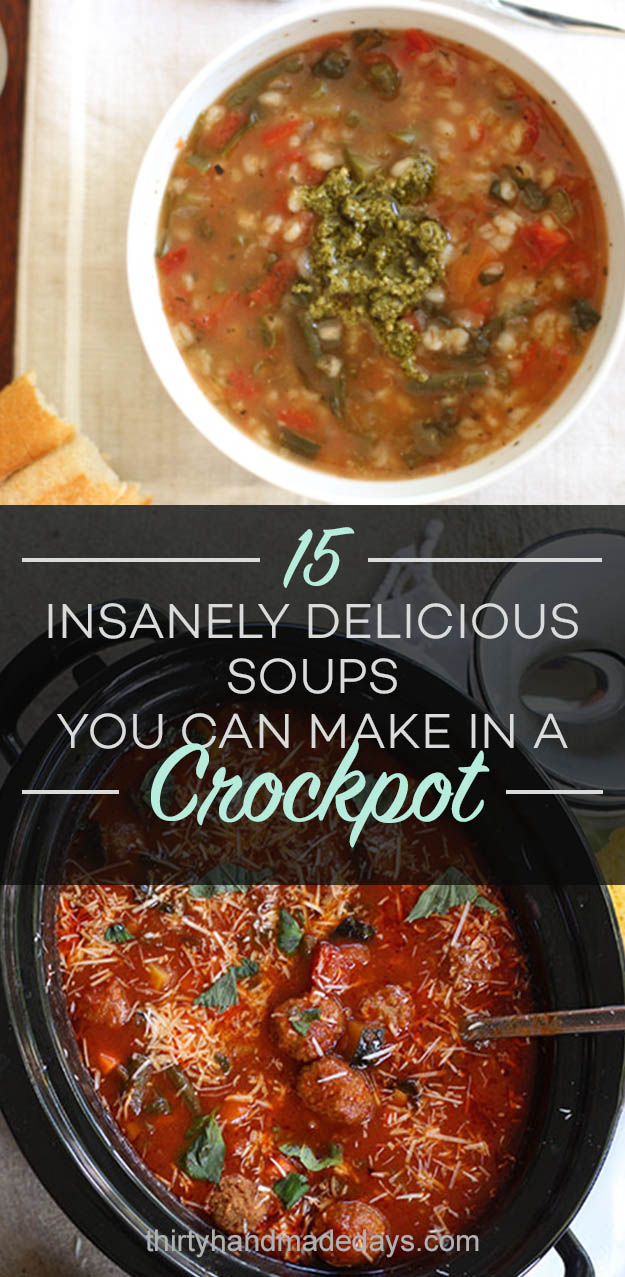 Contributing post from Kelly @ New Leaf Wellness
What's so great about these crockpot soup recipes?
They're healthy.
THEY'RE DELICIOUS.
They're super easy to throw together in the morning or prep and freeze over the weekend (printable recipes and grocery list below).
Did I mention that my kids love these soup recipes too?  Winning.
These are all recipes that I've tried myself and feel good about serving to my family.  Enjoy, Friends!
15 Insanely Delicious Soups You Can Make in a Crockpot
Instead of freezing leftovers, I like to freeze my crockpot meals before cooking.  Simply combine the meat, vegetables, sauce and spices in gallon-sized plastic freezer bags for later.  This way, we always have homemade meals on-hand for busy weekdays.
Crockpot freezer meals are good for at least 3 months in the freezer, so if you're super motivated and want to make all 15 recipes at once, CLICK HERE for all of the free printable recipes and a full grocery list. 
To cook, thaw overnight in the fridge or in the morning in water and then dump into the crockpot.  Set it and forget it!
Thoughts or questions?  Please leave a comment below and I'll respond as soon as I can.  XO, Kelly