Whether you have a large pantry, or no pantry at all, you can not only HAVE a pantry but you can have one that is totally organized and it's very simple! I'm going to give you 5 simple steps to get your pantry organized. If you don't have a pantry in your kitchen, you likely have a place that you keep your food in some sort of cupboard. This would be your pantry.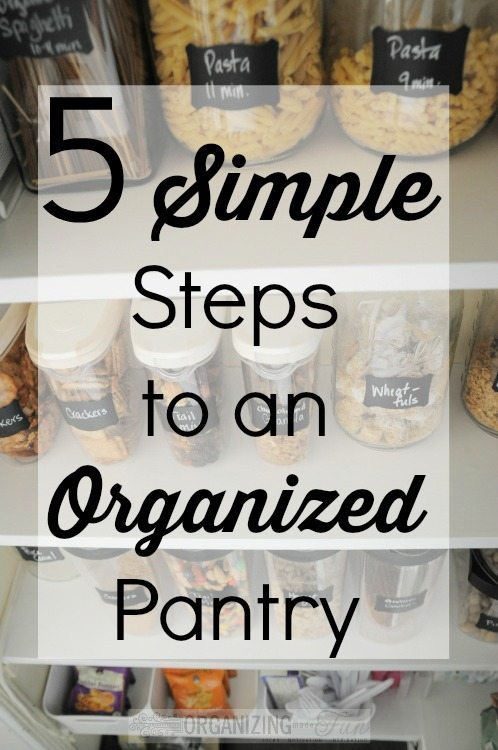 Declutter. Take the time to go through your pantry and get rid of old food, food your never eat, or food you shouldn't eat and get rid of it. Either toss it in the trash or give it away if it's still good.
Wipe Down. Pull everything out of the pantry, which you could do while decluttering and give all the shelves and walls a good wipe down. Make sure you get any crumbs or any spills that are on the shelves so that no little critters are tempted to come in there and ruin things!
Containers. This is my favorite part! Personally, I love to pull the food out of the boxes and bags and put into containers as much as I'm able to – clear containers are best. Why? It's much easier to see what is left and when you need more. There ARE times when you don't want to do that, so getting containers that are open and can hold a stack of small chip bags or other small items makes it easier to keep track. A great place to find any of the clear containers would be at Ikea, Target, or Amazon. Large mason jars make great containers and I use them in my pantry.
Group. Get your containers grouped together so that you find things easily and everyone can put things back where they belong easily.
Label.  Labeling is one of my favorite things to do! But, if you've got those containers, be sure to label them with your favorite kind of label. My favorite is with chalkboard labels so that it's easy to change them out if you put something different into that container.
The key is to do this to KEEP your pantry organized. You need organization inspiration and I can help you! Be sure to visit my blog and also get a look at my pantry for ideas on how to keep yours organized and clutter free!