Every summer the kids have to spend some time decluttering and organizing. Now that my son is 16 and daughter is 11, they're pretty good at going through their things alone. But, it takes teaching them to declutter and organize. Here are my nine ways to help kids to organize and declutter their things – so it becomes a life skill!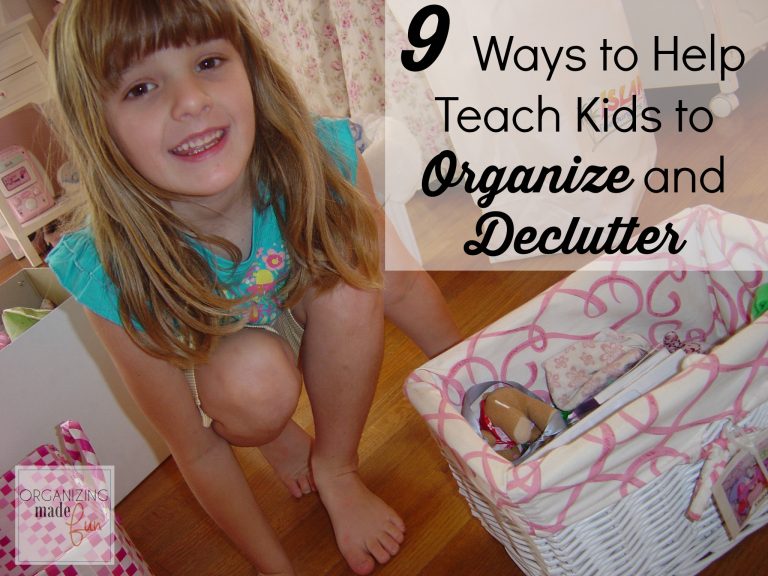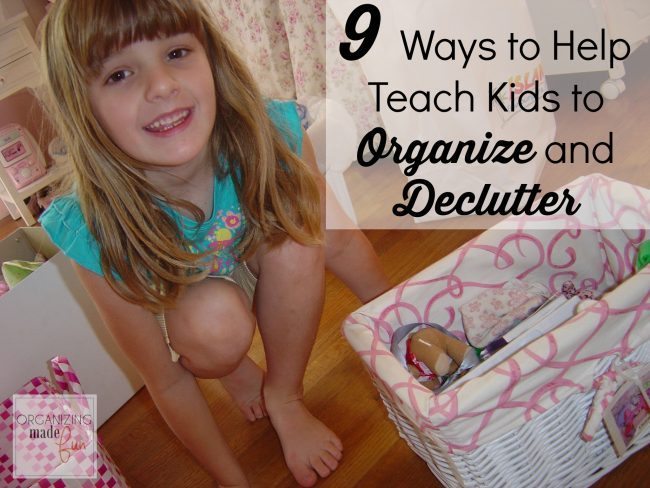 Have your kids go through their stuff on a regular basis – at least pick through it every few months. Pick birthday month and Christmas time, or by seasons (spring cleaning or summer vacation).
With kids, you need to give them limits (i.e., my kids have trinket boxes and can keep no more than 20 – same for stuffed animals, but they only get to keep five because they are the most useless things ever).
Start them YOUNG – I have been doing this with them since they were about 2 years old making THEM go through it.
Don't let them get distracted, stay close by and get them on to the next thing because it's easy for them to start playing with the stuff they forgot they had.
If they choose to get rid something, don't discourage them even if you think it's valuable or something that surprises you.  It's THEIR stuff and if they want to give it away (perhaps you can make a family heirloom exception) – for goodness sake, let them!
Same thing for them:  One in, one out!  If they have a big birthday part with 20 gifts, then make them give away 20 toys of similar size! Or, have smaller parties.
I have one kid who gets VERY sentimental and attached to so much.  But we're working on realizing that when you have 30 VERY important things, you only get to keep FIVE that are the most important and the rest get tossed or donated.
Schedule for a charity truck to pick up the kids stuff a few days after you plan on going through it. Teach them how there are other children who have less than they do and by giving things to other children, they are being kind and doing good.
Label, label, label – if they can't read, make labels with pictures of what is inside.  This will teach them to read the word AND know what it's inside – no excuses!  I take pictures of the contents, then print on paper and cover with clear tape.  Then, I attached the picture with the label of what it is to the basket using  cable ties.  Get a big bunch of those and you'll use them for everything!
I have lots more organizing ideas for kids and for the summer. Be sure to check them all out!