School is back in session and these audible books for teachers are sure to inspire greatness!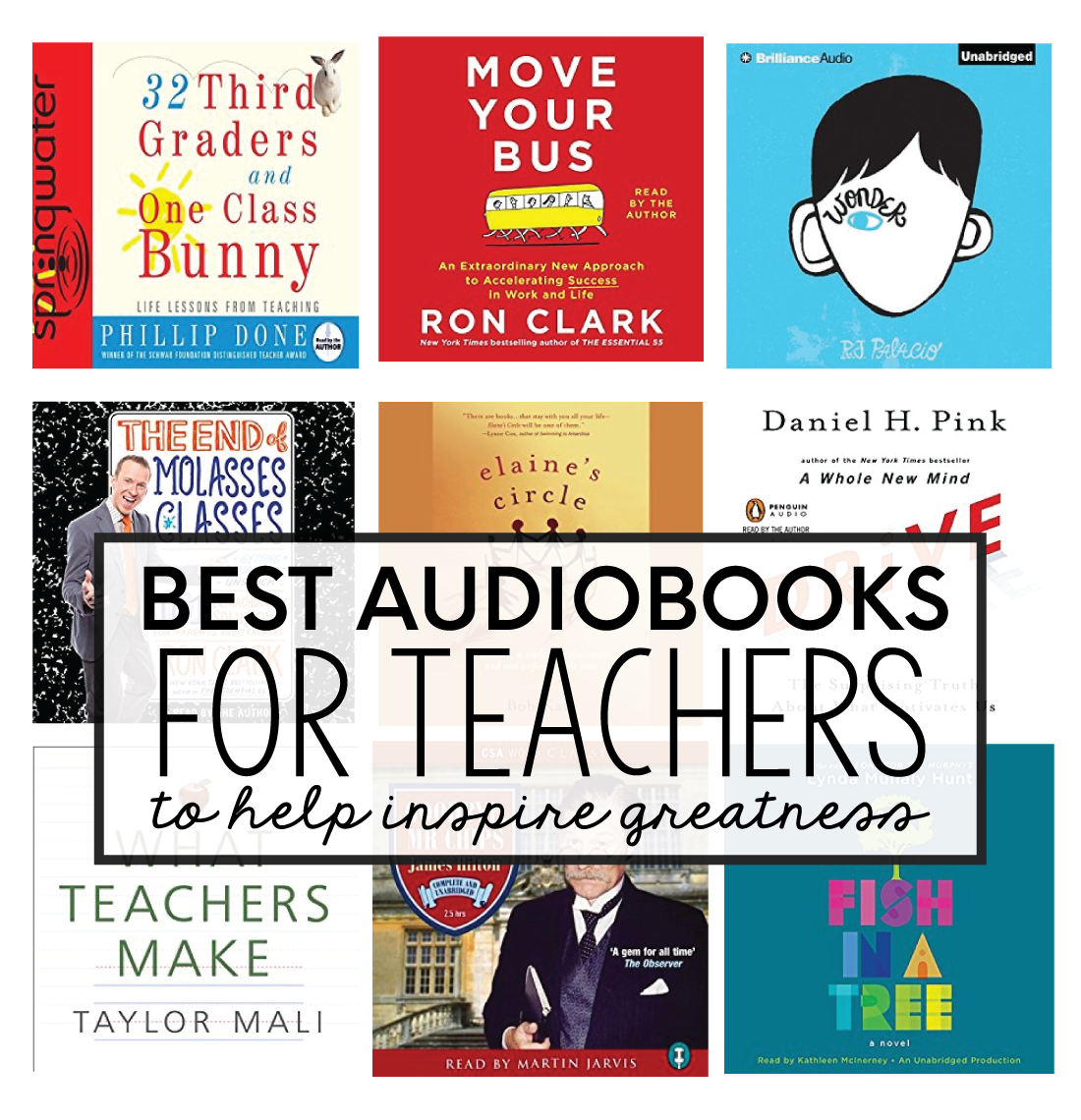 They say (whoever "they" are) that "it takes a village."  In our family that is especially true.  We have had A LOT of teachers over the years who have made a huge impact on my kids lives.  I am so grateful for the hard work and love they put into their jobs.  I've never met a teacher who didn't like reading.  But it might be hard to find extra time to sit down and open a book.  So I gathered some awesome books that will inspire greatness that can be listened to on Audible.   Some are straight up teaching advice, others are novels but all are encouraging.

Here are some top rated audiobooks to listen to:
1.32 Third Graders and One Class Bunny by Phillip Done
Phillip Done fixes staplers that won't staple, zippers that won't zip, and pokes pins in the caps of glue bottles that will not pour. He has sung "Happy Birthday" 657 times.
A witness to the joys of discovery, Done inspires readers with the everyday adventures and milestones of his 32 third graders in this irresistible collection of bite-sized essays. From the nervous first day of school to the hectic Halloween parade to the disastrous spring musical, Done connects what happens in his classroom to the universal truths that touch us all. He reminds us of the delight of learning something for the first time and of the value of making a difference.
2. The End of Molasses Classes: Getting Our Kids Unstuck – 101 Extraordinary Solutions for Parents and Teachers by Ron Clark
A new book from the award-winning teacher and best-selling author, Ron Clark, providing rules for parents and teachers to help kids succeed in school.
3. also by Ron Clark – Move Your Bus
New York Times best-selling author and award-winning educator Ron Clark applies his successful leadership principles to the business world in this effective and accessible guidebook, perfect for any manager looking to inspire and motivate his or her team.
4. What Teachers Make by Taylor Mali
Former middle school teacher and teachers' advocate Taylor Mali struck a chord with his passionate response to a man at a dinner party who asked him what kind of salary teachers make – a poetic rant that has been seen and forwarded millions of times on Facebook, YouTube, and Twitter.
Based on the poem that inspired a movement, What Teachers Make is Mali's sharp, funny, reflective, critical call to arms about the joys of teaching and why teachers are so vital to America today. It's a book that will be treasured and shared by every teacher in America – and everyone who's ever loved or learned from one.
5. Goodbye Mr. Chips by James Hilton
Mr Chipping, classics master at Brookfield school since 1870 – an old man – is reflecting upon his life in education. This cleverly and touchingly woven story intertwines a heart-wrenching and joyful romance with Mr Chipping's life as a teacher and the highs and lows that he has experienced in that capacity.
6. Elaine's Circle by Bob Katz
Elaine Moore, a veteran teacher in Eagle Rock, Alaska, is a firm believer that the classroom is, first and foremost, a community, and that learning is best when shared in a circle of peers. When one of her students, 10-year-old Seamus Farrell, is diagnosed with terminal cancer, Elaine and her innovative teaching methods are put to the test.
7. Wonder by R.J. Palacio
August (Auggie) Pullman was born with a facial deformity that prevented him from going to a mainstream school – until now. He's about to enter fifth grade at Beecher Prep, and if you've ever been the new kid, then you know how hard that can be. The thing is Auggie's just an ordinary kid, with an extraordinary face. But can he convince his new classmates that he's just like them, despite appearances? R. J. Palacio has crafted an uplifting novel full of wonderfully realistic family interactions, lively school scenes, and writing that shines with spare emotional power.
8. Fish in a Tree by Lynda Hunt
The author of the beloved One for the Murphys gives listeners an emotionally-charged, uplifting novel that will speak to anyone who's ever thought there was something wrong with them because they didn't fit in.
"Everybody is smart in different ways. But if you judge a fish by its ability to climb a tree, it will live its life believing it is stupid."
9. Drive by Daniel H. Pink
Forget everything you thought you knew about how to motivate people–at work, at school, at home. It's wrong. As Daniel H. Pink explains in his new and paradigm-shattering book, the secret to high performance and satisfaction in today's world is the deeply human need to direct our own lives, to learn and create new things, and to do better by ourselves and our world.
This is a sponsored conversation written by me on behalf of Audible. The opinions and text are all mine.