I'm super excited to share something I've been working on for a bit with other awesome bloggers that I admire.  We've come together to do a HUGE printable pack for any baby shower + a pregnancy announcement anyone could ever want…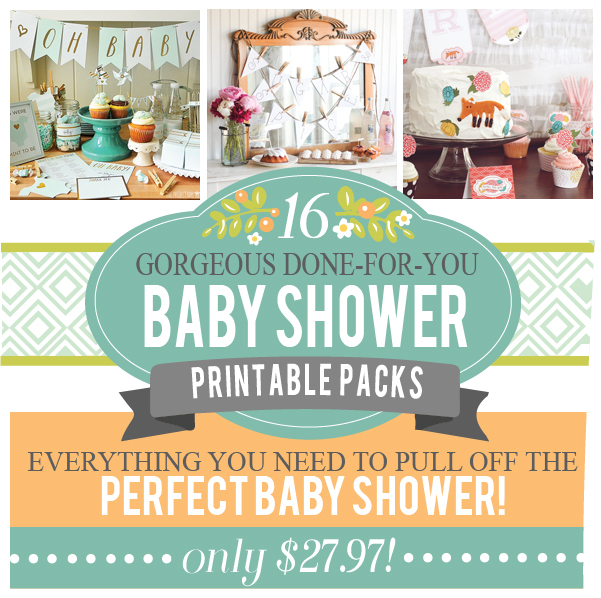 It has EVERYTHING you could EVER want or need to throw the perfect BABY SHOWER that every new mother deserves!
14 Different and COMPLETE printable baby shower themes? ALL INCLUDED!
1 Pregnancy Announcement Pack? Got you covered!
1 Gender Reveal Announcement Pack AKA Boy or Girl? You are set!
Matching Invitations AND Thank You Cards? You know it!
Banners and decor? Check!
Cupcake toppers and table tents? Just Print!
A non-cheesy baby shower game? Completely planned!
Matching party favors? Just a click away from DONE!
All together – it's a collection of over 440 PAGES that aren't offered ANYWHERE else… only in this exclusive Baby Shower Printable Bundle!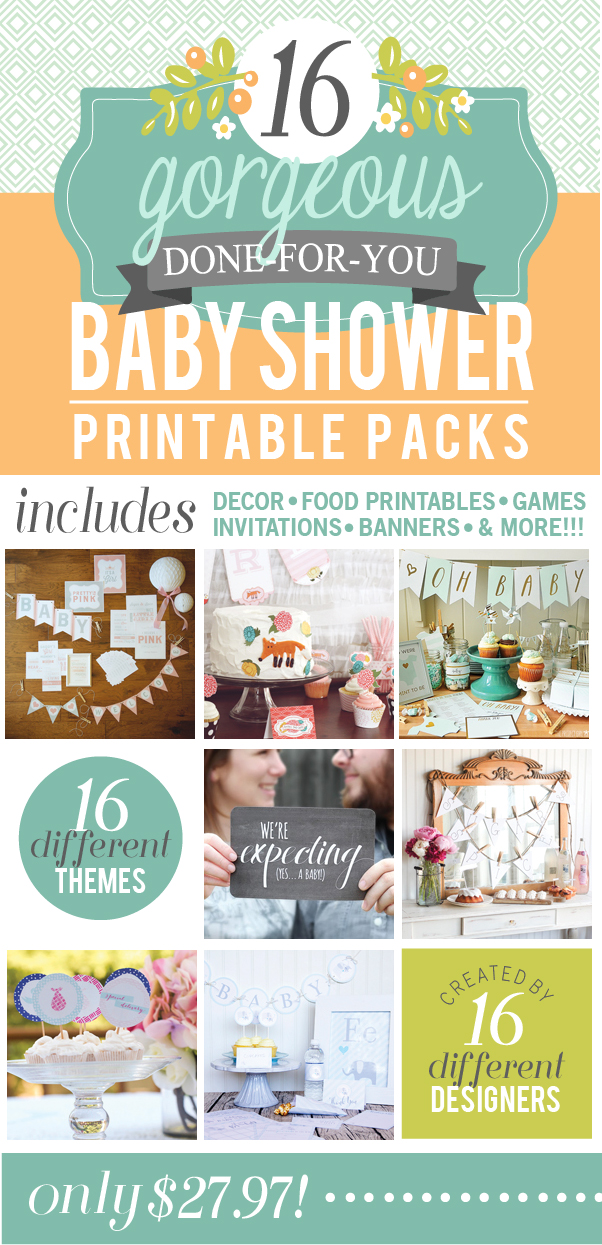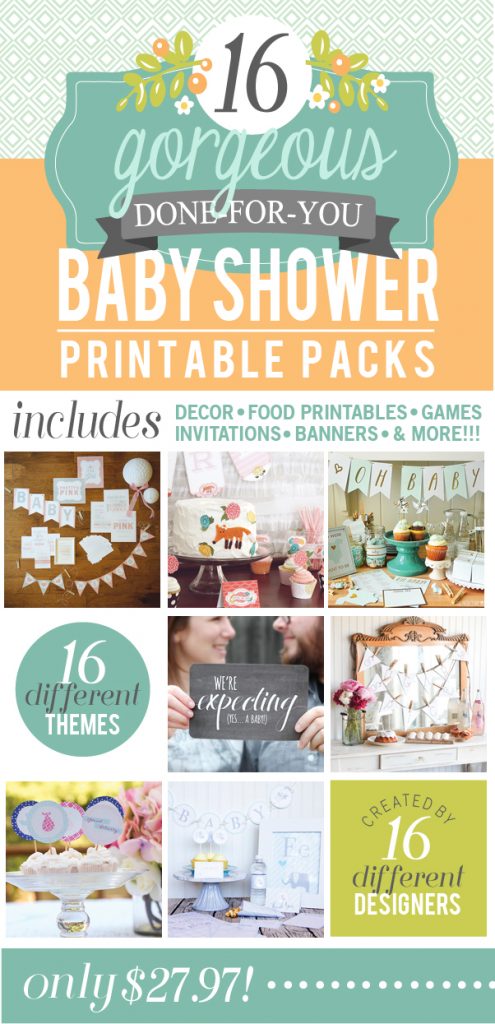 You can grab your own bundle for $27.97!!! Such a steal!!
This price is for Launch Week ONLY!! So order yours ASAP because it won't stay this cheap for long! In less then a week – the price jumps up!
Here's where I give it to you straight—–I know, you are used to free from me.  I know that's why most people come visit 30days.  In order to be involved in this, it had to be something that I'd be willing to purchase myself.  I have no doubt that I would be willing to spend the money.  If you were to purchase even one of my sets  from a shop online, it would cost at least 5 times the amount and you're getting 400+ pages.  By purchasing here from me, you are enabling me to create more content for free in the future! I already have over 200 free printables, and I'd love to keep going.  Just last week I shared 4 different sets of free stuff… So you know you wanna…..

**These are digital printables that will be emailed to the Paypal email address you use to pay. **All purchases of this amazing digital bundle are final. Please read the below list to see exactly what is in it
For my portion I did a "build your library shower."  One of my closest friends threw me this kind of shower when I was pregnant with my oldest, almost 15 years ago!  I had fun gathering colors, ideas and things for my part.  I love how it ended up: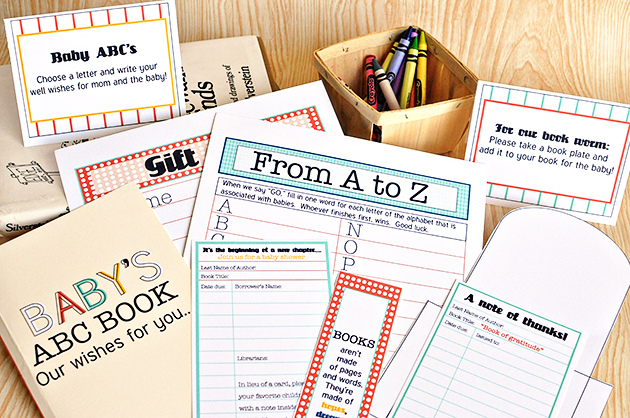 It's hard to see everything in here because there is so so so so much.  I spent hours and hours.  I'm telling you.. I hope you like what I came up with as much as I do! (Not pictured – a baby book banner and a full page of coordinating cupcake toppers)
Ok you want to see the full set of printables: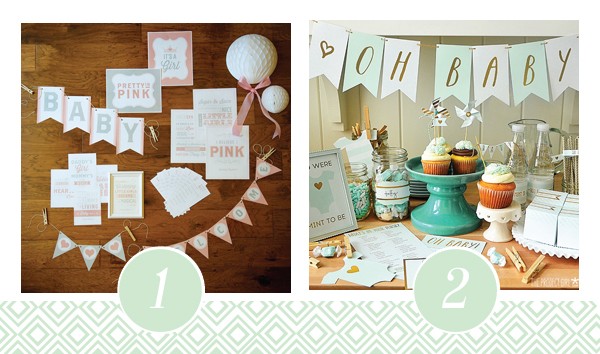 1. The Dating Divas– "Pretty in Pink"Tickle me happy! Based on the Audrey Hepburn quote, "I believe in PINK" – the pinkest of them all, this darling pink baby shower has everything you need to ensure your future pink diva is celebrated in classy pink style! From the giant banners to the cupcake toppers to the frameable quotes to use as decor, these adorable party printables are sure to tickle your fancy.
2. The Project Girl– "Mint to Be" If mint onesies aren't the most adorable things in the whole world, we don't know what is! We know your little one was minted in heaven and they deserve to enter this world celebrated by the most darling mint and gold speckled theme you ever did see! Try not to be too jealous of all the expecting mothers once you see this DARLING baby shower! You can always print and save it for your own one day, too *wink!*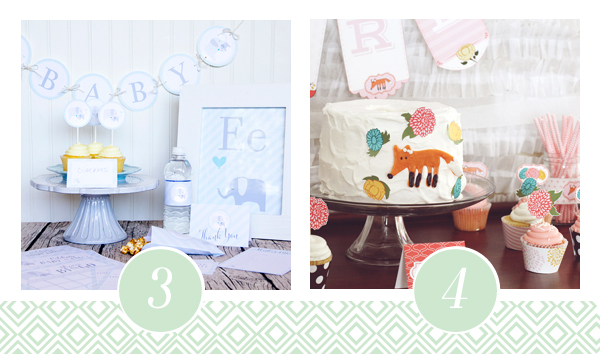 3. Yellow Bliss Road– "Baby of Mine" What is it about adorable elephants that just makes you feel cuddled and loved!? This "Baby of Mine" theme (based on the Dumbo song, Baby of Mine) gets our vote for most tender Mommy-baby sweetness! Just wait till you see these adorable graphics close up! Gender neutral, this baby shower theme is also perfect for families who don't know the gender of the baby or adoptive baby showers!
4. Kiki & Company– "Foxes & Flowers"What does the fox say? You need this baby shower printable pack in your life! Friendly foxes and gorgeous flower graphics adorn every last bit of the baby shower printables included in this set! You'll have people ooh-ing and ahh-ing from invite to thank you card!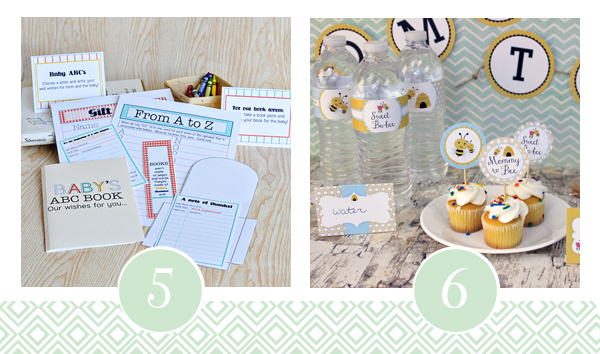 5. Thirty Handmade Days– "Build a Library" A baby's library and their parent's arms make up their whole world! This Library theme baby shower has pages filled with everything from library card shower invitations to a banner of books! We know this baby shower is perfect for the reading mama in your life!
6. Seven Thirty Three– "Mommy-to-BEE" Mommies make for the busiest of bees and we want everyone to know that this mama is the best one ever! This printable baby shower is buzzing with cute little bees and honeycombs that make for a shower sweet as honey. This Mommy-to-BEE will have everything she's ever dreamed of!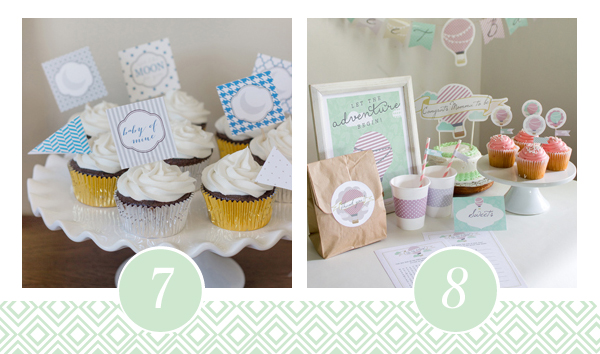 7. Over the Big Moon– "Over the Moon for You" Every baby deserves to hear how much they are loved over and over again. "I Love You to the Moon and Back" is a baby shower theme filled to the moon with dreamy graphics and moonlit printables that are sure to leave your guests snapping pictures in awe.
8. Falala Designs– "Up, Up, and Away!" Blow this Mommy away and leave her little one dreaming of hot air balloons and cloud animals even before they get here! This Mommy's going to be on Cloud Nine with all of the hot air balloon baby shower decor! Perfect for a boy or girl, this baby shower set is taking off as the biggest hit of everyone's summer!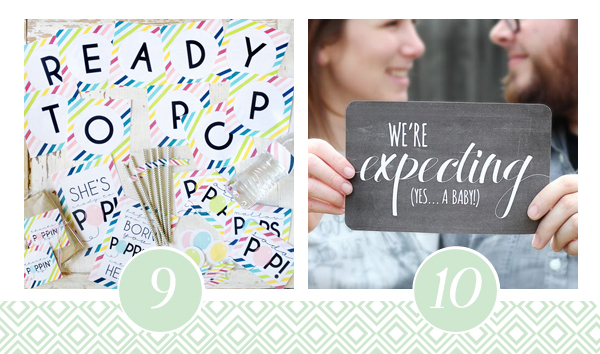 9. Somewhat Simple– "About to POP!" Is there a mama in your life that is ready to POP!? Or maybe it's you! (or future you?!) This colorful baby shower theme is ready for balloons and bubble gum and Voila! It's ready to blow your mind AND the camera!
10. Whimsicle Design Studio– "Pregnancy Announcement Set" Bump up your Instagram-cuteness with these totally amazing baby-bump pic printables! Use these printables to not only announce your pregnancy with your man to your friends and family, but also to capture the monthly progress of your pregnancy to preserve the memory and record the weeks and size of your baby!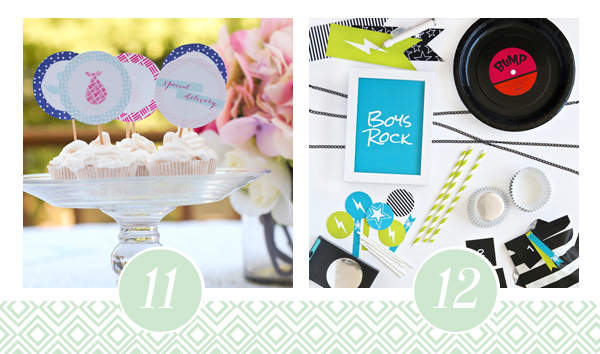 11. From Me, With Love– "Special Delivery" One darling stork has a special delivery for a mama near you! Treat your sister or friend to this perfectly pastel stork "Special Delivery" themed baby shower! The invitations are divine and the decorations will leave every expecting-mother's expectations 100% met! Delivery: on its way; operation happy mama: success.
12. Paging Supermom– "ROCK-a-bye Baby" Celebrate the debut of your future rockstar in style with this flashy high-energy baby shower printables pack! This set is FULL of the perfect invites, decor, and details needed for you to rock out in anticipation for the new little one and their super hot mama – center stage.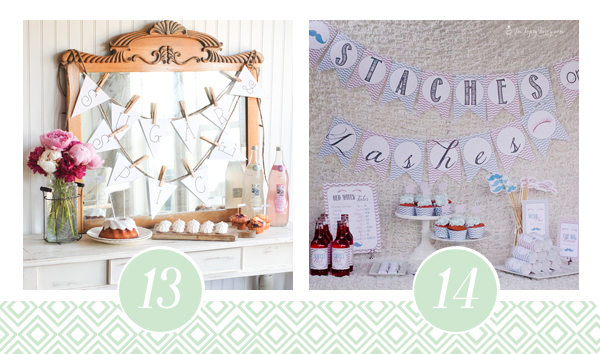 13. Ella Claire– "Sugar & Spice" Cupcake and sugar themed goodness has left this theme baked full of everything needed for the perfect "Sugar & Spice baby shower! The decorations included are perfectly sweet and ready to use! Just add the beautiful Mother and… DING! You're done!
14. I'm Topsy Turvy– "Staches or Lashes, Gender Reveal Party" You'll be set to throw a Gender Reveal Party to announce what you're having to your friends and family! This pack includes everything you'll need to invite, decorate, have your guests place their guesses, and prep for the big reveal!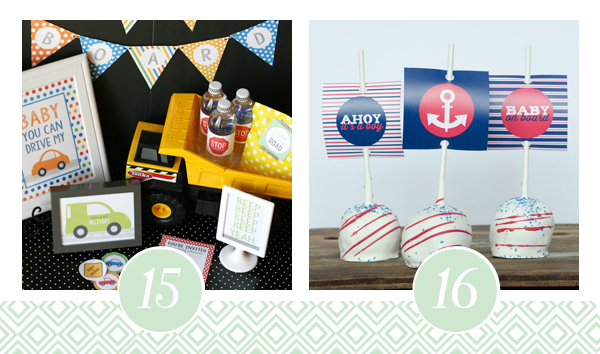 15. My Sister's Suitcase– "Baby on Board" Vroom! Life takes off once a baby enters the scene! This adorable baby shower printable set is decked out with enough little cars and trucks to fill the whole lot! The primary colors will go with everything and all you'll need to do is frost the cupcakes!
16. Love the Day– "Ship Ahoy, It's a Boy!" Ahoy Baby! This nautical baby shower has everything included to make this baby celebration absolutely unforgettable! from dessert toppers and sails to invitations, banners, and thank you's, you're going to think we shipped you right out to sea!
See? Told ya!EVERYTHING you could EVER want or need to pull off the perfect Baby Shower in the exact theme you LOVE! Oh, and feel free to tag your favorite designer when you throw the baby shower of a lifetime so she can see what you created with the printables! The actual SHOWER is the BEST part!!
So HURRY & grab your 16 Gorgeous Done-For-You 440+ Page Baby Shower Printable Packs today!

**These are digital printables that will be emailed to the Paypal email address you use to pay. **All purchases of this amazing digital pack are final. Please read the above detailed list to see exactly what is in it.