This Blueberry Shortcake Recipe is the perfect summer dessert for any party or picnic!  With blueberries in season, you have to try it!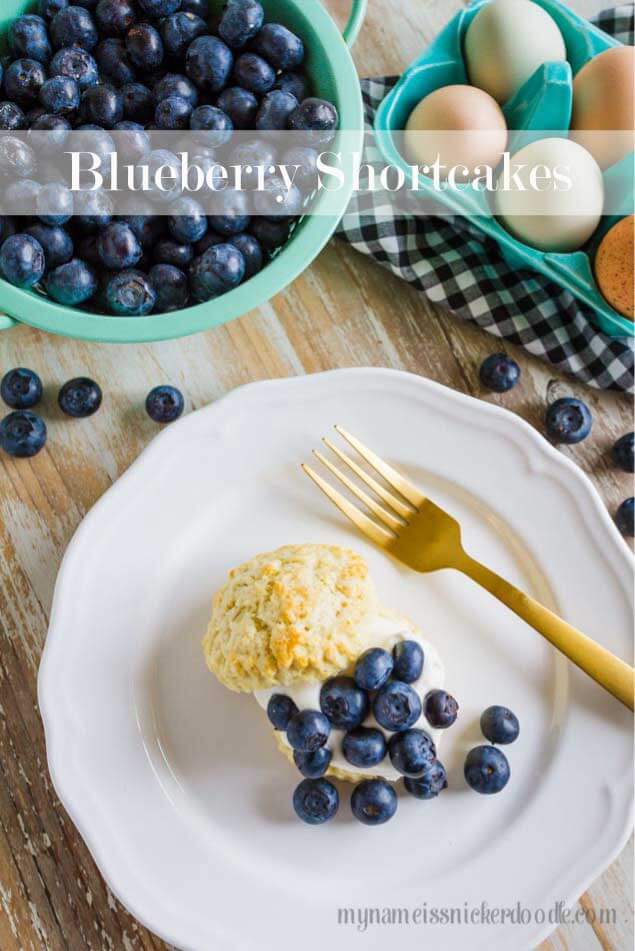 Are you enjoying this year's Funner In The Summer series!  It's been pretty fantastic and I'm excited to hop on over from My Name Is Snickerdoodle to share this recipe for Blueberry Shortcakes with you!  Fresh blueberries have been on sale like crazy here in Texas so I'm fully taking advantage and putting them on and in everything. 
I'll be honest about this particular recipe.  I was rewatching Gilmore Girls for the 100th time and in one of the first episodes one of the character creates Blueberry Shortcakes because her produce supplier doesn't feel like the strawberries are up to par that season.  If you're a fan, you'll know what I'm talking about!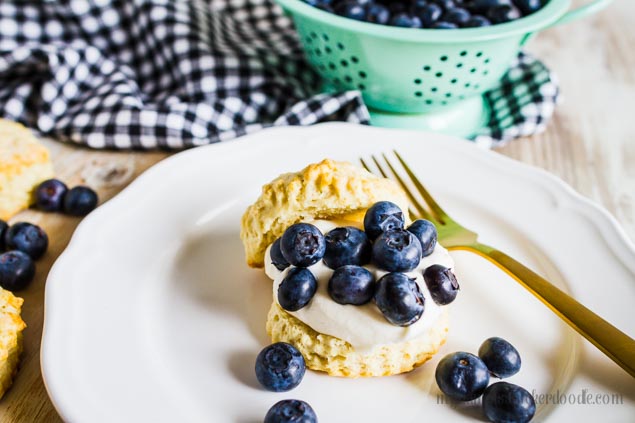 It never dawned on me to make Blueberry Shortcakes instead of Strawberry Shortcakes!  I love anything blueberry!  If you do, too, make sure to check out my recipe for Mini Blueberry Brownie Bites, Peach and Blueberry Crisp, and even Blueberry Soda!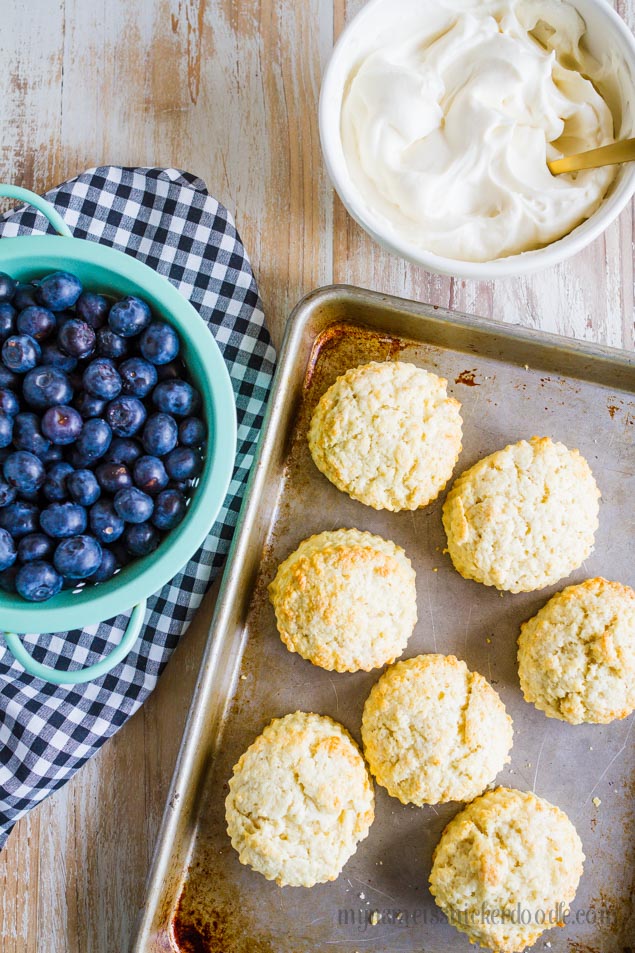 These shortcakes would be really good with any fruit, truly, but there is something about summer and blueberries!  Take the time to make these from scratch and I promise you won't regret it!  Surprisingly this dessert isn't super sweet.  The recipe makes plenty so they would be great to make for any party or summer picnic.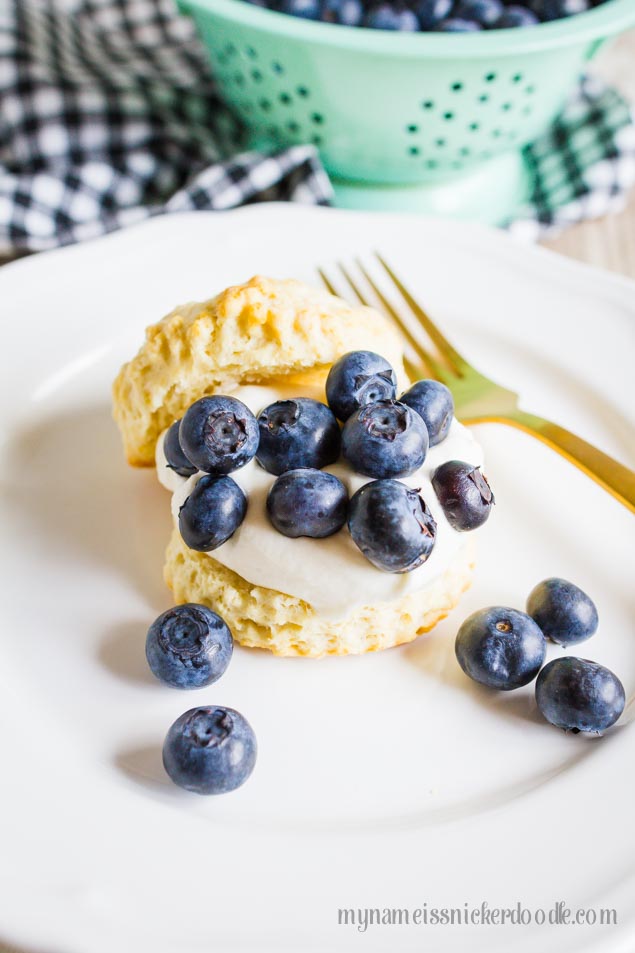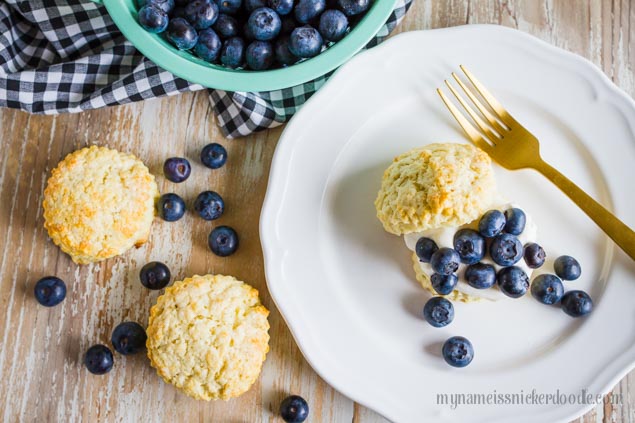 Blueberry Shortcakes: The Perfect Summer Dessert
Blueberry Shortcakes are the perfect summer dessert!
Author:
My Name Is Snickerdoodle
Ingredients
4 Cups All Purpose Flour
4 tsp Baking Powder
1 tsp Baking Soda
1 tsp Cream of Tartar
½ tsp Salt
1½ Sticks Cold butter (cut into small cubes)
¾ Cup Buttermilk
1 Cup Heavy Cream (divided)
1 Egg
¼ Cup Sugar
3 Pints Fresh Blueberries
2 Cups Heavy Whipping Cream
1 tsp Pure Vanilla
½ Cup Granulated Sugar
Instructions
Preheat oven to 425 degrees.
In a large bowl whisk together flour, baking powder, baking soda, cream of tartar and salt.
Add cold butter and work in with fingers or pastry cutter until crumbly.
In a small bowl whisk together buttermilk, ¾ cup heavy cream and egg together.
Add to flour mixture and and blend until just combined.
Turn out onto a lightly floured surface and roll out until 1 inch thick.
Gently fold dough into thirds and roll out to 1 inch thick.
Using a 4 inch round biscuit or cookie cutter, cut out circles and place 12 onto a baking sheet.
Repeat with remaining dough.
Using ¼ cup of buttercream, brush the tops of the shortcakes and sprinkle with ¼ cups sugar.
Bake for 13-15 minutes or until lightly golden brown on top.
In the meantime, beat remaining whipped cream, sugar and vanilla together on high speed for 5 minutes or until thickened.
Cut cooled shortcakes in half and top with whipped cream and fresh blueberries.
If you like this recipe, you'll like these too: