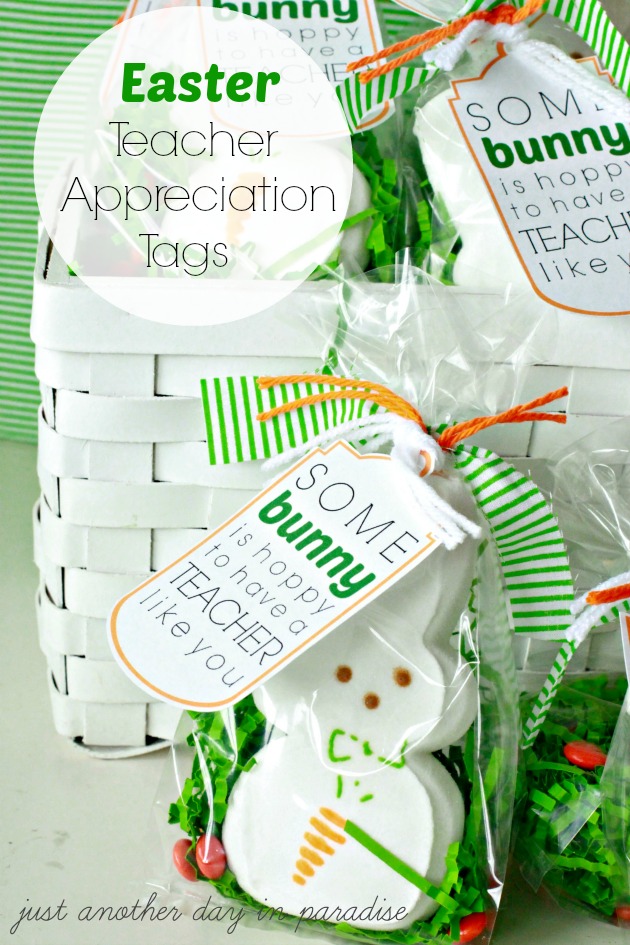 Peeps are a special kind of Easter Magic. When I came across these extra magical Bunny Peeps, I knew I had to come up with a special Easter use for them.
These Bunny Peeps are perfect for an Easter Teacher Appreciation gift. I have come up with a couple of holiday Teacher Appreciation gifts before, like my recent Lucky to Have You as a Teacher St. Patrick's Day and a CRUSH Teacher Valentine.
Teacher's work hard and it is fun surprising them with little holiday gifts.
These cute Bunny Peeps called out to me in the grocery store whispering that "Some Bunny you know really needs a special treat." When candy starts talking to me I take it pretty seriously. So I loaded up on them. Good news is that Peeps are cheep…er…uh…cheap. Ha.
I created two tags to go along with my Magical Bunny Peeps. One is an Easter Teacher Appreciation Tag that reads Some Bunny Is Hoppy to Have a Teacher Like You. I knew it was a gem of a saying when I repeated it to my ten-year-old and he laughed out loud like he thought I was the funniest most clever person ever.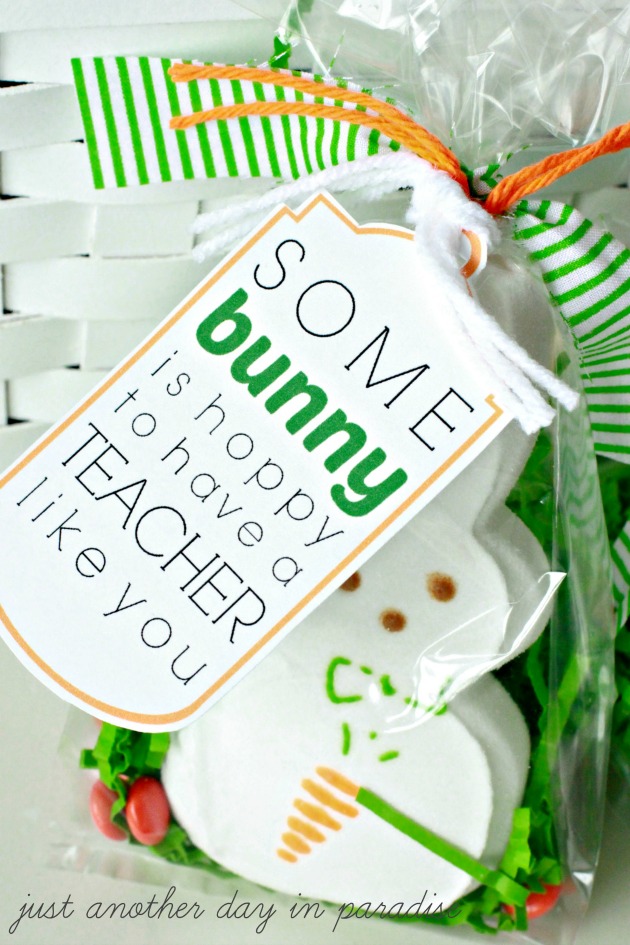 The second one is not a teacher one and that tag is at the end of the post. Oh the suspense!
These tags could be used with any Bunny Treat not just these Bunny Peeps. You could package up a bunny treat such as chocolate bunnies or gummy bunnies. Oh the bunny possibilities!
Once you have bunny treats all that is left is to print out the Easter Teacher Appreciation Tags printable and to package everything up.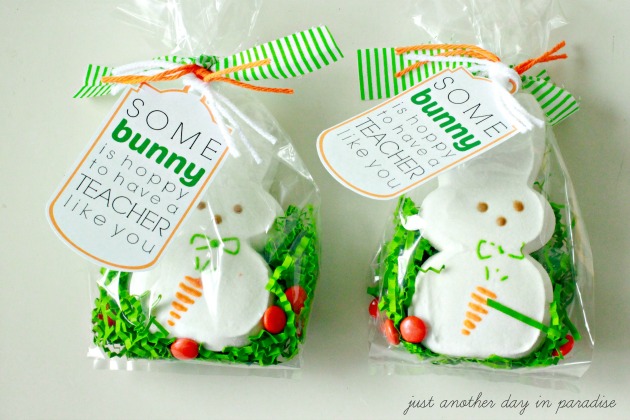 For the Bunny Peeps, I chose to use some fabric and yarn to tie up the cellophane bags. I also filled up the bags with some paper Easter grass and some orange candy. I rather like some color coordination and I just couldn't seem to help myself in matching that magical Bunny Peep that I keep going on about.
All done and ready to deliver with joy and hoppiness…er…uh happiness.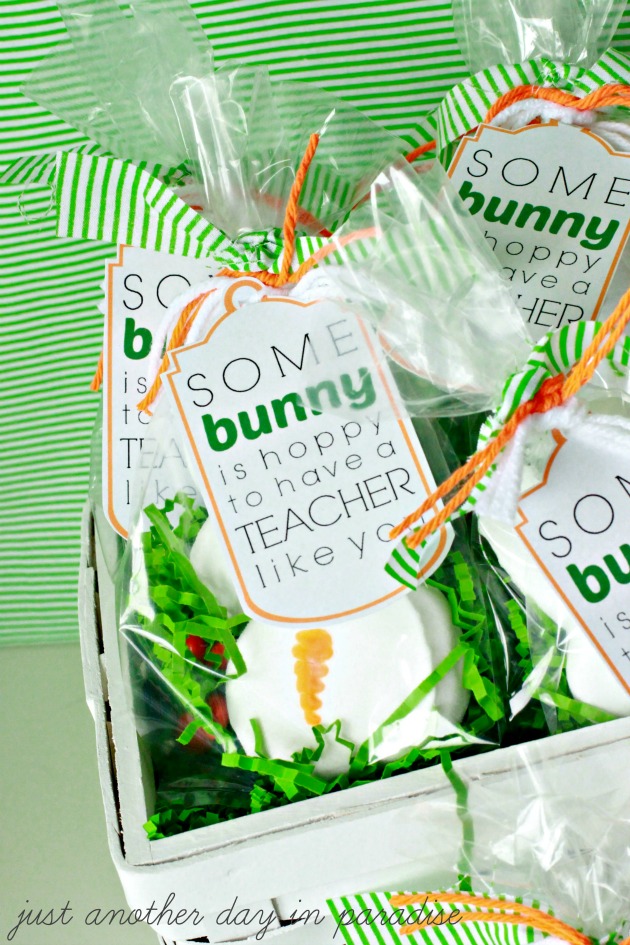 The other tag can be used for some bunny (sorry I can't seem to help myself) other than a teacher. This can simply go to any one special from Some Bunny like you.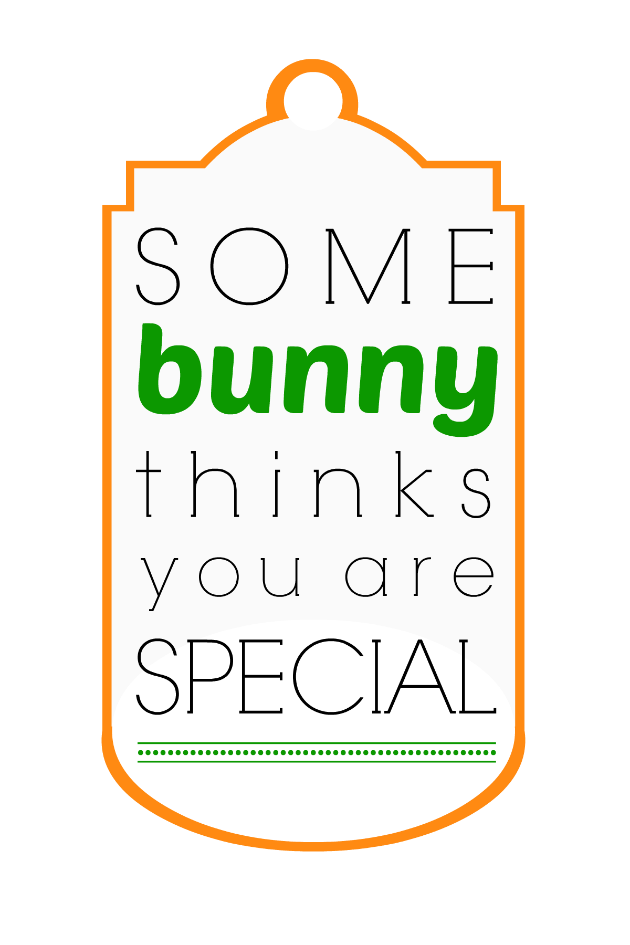 Download the printable for Some Bunny Thinks You Are Special Tag
Hoppy Easter. Here is to all the Some Bunnies special, teacher or otherwise, in your life.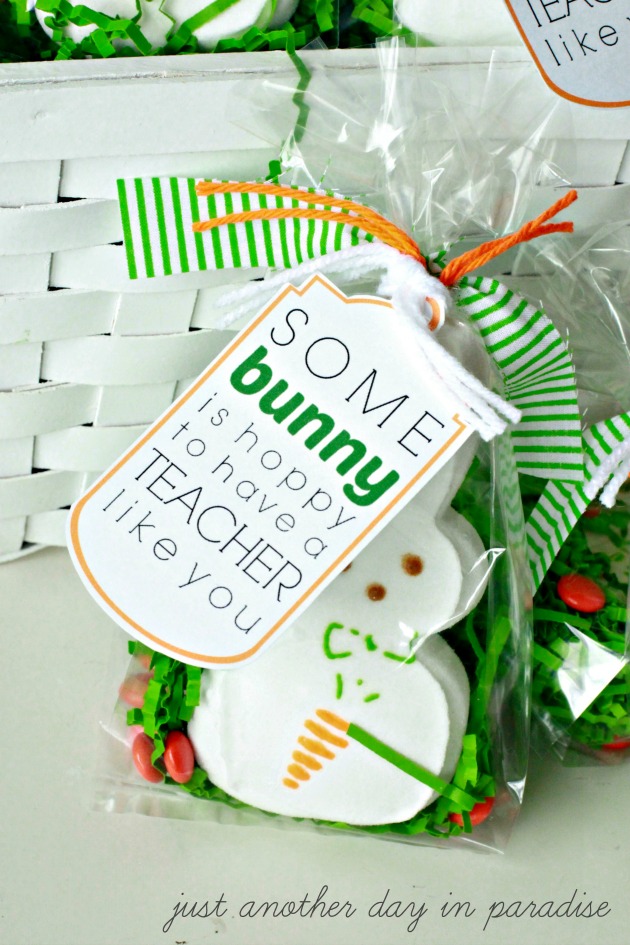 I hope you will stop by Just Another Day in Paradise to see what other projects and recipes I pull out of my hat.
You can also follow along with me these other places-