If there's one thing that most everyone wants to do, it's have a home that is completely organized. If there's another thing most everyone wants, it's not having to spend every moment of their day trying to get it and keep it organized! So, I've come up with six simple steps to getting and keeping your home completely organized.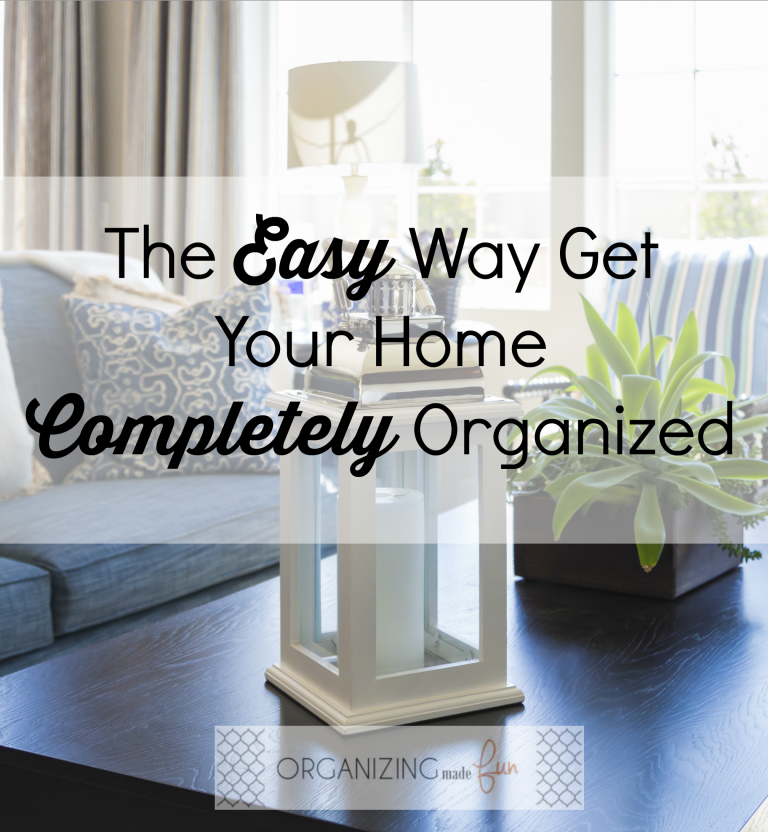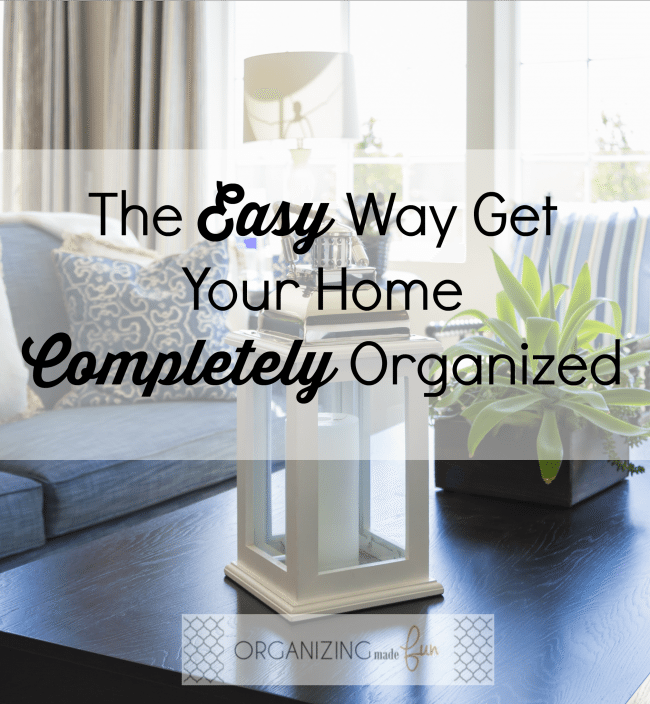 First, don't spend too much time cleaning.
Ideally, spend just 15-20 minutes a day cleaning. What? Only 15-20 minutes a day? Are you kidding? No, I'm not kidding. My schedule is simple and can help you stay on task without having to sacrifice all your time cleaning. You can also print up a free copy of that schedule for you to use.
Second, don't do everything yourself. 
You can't do it all, despite what you might think. You must enlist the help of your family to keep your home clutter free and organized. You have to teach them, be patient with them, and not expect perfection. Don't get lost in the frustrations of thinking that if it's not done perfectly, you might as well do it yourself. If your kids are doing their best, but it's not as good as the way you do it, that's okay! It takes YEARS of  practice and patience to teach your kids to do a job well and consistently, sometimes.
Third, clean up as you go.
Always clean as you go. It's simple, but when you put things back as you use them, you are less likely to be too tired later to leave it out. Same for kids, teach them not to drag out every single set of toys they have. A good way to help avoid that (especially if they are little), is to put part of their toys out of reach so they have to ask you for them. Always make sure to ask them if they put away what they were playing with before they want to do something new. It helps keep your house a whole lot more organized and clutter free.
Fourth, finish what you start.
If you tend to be a bit distracted, like me, it's easy to make an excuse that you don't always finish what you start. But, it's just an excuse and you can't use that one. Believe me, I'm easily distracted but you can still finish things once you start as long as you don't start too many things at once.
Fifth, put it back.
In order to put things back, you have to have a place to put it, right? So, it's important you find a place for everything that is necessary and used often. Again, teach everyone in the house to put things away. Use labels. Take the time to be patient and consistent.
And sixth, let clutter go.
If it doesn't fit, it's time to let it go. Have a one in, one out rule. Or better yet, nothing in and ten out! If you aren't sure where to start, I can help you! I've got a clear way to help you know where to start when it comes to clutter. Start small, make achievable goals so you don't get overwhelmed.
So, there you go! Six simple steps to getting your home completely organized! And it's easy! Where are you going to start?